How do you remove condensation between two windows?
By Cindy from Lorain, OH
Ad
---
You don't.

The IG (insulated glass) units need to be replaced. The seal has been lost.

Your best bet is to call local glass companies and ask for free estimates. It can be a DIY project for some people, but unless you have the correct tools and such, it is something that most glass companies can do within a reasonable amount of time. Labor should be inline with the cost of the IG unit depending on your area.

(I used to be a window and door sales rep and grew up in the window and door industry. Despite some of the claims from previous posts that have been archived, an entire new window is not in order 85% of the time, just the IG unit, new stops/glazing material and patience.)
You can't IF you have double glazed windows. They are sealed. What you have is a leak in the seal. The window has to be replaced. Is that what you have?
Cheap method (never tried it, but might work):
1) Drill a small hole in the glass in an inconspicuous location, preferably a corner. You'll need a glass/tile drill bit due to the hardness of glass.
2) Allow the condensation to evaporate.
3) Use silicone sealant to plug the hole, as well as fix the leak in the seal.
I can't personally recommened this service. But 10 percent the cost of total window replacement and the "green" aspect of not sending more glass to the landfill are both impressive. I saved the link hoping that if I ever need the service it will be available in my state. It appears there are two locatoins in Ohio for this company. Good luck and if you try it I hope you post how the experience turned out.
http://www.youtube.com/watch?v=xzTIzfrn1OM
By Cricket 205 896 07/22/2011 Flag
I had condensation built up in my old glass doors. I read somewhere about drilling a small hole and allowing the condensation to evaporate then filling the hole with silicone. It sounded logical to me. And since I'm very familiar with tools I decided to give it a try. I went to Home Depot and picked up a drill bit specifically for glass. Not cheap but I figured it was cheaper than hiring a pro to do the job.

Then I set to work drilling a tiny hole. I hadn't drilled but a few seconds and OMG did I find out fast that this was the wrong thing to do! The entire door shattered! Teeny tiny pieces top to bottom, side to side.

I covered it with plastic wrap and tape and called a professional. I wound up doing what I should have done to begin with. I replaced the door! So please, People, don't try drilling a hole to allow condensation to dry out. Call a pro! He may or may not be able to dry it out, but either way it takes a pro to fix this problem!
By Sally 16 223 11/19/2013 Flag
(Submitted via email)

To drill out a hole in the glass is not going to stop the problem of condensation. I would strongly suggest using a humidifier in the home or leaving a window open to release some of the moisture in the air. Besides you cannot drill anything that's tempered. Tempered is a ceramic glass heat baked for strength.

Craig R.
What I don't understand is why you can't do this:
1) remove the glass unit (the two panes and the seal that connects them) from the window or door frame;
2) slice through the seal all the way around the outside of the unit with an x-acto or sheetrock knife;
3) separate the two panes and dry the glass;
4) run a bead of silicon around the seal and rejoin the two panes;
5) reinstall the unit.
If you don't need the insulating value of the double pane (ex., a door that leads from the outside into an unheated garage), you could just replace one of the panes. Can anyone tell me why this wouldn't work?
By Jed Bradshaw 1 11/30/2014 Flag
The reason you can not slice one side of the glass is that the sealant is holding both pieces of glass so tightly that you will more than likely break and shatter the glass. This is dangerous. In addition, if you try to silicone or glue another piece of glass back on to the other side of the glass it will be messy and look awful.

It is far better to call a glass repair company. They will give you an estimate and make up a brand new sealed double pane unit and switch out your old glass.

My company is based in Colorado Springs. We do this type of work every day and have 25 years of experience.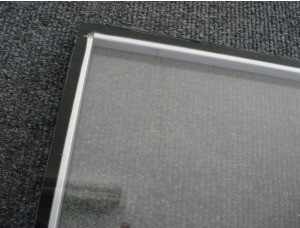 Questions
Here are questions related to Getting Rid of Condensation Between Glass Windows.
How do you get rid of moisture between window panes?
By Connie
AnswerWas this interesting? Yes No
---
Most Recent Answer
We replace lots of glass each year due to fogging between the panes - the moisture you're seeing is because the seal failed.
---
Archives
Thrifty Fun has been around so long that many of our pages have been reset several times. Archives are older versions of the page and the comments that were provided then.
Any ideas on how to get condensation out between 2 glass panes? My bathroom window is double glass and you cannot take the window apart. Somehow condensation got between the glass, and how do I remove it? The condensation is spreading. It was only in one section and is now in a couple more places. Please help.

Vanet Uvino
Feedback:
RE: Getting Rid of Condensation Between Glass Windows
Condensation between panes is a sign that the seal is broken and that the window will need to be replaced. (07/17/2005)

By beanygurl
RE: Getting Rid of Condensation Between Glass Windows
I had this problem once and had to have the window pane replaced. (07/18/2005)

By Meari
RE: Getting Rid of Condensation Between Glass Windows
The majority of windows have a limited warranty. Usually after about 20 years or so the condensation happens as the seal breaks. I called a window place and yes, they can replace it. Costly, but not as much as replacing the whole window. I miss looking through clear windows but can't afford to have 22 windows replaced just yet. (07/18/2005)

By joesgirl
RE: Getting Rid of Condensation Between Glass Windows
Until you can get the window replaced, why not try pointing a hair dryer at it? Never had this problem, but this might work. (07/19/2005)

By Claudia
RE: Getting Rid of Condensation Between Glass Windows
I have seen so many of the double pane windows at the local consignment auction with condensation between the panes that we chose to use single pane windows in our new house. We have 10 inch walls, thus 10 inch window sills, so we built "Storm Windows" that fit on the inside. There is an air space between the window pane and the storm window. The storm window is a wooden frame covered with clear plastic. The plastic is very inexpensive and available in the fabric department of Walmart. The frames are painted to match the window trim and look very nice. We use them in the cold of winter to keep the cold out, and in the heat of summer to keep the heat out. Saves lots on the utility bill. (07/24/2005)

RE: Getting Rid of Condensation Between Glass Windows
I used a hair dryer. It was 23 degrees out, and it took a long time to heat the glass (one small portion at a time) to get the "fog" to evaporate. As I worked across the window from the bottom to the top, half way up, I noticed droplets of water running down the area I was working on. The "fog" evaporated, rose to the top of the window and condensed in to "rain." After two days of cold nights and sunny days, the window looked just as bad as it did before I wasted my time with the dryer. (01/01/2008)

By david
RE: Getting Rid of Condensation Between Glass Windows
I am currently dealing with 4 windows with this problem. Instead of replacing them, I am putting faux stain glass design on them. I am using the gallery glass paints. It is removable if you do not like it. (08/28/2008)

By Joan
I have condensation between my window panes. Do I need to find a company to come and get it out?
By Donna from Annapolis

Feedback:
RE: Getting Rid of Condensation Between Glass Windows
Condensation inside the panes means the window is shot. The seal is broken and the window must be replaced. There is no way to fix it. Sorry! (03/03/2010)

RE: Getting Rid of Condensation Between Glass Windows
Yes, you need a new window. Check out the energy tax credits through this year for energy efficient windows. Not all apply, but the window place should be able to tell you or go to energystar.gov (03/03/2010)

By Allison5
RE: Getting Rid of Condensation Between Glass Windows
I was having the same problem with an Anderson crank out in my home. Since it was under warranty, they came out "did something" to all of my windows to check seals and repair leaks. But one of them reverted back to fog. Anderson will replace the window, there is a little etched date and number in the corner of the window. You have to call them and fill out on line forms. We ended up dragging our feet too long and missed the date. So, just two weeks ago we had to replace the window at our own expense.

Sorry, but I don't think there is a true fix for your problem. Unless there is a warranty on them.
God's blessings.

Trish in CT (03/05/2010)

By GirlNumber5