Faux Stained Glass Windows
Solutions
Share on ThriftyFunThis guide contains the following solutions. Have something to add? Please share your solution!
This is a new use for old windows. They took about 2 days to make. Paint the window frames and let dry. Be creative and paint the glass with stained glass paint. Once dry, glue the marbles to the glass then let the glue dry.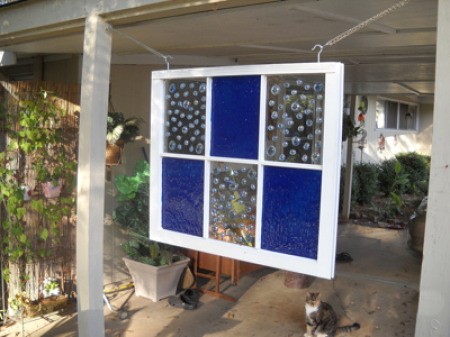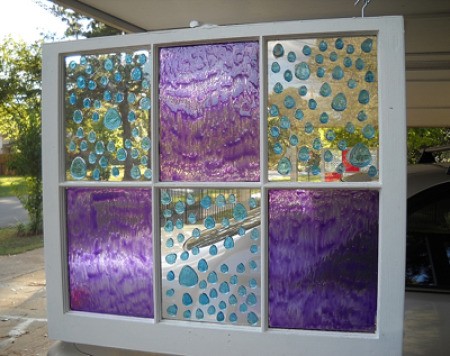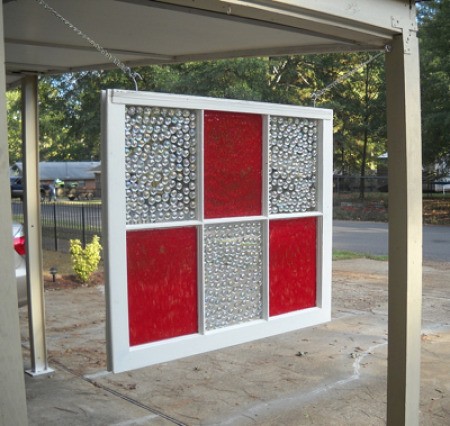 By DOROTHY from Arkadelphia, AR

I have an inexpensive and easy tip on how to make faux stained glass windows (or anything glass) using clear Contac paper and any craft store paint for $1.00 or less a bottle. This project is only practical on small windows such as are in your front door or small bathroom windows. Best of all, you can remove it very easily if you don't like the results.
I also put a coat of preservative on it when I was finished painting, also inexpensive.
Directions
Measure the exact size you need on the back of the Contac paper. It's already marked off in inches so it's very easy. Then cut it out.
Using a regular #2 pencil I drew the outline directly onto the front of the Contac paper. I then filled it in with the desired colors. It took two coats. I used the regular water based craft paint sold in craft stores and Walmart. It's less than a dollar a bottle and when on sale a lot cheaper.
After the paint was dry, I outlined the entire pattern with a black ink Sharpie pen.
I then removed the backing from the Contac, using a paper towel dunked in wet, soapy water I applied that to the Contac before positioning it on the window. The soapy water is to give you a little extra time to move it around before it adheres, making it easier to get it on straight. When that was dry and had been on a couple days I then applied the water based varnish or preservative (sold along with the paint), which will make it easier to wipe off to clean.
I used the flash on the camera which threw a glare on the photo. It actually looks like the bottom part of the picture.
By June from Erie, PA
We used to live in a century old church in southern Alberta. One summer I taught a 6 year old girl in the community how to draw, then I took her drawing and put it on one of the windows with gallery glass.

Read More...
After moving into a 150 year old farm house, I wanted to enhance the beauty of the entry door but didn't want to disturb the old leaded glass window panes. I went to the Dollar Tree and purchased cellophane wrapping paper.

Read More...
Questions
Ask a QuestionHere are the questions asked by community members. Read on to see the answers provided by the ThriftyFun community or ask a new question.
How might I cover some clear glass in the doors of a hutch that I use for storage in my bedroom? I would like to find some con-tac-like see-through material that I can adhere to the backside, so it looks like stained or etched glass. I don't want to have to remove the glass to apply it.
By Carolyn
Answers
October 21, 2009
0

found this helpful
There's a window film in a stain glass pattern you can buy at Lowe's or Home Depot. It's made for blocking out harmful rays that cause early fading of carpets and furnishings. Also it is used to block out heat in the summer and cold in the winter. It costs about $30.00 for a roll and it's not contact paper. You wet the glass with dish soap and apply the film. It's removable and won't harm the glass. Do a google search for window film and you'll see some of the patterns you can get.
October 22, 2009
0

found this helpful
I don't know where you get it, probably at a craft store, but there is see through plastic that just sticks to the glass, and can be peeled off. No adhesive involved.
October 23, 2009
0

found this helpful
Thanks. This info is just what I needed. Checked out a couple of websites - the patterns are just bee-yoo-ti-ful.
October 24, 2009
0

found this helpful
I have a china closet in my spare bedroom where I store towels, bath mats, shower curtains etc. I tacked a piece of heavy lace to the back of the glass. It looks gorgeous! The hutch is an antique style.
October 26, 2009
0

found this helpful
Try this for a different look. Use small or large bubble wrap that is using for packing. Cut it to fit the inside glass and spray a bit of water on the glass, wipe any of the wood for overspray.
It isn't permanent and can be removed easily. I have used this on my front door and back door windows for privacy. It allows light in but provides privacy. I have had it on my windows for well over a year and it still is sticking. You could also thumb tack it in on the corners if need be.
January 17, 2019
0

found this helpful
Glad press n seal is much cheaper!
Answer

this Question

...
How do I make faux stained glass window?
By Michelle from PA
Answers
August 4, 2009
0

found this helpful
Craft stores carry"liquid lead"and "glass paint". They both are in squeeze bottles. Hope you try it and it's not very hard at all. I did a small practice piece first. Enjoy.
August 6, 2009
0

found this helpful
Besides the gallery glass you can use clear or white caulking with the liquid led, put a little on the clean glass and depending on how you spread it you can make different patterns on the glass.
August 18, 2009
0

found this helpful
HI, It's been a while but I think you can use liquid lead, or solder. Form the solder into simple shapes and then fill in with Elmer's school glue colored with food coloring.
Simple and cheap. Make sure you are working on aluminum foil or something the glue won't stick to. Allow plenty of time to dry before trying to remove.
Answer

this Question

...
How do you make faux stained glass with mod podge and food coloring?
Answers
November 17, 2017
0

found this helpful
There are several ways you can do this. I have found a few videos and even some step by step directions. I feel it is best if you can see the process and then you can easily make your own. This isn't so complicated, but it does take a bit of time to get it right. Here are a few links that will show you how to complete your project:
https://www.uno g-painted-glass/
November 17, 2017
0

found this helpful
Thrifty Fun has an article using stained glass paint. You might want to try that since it came out so good.
Answer

this Question

...
December 7, 2013
0

found this helpful
What type of glue did you use for the marbles on the windows?
Also, did you prepare the glass with anything before adhering the marbles?
By MaChar K
Answers
May 17, 2017
0

found this helpful
I would use E6000. U can find it almost anywhere, it is cheap and pretty much sticks anything to anything
Answer

this Question

...
November 10, 2012
0

found this helpful
I am looking for a design to hang outside in my garden that will withstand the elements. Thank you.
By Robin
Answer

this Question

...
Related Content