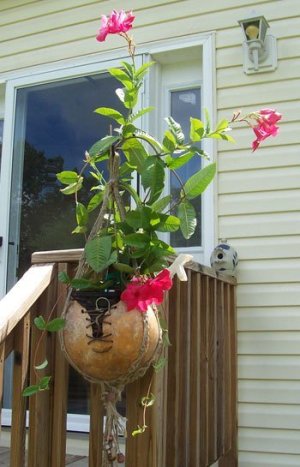 This plant holder is made out of a gourd. I used jute for the hanger and put a few macrame knots in it with some wooden beads. I cut the top out of a gourd (that I grew), and it cracked so I put a leather lace in it to keep it from cracking more. I sprayed with a sealer. The flower is a Mandevilla red velvet, and has just started blooming.
By Fran
Ad
---
By ann in alabama (Guest Post) 08/27/20050 people found this helpful
Hey Fran I love your gourd plant holder!!! How did you ever come up with that idea???
By donita 1 04/29/20110 people found this helpful
So cute, do you make any of these to sell? I might be a buyer. Let me know. Thanks. Donita.