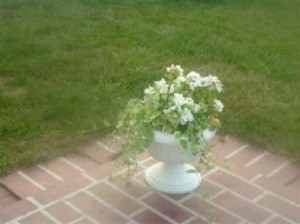 I painted the entire patio with a grey porch/patio paint and was not happy with the look. So I next used narrow masking tape to tape off the brick pattern. I then used a red brick color and an old paintbrush to paint the bricks (I mixed a little black acrylic paint with the red to make it look more authentic). It has worn fairly well and only needed a few touch ups each summer.
I love the way my patio looks now and it sure beats the cost of installing brick pavers!
By Marianne from Trenton, Ohio
Ad
---
Feedback Forum
Feedback about this article is posted here. Want to contribute? Click above to post feedback.

By Shelby24019 [1]08/21/2010
Good for you! I did the same thing about 8 years ago. I painted it gray first and it seemed too bright with no roof over it. I too also used the masking tape to mark off the bricks. As you said, this is the hardest part of the job. But, I used the brick red concrete paint and added a little black to tone it down some. Then two years later we busted it all up to add on a new sunroom. Didn't it make you really feel good when you took all the tape up?

I would advise anyone doing this to let the bottom coat dry for a couple of days unless it is really hot when you are doing this so the tape doesn't peel it off. I did use a heavy nappy roller when I put the red coat on.

I was already in my sixties when I did this plus I'm a female and I don't know your age or sex. But, I wouldn't want a job doing this.

By REE [1]03/19/2009
Believe it or not cheapy latex redwood stain from WM also works. I decided to move my front deck and use concrete blocks to hold it up (its solid all the way around now).

The grey blocks are ugly. Since I was staining the porch redwood I decided to try staining the concrete blocks too. Well they have gone through one Maine winter complete with snow and some salt from road getting tossed on it and they are still red.

I plan to stick the plastic 4x8 trellis in front of blocks so I can grow plants up.

However I think I will end up doing the same stain to the outside basement which is concrete. It really does a number on paint brushes I would use a roller for the stain ..

I see no reason why the stain couldn't be used as faux brick, either cut a few sponges to size and hand 'sponge' or tape off. They do make a small short roller too.

Go in with acrylics to accent and give more texture (some blacks, darker reds, and maybe some white for used brick look).

I used sponges when I did my kids play house. Remember old bricks are not perfect so mess up the edges a bit and use more than one sponge so they don't all look the same.

Thompsons water seal is supposed to go on top of concrete every few years. I would think you could use this on top to lessen the wear. Ria

By (Guest Post)01/23/2009
I have done the same thing, painting first a basecoat, then using a rectangular sponge to "lay" the bricks in a pattern similar to that shown. I used oil based paint in red brick color, with a grey basecoat. It turned out beautiful!

By Artlady (Guest Post)06/03/2008
I did this on my bathroom floor. Only, I painted it to look like stones. Our cat had a bad habit of using the carpet for it's litter box. We tried everything to get the smell out. Finally, I just ripped up the carpet and painted the floor. It has held up for five years now.

By Pam Curry (Guest Post)03/24/2008
Absolutely Beautiful! I have had numerous estimates on painting or pouring a covering on my small patio area- all of them in the thousands of dollars range! I think this is a great idea. Shucks- if it doesn't look good you could just paint over and try again. What an awesome idea! Thanks for sharing. Pam- Mena, Arkansas.

By Holly [367]05/10/2007
Beautiful!!!!

By Paula (Guest Post)01/24/2006
Wow, what a great idea!

By Marianne Ashton [2]11/30/2005
STEP BY STEP DIRECTIONS:
1) clean patio thoroughly with TSP.
2) Paint entire patio with Gray Patio/Porch paint by Glidden (I rolled it on with a roller).
3) Let dry overnight.
4) Use 3/4" masking tape to tape off brick patterns.
This is the hardest and most time consuming part of the whole process).
5) Using acrylic craft paints, mix together red with a little black to get an authentic brick color.
6) I used an old paintbrush and dabbed the paint all over the patio.
7) when dry remove masking tape and admire your work!
TIP- DO not use a heavy amount of paint or it will peel when it gets very hot. If possible use concrete stain which was not available when I did my patio. If you use acrylic paint, thin with water and "dab" on , that way the paint will not peel).

By Trish (Guest Post)11/28/2005
How Clever! Please let us all know the step-by-step instructions so we can try it too. I love it!

By Patricia L. Greer11/17/2005
That looks great! You are very creative!

By Claudia - MD (Guest Post)11/16/2005
From all the potential customers who responded to your email, it looks like there could be a cottage industry in your future- "Be your own boss, do what you enjoy and are good at, and work outdoors"- I say, "Go for it!"

By Jean in GA (Guest Post)11/16/2005
Excellent! How long did it take to do the painting of brick, did you use a roller? I'm with the others, you SHOULD start up a business.

By Stacey Silva [54]11/15/2005
That is awesome!!!! It looks so real, I love it!! You could start a business and make some money with that kind of work!! Phew!!! I love it!

By Annie Rios Hill [14]11/15/2005
I AM IMPRESSED and VERY SAD :( !!!!
Why oh why couldn't you be in Missouri? I would have hired you QUICKLY! I do thank you for your
kindness in sharing the tip. Serious you should
think of this as a career move.


By Holly [367]11/15/2005
A++!! Looks gorgeous!
You are sooo creative that you might want to consider setting up a side business doing this!

By Jennifer CA (Guest Post)11/15/2005
Awesome! What kind of paint? You mentioned adding black acrylic paint to the red(what kind) paint.
Looks wonderful Great job!
Post Feedback
Add your voice to the conversation. Click here to share feedback.