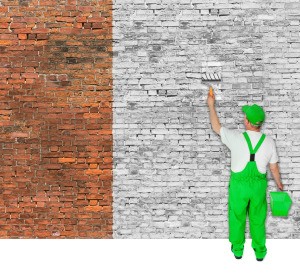 We painted a brick house recently, and we were puzzled about how we were going to get the mortar painted short of taking a brush and painting it by hand. We took a sprayer used to fill with weed killer and thinned down the paint, then we put it in the sprayer, pumped it up, set it on spray, and sprayed the mortar in the brick. It worked beautifully and took very little time to get the job done.
We also thinned the paint to paint the brick with. What would have took a week to do the job, took only two days to get the whole house done, spraying and rolling the paint on the house. We would have been done in one day, but we took off because of the heat.
By Cassie

Has anybody had good success painting an ugly brick fireplace? I still want a rustic look, just not the ugly brick. The house has a lodge feel with lots of tongue and groove wood walls.
By amy from Oneonta, NY
Answers

Myrna
Bronze Feedback Medal for All Time! 168 Feedbacks
January 23, 2011
0

found this helpful
Best Answer
There's a church in town that was built with used bricks in the 1950s. It is multicolored due to old paint on the brick. It has a bit of cream, black and and rust and it's very pretty and adds character.
If you are intent on changing the brick's facade, have you thought of using a hard resolution sponge
and cut it into large pieces according to how many paint colors you use. Doing the inner brick only, dab the brick using one color and the next brick another color. Ever so often allow the original brick to be bare. Try using the colors already in the room or use earth colors only and don't allow the paint to heavily penetrate into the brick. If you're looking to get a rustic appeal, some of the original brick will need to be seen to obtain this look. Do this in an informal way keeping one color far from the next brick. Also, dab the paint on each brick some areas lighter than another area so it looks natural, but leave about a half inch around each brick the original color. If you don't like it you can always paint it a solid color. This keeps it from being boring, gives character to the original brick and will add charm to a lodge/cabin.

(Guest)
Gold Post Medal for All Time! 846 Posts
January 24, 2011
0

found this helpful
Best Answer
Unless you have your heart set on paint and a particular paint color I personally suggest to use concrete stain because the stain would have a more rustic look and hold up better over time.

January 25, 2011
0

found this helpful
Best Answer
I had an ugly fireplace in my family room which stood out like a sore thumb. When I painted the room, I painted the fireplace the same color which helped it "disappear" somewhat.
I used the same latex paint that the room was painted and used a paintbrush to get into all the uneven surfaces.

Louise B.
Silver Feedback Medal for All Time! 337 Feedbacks
January 25, 2011
0

found this helpful
Best Answer
I personally think brick looks best left as it is, but that is just my opinion. It seems to me that if the rest of the house is natural wood, it would be a mistake to paint the fireplace. However, as I said, that is just my personal taste. And I haven't seen your fireplace.
Answer

this Question

I would like to paint our existing interlocking red brick ground-level patio (approx. 20 feet x 8 feet). I have grown tired of the red, but would rather paint than replace.
Any advice on whether painting is feasible (part of the patio is protected by an upper deck; part is open to the elements) and if feasible, I'm looking for advice on the best process to follow to paint. Thanks!
By Karen from Calgary, AB
Answers

May 11, 2009
0

found this helpful
Painting bricks that are to the weather is not a good idea. However, if that is your desire I would lift up a couple of bricks in a traveled area that is unprotected to the weather and paint them color of your choice. Then replace them and see how they stand up to the traffic and weather. If the results are poor then just turn the bricks over to the natural red side and place them back in their slots.

May 11, 2009
0

found this helpful
First you need to power wash the brick. You can probably rent a power-washer at your local hardware or rental store. Let the brick dry thoroughly for a couple of days, and then fill in any cracks in the mortar with caulk.
Because there are many different types of bricks, it is important to get an acrylic primer and paint designed specifically for brick and masonry products, such as Drylock. Good luck!

Allison
Bronze Feedback Medal for All Time! 231 Feedbacks
May 14, 2009
0

found this helpful
I would not paint the brick as it will become a maintenance headache, particularly because it's a horizontal surface that people will be walking on.

wordswork
Bronze Feedback Medal for All Time! 170 Feedbacks
September 23, 2016
0

found this helpful
I'm also in Calgary, Karen, and experimenting this year with whitewash (on my gound-level back deck). Given the size of mine (75 x 8), I was looking for something not only economical but also environmentally friendly.
Whitewash answers both, but can also be tinted (if you don't want stark white).
Answer

this Question
What products are needed before painting a brick home's exterior, for sealing, etc.?
By Kathy G.

Answers

December 6, 2017
0

found this helpful
Brick is not meant to be painted. So, its going to require more maintenance. Be sure thats what you want before you paint it, because once its done, its done. Repair any bad chips in the brick. Decide if you want the mortar lines painted or not. Clean the brick of any algae, mold, dirt or mineral deposits. If not, tape them off. The brick has to be dry. Then paint it with an alkaline-resistant primer. It may require more than one coat. Then apply the paint. Again, it may take more than 1 coat. You will have to repaint it every 3 to 5 years.

Judy
Gold Post Medal for All Time! 677 Posts
December 6, 2017
0

found this helpful
Think twice before painting. The previous owners of our home did this and we have to touch up constantly. The only alternative would have been to sandblast the paint off. That would have been a mess and expensive
Answer

this Question