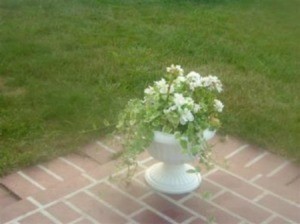 I painted the entire patio with a grey porch/patio paint and was not happy with the look. So I next used narrow masking tape to tape off the brick pattern. I then used a red brick color and an old paintbrush to paint the bricks (I mixed a little black acrylic paint with the red to make it look more authentic). It has worn fairly well and only needed a few touch ups each summer.
I love the way my patio looks now and it sure beats the cost of installing brick pavers!
By Marianne from Trenton, Ohio
Read More

Comments

The concrete porch floor on our 82 year old house had been painted. We put carpet on it when we bought the house but it has now died and so I've scraped the chipped paint, put 2 coats of Kilz primer and 1 coat porch and floor paint on it. (Valspar brand, satin finish from Lowes). Planned on another coat but I stepped out after a big rain yesterday and see that the porch floor is going to be dangerous in the winter snow and ice. It is slick in just rain.
Finally, my question: I've heard that you can either buy paint with sand mixed in or mix it yourself to keep it from being slick. I need instruction on how much and what kind of sand to mix with the paint because I've tried to find some in stores and have found none. Any other suggestions would be appreciated, also.
Donna from Dayton, Ohio
Answers

July 12, 2007
0

found this helpful
In the paint aisle, they tend to have sand additives for the paint, and will mix them right in for you at the counter. I don't recommend this, though- The first time we painted a wooden walkway with this, it was way too fine to make any difference. So we got some play sand and mixed it in... It all sank to the bottom before we could finish painting... SO, we ended up painting the walkway, and tossing play sand on top of the wet paint as we went. It stuck to the wet paint, and for the most part, blended in well. The only bad thing is that we're going to have to redo it again this fall because we scraped a lot of the texture off last winter when we shovelled the snow. Good luck!
By Dean. (Guest Post)
July 17, 2007
0

found this helpful
Sherwin Williams has a product called shark grip that is added to concrete stain to give traction.I would visit or call your nearest SW dealer.
Answer

this Question