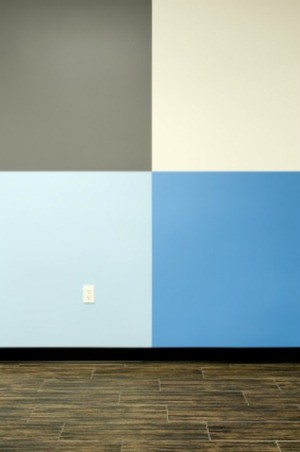 All the walls in a room do not to be the same color or even one color. Get adventurous and create a unique space with paint. This is a guide about painting walls multiple colors.
Ad
---
Questions
Here are questions related to Painting Walls Multiple Colors.
I am painting my bedroom and was wondering if I use two different colors is it better to: Paint one wall one color and three walls the other color. Or: Paint two walls one color and two walls the other color. Also, if I use a light blue and a light pink which walls should be what? I have I large window in my room, but the bed isn't on that wall.
By EMPSTER from Portland, OR
Ad
---
---
Best Answers

By Gloria [5]06/26/2010
Paint the largest wall (the wall without a window or door or the wall with the most sq feet) the darkest shade of paint color.
---
Best Answers

By Karen [12]06/24/2010
I would paint one wall a color and the other three the other color.
---
Best Answers

By Lisa from WI (Guest Post)02/02/2007
Paint the walls with the windows in the lighter color. When the sun shines in and the wall is very dark it may look black. I know this because I painted the wrong wall in a deep burgundy :)
Hi everyone, I'm new and not sure if this is the right place to post this. But I want to change my room. Right now my furniture is mostly wood. My favorite colors are red and black and I was wondering about painting my walls those colors, but I'm not sure which walls to paint with what colors. Any tips?

Petra
Ad
---
---
Most Recent Answer

By Melody T. [5]05/14/2009
I agree that one accent wall would be a better idea than an entire room of black or red. Keep your other walls neutral with a khaki or cream color -- it would coordinate beautifully with your black and red accents, and don't forget some green plants, too! In my living room, I just painted the fireplace wall red (Behr "Brick"), and the other walls gold, and it doesn't take the room over at all despite being a dark, rich red. It did take 2 coats, but I did not use primer (and this was over walls that were originally cream colored). Quality paint seems to have more pigment in it and covers better, in my opinion, so I'd always recommend it especially when you want to paint a darker color.
I am a teen, and this summer I decided to redo my room. I have chosen the color purple and I got a new purple plum colored bedspread with zebra accents. My mom wants to make the walls lavender with 1 dark plum wall, but I want to make 3 purple plum walls with 1 lavender wall and to pull the plum to the lavender have a stripe with the color throughout all the walls. Would that work?
By Tess O.
---
Most Recent Answer

By Louise B. [5]07/23/2013
I think that since this is your room, and you are going to have to live with whatever you do, that you should just go with what you think. However, the previous posters have some good advice. It would be nice to see how the color works before you paint, so if you can find some decorating sites that would be great. My son wanted his room blue with clouds along the ceiling, but decided that the blue he chose was the wrong blue when it was on the wall, so we didn't do the clouds. Why don't you paint one wall lavender, and one wall the darker color, and then see which color you want for the accent and which for the whole room? Would that work?
I painted my bedroom with two different colors. My large wall is nautical blue and the other three walls are cream. Something is wrong. It doesn't look right. Can someone offer suggestions?
By Chris B
---
Most Recent Answer

By Krista Shackleford04/05/2013
Rooms often have two to three colours. Main (really should be neutral, so if you change your decor later, you won't clash), trim is a second but not as dominant colour. Often this will be crown molding, baseboards, window frames, etc. You can make this earth tones like sage, light pumpkin, to name a couple, or jewel colours, dark sapphire blue, emerald green, ruby red, etc. Last will be your accent. This will be the least used. Accent colours will tie in the first two. Accents are usually things like throw pillows, vases, pictures/frames. Often accent colours have a lot of pop, are extremely bold, and a little bit will go a long way, just as too much will overpower.

Maybe it isn't a missing colour you are needing, but theme. You said your wall is nautical blue. Without going overboard, maybe art with beach scenes or old ships on the sea, or lighthouses could be introduced.

As for bedding, I personally would go for cream with a piping of nautical or have it as a secondary. If you have it as primary, your bedding may not exactly match your wall. However, if that does not bother you, then by all means, both choices would be viable.

Just be careful when working with dark colours. In small rooms, dark colours can make a small room tiny and stifling. Make sure if you use a very dark colour in a small room, it is not the dominant one, or you have a lot of natural light, as well as a mirror to bounce the light around. Dark colours in a very large room can make it seem not so large or intimidating. It also absorbs sounds a little better than lighter ones, I believe.

Yeah, this is a novel of an answer to a paragraph of a question, but I hope I helped and/or gave you some fresh ideas.
Which half of a wall should be painted the darkest color, the top half or bottom?
By Kathy from OK
---
Most Recent Answer

By Beth [25]03/22/2010
Bottom. No matter what.
Do I paint the dark tone on the tallest or shortest wall?
By Karen
---
Most Recent Answer

By hopeful [26]09/08/2011
A good tip for most anything having to do with color. Think about which is the heaviest. Dark colors are heavier than light colors (black skirt, white blouse). I would paint the bottom darker than the top. The dark color being heavy, always goes to the bottom. Hope this is clear. :)
I want to paint my recreation room with two colors. My furniture is chocolate, floors are two-toned tan (light and dark) and I have two columns in the center of the room. Orange and tan are the two colors I am considering. Which color should be my dominate color if I accent one wall or should I paint two adjacent walls one color and the other walls another color? Also, what color should I paint the columns?
By Sandy
---
Most Recent Answer

By Sheilah Link [5]12/30/2011
I would use the tan as the main color and a very vivid red-orange for the accent. Have you considered the wonders of masking tape to make a pattern on one wall using the accent color. Orange is not a favorite color of many people, so limiting its use might make the room more appealing.

I would suggest the pillars be predominately orange and one wall. The masking tape pattern could be repeated on the pillars or even a reverse on what is on the walls. You might want to also considered using the chocolate brown as a smaller area accent on the walls and pillars or even doing the pillars in the dark brown and red-orange. This could be fun and if you don't like it, easy to change.
I planned to paint an accent wall of my family room with random stripes (four different colors). I brought the paint and now I feel so lazy and it seems like lots of hard work. The paint is non refundable so please can anyone suggest how else can I make a pattern or how else can I work with multiple colors on a wall. The colors include light beige, light yellow, light green, and light grey on an off white wall
Thanks a lot in advance.
By Miss handy from tomorrow
I am painting the living room and dining room area using 2 colors. I want to put stripes on the walls, but with an odd number of walls (5) how do I even it out to look good?
By Shelly
Solutions: Painting Walls Multiple Colors
Do you have knowledge about this guide topic? Feel free to share a solution!
Archives
Thrifty Fun has been around so long that many of our pages have been reset several times. Archives are older versions of the page and the feedback that was provided then.
I am painting my son's room and want am using a dark blue and grey combination. Which wall(s) would you typically paint the blue?
Lynn from N. Potomac, MD
---
RE: Painting Walls Different Colors in a Bedroom
Hi Lynn, I would paint the "feature" wall the dark blue; the wall that you want to draw the most attention to. I have been using the site
behr.com
they have a "workshop" that you can pick out your paint colors then pick out a sample room and "paint" the walls with your choices to see how it looks. It has been very helpful to me and is really kind of fun! (01/08/2007)
RE: Painting Walls Different Colors in a Bedroom
Depends. If your room is dark and needs light, paint the wall which will reflect the most light into the room from a window or door the lightest grey. Remembering that dark blue will bring the wall into the room more, sort of closing in on you, I'd paint only "one" wall that color. I've had it before and used white furniture against it and it was striking! Hope you're going nautical? Those are great colors with accents of red and gold here and there, and brass hardware, lamps, drawer pulls, etc. God bless you. (01/26/2007)
By Lynda
RE: Painting Walls Different Colors in a Bedroom
Paint the walls with the windows in the lighter color. When the sun shines in and the wall is very dark it may look black. I know this because I painted the wrong wall in a deep burgundy. (02/02/2007)
By Lisa from WI