January 24, 2005
0

found this helpful
In my former house we painted one wall red in the dining room. It turned out really nice and didn't overpower the room. Be prepared to use two coats as red doesn't really cover well.
I have never used black as a wall paint, but we painted my husband's home office/spare bedroom a very dark gray. It turned out really nice, but it did make the room awfully dark.
My advice, do only one wall to start, and if it doesn't turn out the way you would like, you can always paint over it.
Wendy
January 24, 2005
0

found this helpful
After spending 3 days trying to cover my daughter's orange bedroom with lighter paint (she'd painted it when she was 14) I'd definitely rule out black. Dark paints are really hard to cover if you decide you don't like it. Also be very careful with the edges.
Susan from ThriftyFun
January 24, 2005
0

found this helpful
To my way of thinking, painting a room all red or all black would be too much. However, what if you painted one wall, preferably an unbroken (no windows or doors) one, red and all the other walls solid white. Then, you could use black as an accent color; i.e., black and white curtains or drapes, bedspread, etc.
January 24, 2005
0

found this helpful
To carry off a black room you really need specific furniture and accessories, (e.g. which reflect light, or gold highlights or white textures), and give an overall 'designed' look to the room otherwise it could just look dark and depressing. Red comes in many colours. I would paint a toilet bright fire engine red as it is striking but not a colour I would like to sit in and look at for long periods of time. Other reds, crimson, maroon, ruby, etc, can look fabulous but be aware that a small room will look very small with an all over strong dark colour - the walls will appear to draw in.
I have seen a beautiful dining room in a dark red which looked so rich and opulent, especially in lamplight.
Look in some decorating/home magazines for the colours you like and see does the style of your room and furniture fit in with those in the pictures so you can achieve the overall look you want. Colour is only one aspect.
Regards
Jo
Regards
Jo
By AMY (Guest Post)
January 25, 2005
0

found this helpful
I justed painted a 9'-10' room w/kilm red (ralph lauren)paint.I've received MANY compliments on the room & color,two of my customers went out & purchased the same color for their homes.The room was done in a safari theme.I think I was able to pull off the dark paint because there are no windows in this room & I have low lighting for a relaxed theme.Dark colors are hard to paint,so it is best that you purchase the primer to go w/the color & paint this first.
By Crystale (Guest Post)
January 25, 2005
0

found this helpful
one solid color would be too much but if you painted the room red and added a black stripe, horizontal if the room is large or vertical is fairly small, i think that would be very attractive
By Sarah (Guest Post)
September 29, 2005
0

found this helpful
We just hired this professional painter to come in and paint our dining room, because I am hopeless at painting...he said that we didn't not need a primer, I know they are professional, but this makes me nervous, as i have always heard that a primer is neccessary for any paint color, esp. with the dark red I'm using...help!
By olivia (Guest Post)
October 4, 2005
0

found this helpful
i've seen walls painted in an almost black color in Ralph Lauren Suede paint. It looks quite sharp if you have cool furniture - the room I saw had british tan leather upholstery, bright brass lamps and glass tables.
I personally have used a rust colored RL suede paint with great success. You might want to check out this suede finish - it could soften a hard, flat black color.
By Shelley (Guest Post)
February 17, 2006
0

found this helpful
I recently painted my bedroom red and black and it looks amazing! It really doesnt make the room look any smaller at all, in fact I think it loks bigger. I painted two walls red and two walls black, with the walls of the same colour meeting at the corner (that is, if you looked at all the walls in a clockwise way, it goes red red black black). All my furniture is white and it looks great. Recieved many compliments about it.
By Joanna (Guest Post)
March 15, 2006
0

found this helpful
I have a FR that is primarily Pella floor to ceiling in oak. I am considering painting this room red. Do you think that the red will go well with all of the oak in the room??
January 21, 2008
0

found this helpful
I love red and black also. My furniture is red and black also, with a touch of golden yellow so i painted my walls golden yellow with behr paint one coat is all it took.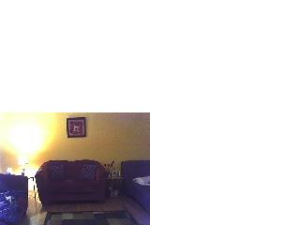 May 14, 2009
0

found this helpful
I agree that one accent wall would be a better idea than an entire room of black or red. Keep your other walls neutral with a khaki or cream color -- it would coordinate beautifully with your black and red accents, and don't forget some green plants, too! In my living room, I just painted the fireplace wall red (Behr "Brick"), and the other walls gold, and it doesn't take the room over at all despite being a dark, rich red.
It did take 2 coats, but I did not use primer (and this was over walls that were originally cream colored). Quality paint seems to have more pigment in it and covers better, in my opinion, so I'd always recommend it especially when you want to paint a darker color.