January 29, 2015
1

found this helpful
Best Answer
Before painting a red wall, you should always use a grey primer. You can ask for it at your local hardware store. They can add the grey to the existing white primer. It makes a world of difference.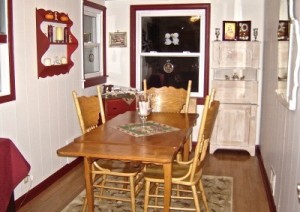 June 21, 2015
0

found this helpful
Best Answer
I once painted a 12' x 14' bedroom a deep library red in just 2 coats, using only one gallon of Sears premium paint, and no primer at all. This included a walk-in closet that was about 7ft deep, though in all honesty, the coverage was utter crap by the time I got to the lower half of the back wall of the closet, because I didn't want to go back to Sears and buy a quart just for that little bit, so I practically squeezed that roller dry and practically licked the can. Not like anyone was going to see it as a chest was going in front of it, so I called it good enough.
The room and closet had previously been painted lavender, and I painted red right over that with no primer at all. Lavender has grey undertones, so maybe that's why it worked?
I've painted a lot of rooms and the only time I've ever used primer was in the same house, 2 coats of it to cover up a brown accent wall in the living room - the rest of the LR walls were baby boy bedroom blue, ugh - as I knew the gold paint I was using wouldn't cover the brown unless I went and got another gallon of gold paint to do it. It covered the blue in 2 coats, and even with the 2 coats of primer on the brown it still took 2 coats of gold to finish, probably because the primer was off-white. In retrospect I should've used beige-tinted primer. I work without a net and also managed to spill a huge puddle of primer all over my carpet. That was fun to scrub up.
Also once painted a large (13' x 21') light grey LR with a gallon and a half of dark forest green, without primer. I don't find primer necessary before painting, unless the room or a wall is a very dark color, and you're painting it shades lighter.
I actually found this site because I'm having an issue with painting a life-sized white ceramic apple (part of a larger ornamental piece; I've apple-ized my kitchen) in red acrylic. It's irritating me that I can see every single brushstroke after 4 coats of paint, even though I tried a foam brush rather than a thick bristle art brush with the last coat. I've painted the seat of a black kitchen stool with a leafy branch and a few apples on it, and painting red over black was a lot easier than red over white. Just can't get it to the point where I can start accenting with bits of yellow, orange, and white. I guess I'll try some grey acrylic over my 4 coats of red and then re-paint and see if it helps any.