January 29, 2015
1

found this helpful
Best Answer
Before painting a red wall, you should always use a grey primer. You can ask for it at your local hardware store. They can add the grey to the existing white primer. It makes a world of difference.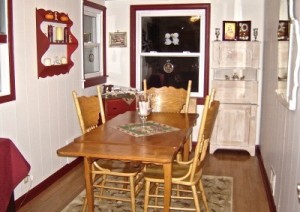 June 21, 2015
0

found this helpful
Best Answer
I once painted a 12' x 14' bedroom a deep library red in just 2 coats, using only one gallon of Sears premium paint, and no primer at all. This included a walk-in closet that was about 7ft deep, though in all honesty, the coverage was utter crap by the time I got to the lower half of the back wall of the closet, because I didn't want to go back to Sears and buy a quart just for that little bit, so I practically squeezed that roller dry and practically licked the can. Not like anyone was going to see it as a chest was going in front of it, so I called it good enough.
The room and closet had previously been painted lavender, and I painted red right over that with no primer at all. Lavender has grey undertones, so maybe that's why it worked?
I've painted a lot of rooms and the only time I've ever used primer was in the same house, 2 coats of it to cover up a brown accent wall in the living room - the rest of the LR walls were baby boy bedroom blue, ugh - as I knew the gold paint I was using wouldn't cover the brown unless I went and got another gallon of gold paint to do it. It covered the blue in 2 coats, and even with the 2 coats of primer on the brown it still took 2 coats of gold to finish, probably because the primer was off-white. In retrospect I should've used beige-tinted primer. I work without a net and also managed to spill a huge puddle of primer all over my carpet. That was fun to scrub up.
Also once painted a large (13' x 21') light grey LR with a gallon and a half of dark forest green, without primer. I don't find primer necessary before painting, unless the room or a wall is a very dark color, and you're painting it shades lighter.
I actually found this site because I'm having an issue with painting a life-sized white ceramic apple (part of a larger ornamental piece; I've apple-ized my kitchen) in red acrylic. It's irritating me that I can see every single brushstroke after 4 coats of paint, even though I tried a foam brush rather than a thick bristle art brush with the last coat. I've painted the seat of a black kitchen stool with a leafy branch and a few apples on it, and painting red over black was a lot easier than red over white. Just can't get it to the point where I can start accenting with bits of yellow, orange, and white. I guess I'll try some grey acrylic over my 4 coats of red and then re-paint and see if it helps any.
July 15, 2009
0

found this helpful
The only thing that has ever worked for me with red is dark pink tinted primer, and 3 coats of good quality red paint.
July 16, 2009
0

found this helpful
I believe with red paint you should either go with a tinted primer, or a gray primer and it will go much better.
July 16, 2009
0

found this helpful
Just keep going, red is the hardest color to paint. I would expect to do at least 5-6 coats to get a nice finish. Good Luck
August 11, 2009
0

found this helpful
We just painted a red wall this week, and it turned out really great, so wanted to share. We used Behr Premium Plus Ultra in Red Pepper. It has the primer mixed in with the paint. We decided to try it out after seeing the sample the store had of side by side comparisons of using three coats of regular paint (with white primer underneath) verses only two coats of the Ultra.
I was still a bit skeptical, as we were doing this over a white wall. Well, with no other primer/color underneath the two coats of Ultra look FANTASTIC! We are so pleased! Happy painting!
June 2, 2010
0

found this helpful
We successfully painted a wall red this week with only two coats. But getting there was a nightmare! We started by painting over a white base. Each place there was overlap that didn't get feathered-in was darker. After each coat, the wall got darker. After 4 coats it looked horrible.
So we painted two coats with a grey primer, sanding after each coat with 120grit. Then we added Floetrol to the left over red paint. The paints handling characteristics were hugely different. The paint went on much smoother and we had a lot more time to feather the overlap in.
Two coats and it looks fabulous! We used Behr Premium Plus Ultra Satin in a custom red designed to complement some antique Chinese furniture and artwork that we have.
We couldn't be more pleased. Oh, the advice to maintain a steady pressure on the roller without pushing down hard and frequently reloading with paint was also helpful. It's hard to decide if the gray primer or the addition of the Floetrol was more important to the success in the second attempt, but I lean towards thinking it was the Floetrol.
January 15, 2011
0

found this helpful
My husband is a painter, so it is interesting to see some of the posts below. You cannot just paint walls red without priming them first, even if they were painted before. They have to be primed with a dark color for the red to cover. Behr makes some good products, but not interior red.
Benjamin Moore is the best to get. Imperfections always show more with a gloss finish than with a matte/flat finish. Temperature in the room that you're working in also matters. If it's too cold, a gloss dries with patches of flat and a flat dries with patches of gloss.
January 23, 2011
0

found this helpful
I have painted my kitchen a deep red. It took 2 coats because I wanted that deeper color. The best paint is by Behr paint and primer all in one. I had no problems and the inital wall color was an eggshell white.
My husband and I painted the outside of our house a few months ago with Behr paint and primer all in one. It covered in just one coat. If you have windows in your kitchen don't paint it red, My kitchen has no windows but our floor plan is very open. We live in Florida so the sun is always out. We used alot of browns on the other walls with the same brand of paint. But any color you choose will look great as long as you use Behr Paint and Primer all in one. It cost $36 per gallon but is worth it.