I am having serious painting problems! I decided to paint over my white walls in a deep red/burgundy Behr paint from Home Depot. They advised me to use a deep primer so I wouldn't have to paint multiple times. So after priming it once, and painting it 2-3 times, it still looks bad. I can see the roller marks and brush marks everywhere. If anyone has any advice as to how I can fix it, or cover it up, it would really help!
Vanessa from Toronto, Ontario
Answers:
Painting Walls Red
My son painted a lighter shade over deep red walls, He used a products called "Kilz" first and had no problems. (01/23/2007)

By Janet
Painting Walls Red
Instead of all this re-painting or re-priming why don't you get some type of a faux finish roller? I have one that has a seafoam sponge. Then just paint one more coat with the faux textured roller and the wall will still be red but with a texture which I am guessing will hide any imperfections. Just a thought. I've never tried it but it might work. (01/23/2007)

By Donna
Painting Walls Red
When I painted my living room a deep burgundy I used a primer that was tinted the color of kraft paper. It still took two coats of red but looks great. I painted only one wall in this color for accent. If you are going to do this, paint a wall opposite big windows. I didn't. When the sun shines in the paint looks almost black. It is beautiful with the lights on, though. Live and learn I guess. (01/23/2007)
By Lisa from WI
Painting Walls Red
I painted our bedroom red and was told to use a grey primer. Personally I will never use a primer again. I ended up painting 4 coats and it looked bad, so I painted it a different color. I attempted to paint red again in the basement and this time, just painted red with no primer. I did 2 coats and then a touch up coat on one wall and it looks great! (02/02/2007)

By Stacie
Painting Walls Red
My friend had a red living room painted professionally. When she went by to check on it, the painter had painted the wall BLACK! To her horror she asked if he had the wrong paint. No, he said, when painting any jewel tones he always paints the wall with a black primer in order to get the richness of the color. Well, her walls were beautiful. Red in the dining room and navy in the den. Not a brush stroke or roller mark anywhere. (02/02/2007)
By Rebecca
Painting Walls Red
Get Benjamin Moore paint. I did my bathroom red and after 4 coats of Behr paint it took one of Benjamin Moore and looked 1000 times better. (02/10/2007)

Painting Rooms Red - repost
I just completed painting my dining room Cranberry by American Tradition and Signature Eggshell (Lowe's). This is the most beautiful color I've ever seen in a red! But, it comes with some trial and error that I'm happy to share:

First, use the grey primer that the store mixes for you according to the brand
recommendation - it really does help. It is a light grey, and you may not think it will make a difference, but it does. It eliminates 2-3 coats of the red you will have to use without it. I used primer and 2 coats and it was great.

Next, wait at least 3 to 5 days before snarling in disgust at the streaks/strokes visible in the room. They will go away! This paint is very thick and takes about a week to fully dry, really. After that, you can decide if you need another go-around, but you shouldn't. Seriously, wait before painting coat #4.
Lastly, a very important tip: score your blue tape line on the edge with a razor before you pull it off the baseboards and window frames. As I said, the paint is thick and areas often will peel right off along with the tape if you don't. I learned this the hard way on one window.

One more thing I noticed in my case; using the same roller direction kept the lines at a minimum. For example, if you start at the top and roll down, keep it that way on the whole wall, not up and down and over and diagonal, etc. You will have a few lines running up and down with the roller strokes, but again, these will fade in a few days.
(02/13/2007)

By Bridget
Painting Walls Red
The key is prepping the surface, for paint over paint. ALWAYS sand the entire surface with a 220 grit. Do this even for dried primer, sand it with 220 grit entirely, for scratching the surface. If there are really rough spots, drop to 120 grit and then work to 220 grit. The final paint will spread like magic.
I 2 coated yellow, a 20 by 20 room in under a gallon of Valspar paint. Behr spreads like junk. Valspar at Lowe's is much better. Sand and prep, use putty knife to knock down any little specks from old paint. Sand all. Then wipe with damp CLEAN rags, changing to fresh rags often. They should be damp, not wet.
Once there, if you have a dark color, prime with high quality primer matching tone of your target. Use Purdy rollers and brushes. Let the primer dry completely and 220 grit sand AGAIN. Wipe damp AGAIN. I NEVER reuse a roller. It just is not worth it. It takes an hour to get the paint out and the texture always is less than perfect.
In terms of streaking, I avoid this every time using the following trickery. Cut in AND roll at the same time before things dry. Wet paint on dry dries differently and you see the difference. Also, use the high quality brushes and rollers. Use the V when rolling and then even out the spread. I sometime paint a sideways Z square and then spread and fill. This is a roller trick of course. The cutting in: the key is using the trim tape. It is a no brainer.
You must peel it off 30 minutes or risk peeling paint off with it. When cutting in with the brush, I dip brush, wipe off just enough not to drip. I shake a length first along the edge of the trim tape. Then I go back and spread evenly and slowly using "the tip" of the brush to finish after 6 strokes of evening out. Most people make this HUGE mistake in using a brush. They push too much brush and this creates the thick brush lines.
Purdy brushes or NOTHING. Look at the cut of the hair on them. The tip is very accurate and fine. Your final even strokes should be the brush "tip", and not bending the brush. After cut, follow roller in V or Z and spread square even. Roll as CLOSE to the cut edge as possible. The roller finish is best. If you prepped the wall and sanded (even sand the primed wall), the surface will take and spread successfully without 4 coats.
You must spend time in prep and it will SAVE you in the end. Always cut in and roll at SAME time. Allow 40 minutes max for trim tape once first cut in is started/done, so 2 coat the cut in IMMEDIATELY after the first coat takes (30 mins?). Second coat is ALL light brushing for the cutting in. If you use too much pressure and you risk taking UP the first coat and you need to sand and restart. It is tricky, but second gentle coat WILL take fine.

If you consider all of the above.... you will never have a painting issue ever again.
The prep is key, take the lazy way out and you will end in a nightmare.

Mike the techie and part time homeowner/painter
(02/21/2007)

By Mike
Painting Walls Red
It depends on which red you're using. I work at Benjamin Moore and there are some reds that require a deep base primer and at least 3, sometimes 4 or 5 even coats of paint and that is with the primer. Some of the reds are good covering reds such as Lyons Red and Raspberry Truffle and could cover in 2-3 coats very well. It all depends on what colors of colourant go into making that can of paint. If you need a lot of red or magenta to make it, more than likely it will take multiple coats. If the red is made up of red oxide and other colours, it will cover good. It's all in the ingredients. Half of the colourants we have are "clear" tints and half of them are "opaque" tints. If your colour is made up of tints that are clear ones, it will be a multiple coat paint.
Red is not impossible to put on the wall but it does take patience and know that if there is a red you love that requires multiple coats, expect to put possibly 5 coats of it on the wall. Using a 15mm pile roller will also help because it holds enough paint to get it on the wall unless it's a semi gloss then you would use a 10mm pile roller sleeve. Load the roller sleeve and put about 2 rows on the wall from ceiling to floor (no"W"...this creates more lap marks than are necessary), then reload the roller making sure to roll over your lap marks. DO NOT PUSH HARD on your roller, it pushes the paint out towards the edges of the roller sleeve creating lap marks and the paint will be noticeably thicker in these spots and will stand out. That is why loading enough paint on the roller is important so never squeeze as much paint out of a load as you can or you will be doing even more coats of paint. Hope this helps you with the red. I don't think you need to start over, you just need more paint on the wall to get the depth of colour you want. (04/01/2007)

By Lisa
Painting Walls Red
I had painted my family room red. The key to no roller marks is to load your roller up (don't be stingy with the paint on the roller) Make a large W with your roller on the wall about 3 feet x 3 feet and then go SIDE to SIDE inside the W, load roller again and start over in a section next to the first doing the same thing as you blend your sections. I have painted dark blues, greys, beiges, browns, and greens. Using this technique, which is usually in the instructions on the can, actually works and I get my jobs done in 0ne coat! My husband is jealous of how I do it and is too impatient to use this method. I laugh as he puts on a third coat.
Tinted primers do work, use the same method with them. Also do your edging first then the walls blending into your edging, less brush strokes this way. By the way, I use Behr paint as well as American Tradition, they are both fine when using this technique. Good Luck! Remember load the roller, it may seem thick going on the wall, but when it dries it is nice. Better to do it thick in one coat than in 3 or 4. I find this method relaxing and quick, also my arms don't hurt because I am not rolling hard. (04/02/2007)

By Linda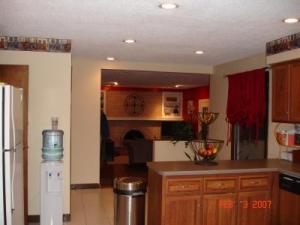 Painting Walls Red
After a few coats of red paint and still the walls looked terrible we decided another coat should do it. So we went to Home Depot to buy some more paint and we were told about a product called FLOTROL, I can not recommend this product more. You mix it in your paint and it adheres the paint evenly onto the walls, we were able to paint our living, dining, and hallway all with one coat and very dark colors. You have to try this product. (04/05/2007)

By Brenda
Painting Walls Red
Those colours sound great Jill. Don't worry about the Raspberry Truffle. It is a very good covering red, trust me! As long as you use a 15mm pile roller that is lint free you should be able to do it in 2-3 coats. Don't judge it by the first coat as it will always look not so good. You really should do at least 2 coats of ANY kind of paint as it is the depth or thickness of the paint that gives it it's strength and protective qualities. You may notice if you're stingy on a particular paint that it will wipe off the wall with a cloth when you go to wipe it...this indicates not only a lower quality of paint that is chalking but the thickness isn't there to give it strength after it has cured.

Some have posted that they have luck with the "W" technique, whatever works for you is fine, however that is not what we are advised to tell customers at the particular Benjamin Moore store I work at. All of you having problems with your Behr paint may just have to do multiple coats to achieve the depth of colour you're looking for. Patience is the absolute key to putting some reds on the wall. We're not trying to force you into buying more paint when we tell you it will require multiple coats. I have discussed in my previous post why this is happening to some of you with your reds. (04/08/2007)

By Lisa
Painting Walls Red
I bought my Behr paint and tinted pink Zinsser primer and looked up some tips on the web and was very concerned after reading the posts on this site. However, I did not have the results specified here. The primer worked very well for an even base followed by two coats of Behr Chianti. The first coat was a little streaky but by the second coat there was a complete even satin finish. I was expecting 4 coats after reading these posts but my wife agreed there was no need. The key is don't be shy about loading up the roller and as previously mentioned don't push hard against the wall. In fact, after you have spread the paint on the area you are working with go back over it with the lightest pressure possible to leave an even finish. Also, let the first coat dry a couple of days before adding the next if possible. Good Luck. (04/09/2007)

By Chris
Painting Walls Red
You have to paint multiple coats. They also have red tinted primer to help cover. Red is the only color that is like that and you need two coats of the tinted primer and two of the red.
(04/10/2007)

Test spot
That spot will be noticeable. I'd do that wall over priming the whole thing with a thick coat of gray primer, then the Valspar Ultra Premium paint from Lowe's (eggshell is best, satin shows flaws more). It's about $22 per gallon here in GA. Pain in the butt, I know, but it will be beautiful when you're done! Good luck! (05/15/2007)

By Bridget
Painting Walls Red
Painting walls red is not for the faint of heart. Some tips:
Always prime the wall with medium gray. Let dry for at least 4 hours.
Apply first coat. Dry for 4 hours. Be prepared to get the shock of your life. The first red coat is extremely unforgiving.
Apply second coat. Dry for 4 hours -now you know that everything will all be okay.
Use a low nap 6 inch roller to apply the 3rd coat. After 4 hours - you get absolute bliss.
(06/10/2007)
By Renato
Painting Walls Red
The smartest way to paint a wall red is to have the primer tinted to the same colour as the finish colour. Sherwin Williams is one of the few companies that has come out with deep base primers. Priming things pink or grey is usually only done because the applicator in question has yet to learn about deep base primers, which are less than 8 yrs old. They were introduced to the market place by Sherwin Williams.
Here are a few other tips: use 15 mil rollers, roll up and down and "never" stop your motion at the mid point. Go for the tight orange peel look and wait at least 10 hrs. between coats.
Some people rush things and start applying subsequent coats after the previous coat is dry to the touch, a few hours. The problem is though, that there has been not enough curing so that the next coat tears and ruins the uniformity of sheen already begun. Basically, if you rush between coats you've ruined the paint job, from the uniformity of sheen perspective. Behr products also "set up" faster, that is, they start to dry much faster than all other brands. So you have to be quick about your business and the aforementioned problem of tearing a previous system becomes compounded even more with Behr do to its coagulative nature.
Rick at Vancouver's Best Painters (07/10/2007)

By Rick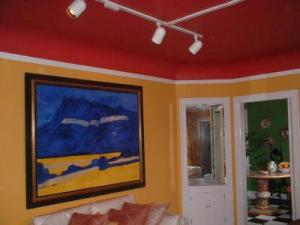 Painting Walls Red
I personally used Behr paint from Home Depot in a deep red. I began using the great pink primer they suggest to use, but let it dry thoroughly for 2-3 days before applying the first coat of red. I let the walls dry for about 2 days before adding another coat of paint. 2 coats later and my walls are absolutely beautiful. I think it's important to work fast and work from the top down without stopping in between. Be sure to blend the edges well and use a low nap roller. I can't say enough about how nice my walls turned out. With the white trim, crown molding, and ceiling with the black accents I just can't say enough. Taking your time is key...don't rush Behr paint or red for that matter. (08/26/2007)

By Maria
Painting Walls Red
I painted the top half of my dining room red this weekend. I plan to paint gray under the white chair rail next weekend. I used one thick coat of Sherwin Williams Real Red with no primer. The walls had been painted white last November. It looks awesome in all lighting. (09/24/2007)

By Fslone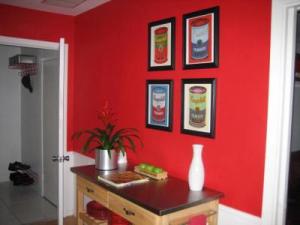 Painting Walls Red
First, I am part of construction outfit that paints 2000+ gallons a year in all sorts of applications. The following advice comes from 7 years of experience in all sorts of situations and applications: To be blunt, most people at Home Depot do not know the handle from the bristles of a paintbrush. Sorry to be so harsh, but truth is truth.

When painting a hard to paint color such as red, avoid the cheaper lines of paint from Home Depot and such places--their paint is horrible quality despite their commercials on TV. Instead, go to a professional paint store such as Sherwin Williams or Porter. Sure it costs more, and is a little intimidating, but you actually get more coverage from their paint and better results. Just be up front with them and tell them what you are trying to do and tell them your level of experience in painting so they do not assume you are a contractor. Most will be happy to explain everything in exact detail, match your paint color, and suggest the proper paint types for your application.

It also helps to purchase brushes and roller covers from these stores. They have higher quality brushes that enable amateur painters to get stunning results. I have had 5 guys in the past 6 months say, "Wow. I never knew there was such a difference!" when they started using a Corona brush ($30). (I hire newbie painters all the time.) Get enough tinted primer for your red. Apply the primer evenly at around 60-70 degrees. Then evenly apply 2 finish coats allowing a few hours to lapse after the paint is dry to the touch between coats. If it is not even, apply another.

One thing many people are not aware of is there is more to painting than simply rolling paint on the wall. You can find advice videos on HGTV and DIY that show you how to roll and brush paint on correctly and evenly and the proper steps of ho to 'cut-in', mask, etc. (10/13/2007)

By S.K.H.
Painting Walls Red
What you have is called flashing. Re-cut the room use their flat enamel or a satin smooth even strokes from top to bottom. Then lightly go over again with a wet roller top to bottom again. (01/28/2008)

By John The Painter
Painting Walls Red
I am in the middle of painting a room a deep red with Behr paint. I am on the 4th coat and can still see where I cut in the corners. I used a white primer. I am not sure if it is the paint or the color of paint is the problem since this is the first time I have used this brand of paint. The ceiling paint of Behr looks good and I only have done one coat so far. I will never let my 15 year old pick out paint again. (02/24/2008)

By Jan
Painting Walls Red
It's not the paint or primer more, its your technique. Don't let these people scare you into more expensive paint. I used white primer and 3 coats of red Behr paint all from home depot. The job turned out very nice. Get a book or find a site on proper painting and you'll be alright!
(03/22/2008)

By goodtimes
Painting Walls Red
Okay, it worked! Two coats of gray primer, two coats of red on top and it is perfect! I used Valspar paint from Lowe's in a satin finish. Just to repeat someone's suggestion further down; use a razor/knife when you go to peel the tape if it has been on for a while or you have numerous coats (11 in my case), so you don't peel up the paint. (04/12/2008)

By Carrie
Painting Walls Red
Yesterday I painted an accent wall in my living room Tibetian Red from the Valspar Lowe's Signature Collection. I did not use primer. Needless to say it is a nightmare! I found this website today and went to a Rodda paint store about an hour ago and told them my dilemma, and what I have been reading on this website. They told me that grey primer is good, but that a brown tinted primer is even better because of the oxides in the yellow base. They said one coat of primer, and probably 2 coats of my paint color should cover and fix my problem. I just wanted to share the new information about brown tinted primer since it has not been mentioned previously. We'll see, primer will go on tonight and I'll let it dry for a day, then try again with the red tomorrow. (04/14/2008)

By Heather
Painting Walls Red
I painted our kitchen a deep red. Walmart has Kilz paints - primer built in. Worked great - 2 coats! Lovely finish. (07/31/2008)

By hardenwilson
Painting Walls Red
Thank you so much for everyone's advice! We are using Behr Chianti Red for our bathroom walls in a satin finish. Going in naively, I started painting on top of white walls. After two coats that looked like a two year old had painted streaks and marks, I wanted to cry. We had plumbers coming to install fixtures, so we had a deadline and I didn't know what to do. After reading the advice on this site, here's what I did:
Gray primer! Two coats of the Glidden Gripper Gray, about 16 hours between coats and then at least 8 hours before the first coat of red.

Floetrol! With the first roller stroke I could tell the difference. The paint went on smoother and more evenly, consistently.

Apply the second coat perpendicular to the first coat. The first coat I applied going up and down. The second coat I applied going side to side. I also allowed at least 16 hours of drying time between the application of the two coats.

After the initial application of the paint in given a section, lightly go over the area again and again in the opposite direction to even out the paint. (So, when the roller tells you that you need more paint [See #5 below] go back over the area using A VERY LIGHT TOUCH!)

Do NOT, I repeat DO NOT try to squeeze as much paint out of the roller as possible! Use a light touch in the application and the evening out of the paint (recommendation #4). Do not push. Let the roller tell you when you need more paint. When a light touch does not give good coverage, go against your instinct and fill the roller up again.
Using these tips I was able to have a nearly perfect finish with two coats of gray primer and two coats of red. Again, thanks to everyone's advice! It really saved me a lot of time, effort, and gray hair. (08/24/2008)

By Andrew
Painting Walls Red
I don't get all the negativity about Behr paint. I've been using it for years as it's been #1 in Consumer Reports for years. I think the problem people are having is with their technique rather than the paint. If you ask professionals, rather than the paint guy at Home Depot, you will find they all tell you to use grey primer rather than pink.

I used Zinsser primer tinted mid/dark grey, waited 3 days, and then put on my first coat of red/burgundy in my dining room. The first coat looked pretty good, but decided to do another just for good measure. It looks great, just like every other room I've painted with Behr.
I use Purdy rollers and brushes, use smooth strokes, and take my time. The right technique and the right tools are the answer. I've never used Valspar or Sherwin Williams, but I don't need to bother trying. Behr works and looks great; it also holds up over time. (10/16/2008)

By Brian
Painting Walls Red
Definitely go with grey primer! It's not the paint quality. But rather that a tinted primer doesn't have the ability to fill in the gaps that the red paint molecules leave behind. I studied Interior Design and what most people don't know is that red paint molecules are larger in size which leaves larger gaps between them so that you can see the undercoat of paint. This is why you need to prep with a deep grey rather than a tinted white, which often turns out pink. This doesn't give enough coverage and you end up painting somewhere between 4-6 coats to achieve the same results.
Also, with deep colors such as reds, use a FLAT finish. Otherwise your walls will have a shinier finish even with a satin and end up looking more like nail polish rather than a beautiful shade of red. The flat gives it more of a designer look and calms down the boldness. It also hides any flaws that the wall may have. I hope this helps! (11/19/2008)

By Kristy