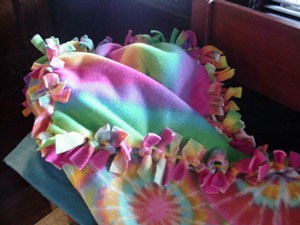 This is a fleece blanket made from 2 different patterns put together (right side out.) 1-1/2 yds each.

Cut all around edges 4-5 inches deep, 1-2 inches wide.

Tie together (I double tied this one)

By Alma
Ad
---
Feedback Forum
Feedback about this article is posted here. Want to contribute? Click above to post feedback.

By Joan [13]10/08/2009
Fleece washes really well. I have heard you shouldn't dry it with fabric softener, so therefore I don't use fabric softener on any of our fleece products.

By Janey123 (Guest Post)08/01/2008
Very very cute. I was thinking of doing this too for a friend. I'm worried though about it going in the washing machine. Have you washed them before? Does it work okay?

By Sandra (Guest Post)05/20/2008
I made this tie fleece blanket today out of baby snoopy fleece fabric and a white velvety kind of fabric. I found the instructions online and it took a really short time to make - I´m really pleased with the results, looks cute.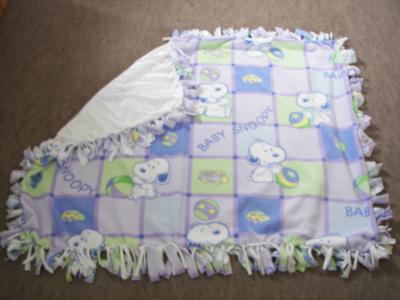 By (Guest Post)12/27/2007
for insructions go here http://www.allkindsofbabystuff.com/no_sew_fleece_blankets.html

By texas girl (Guest Post)12/27/2007
These blankets are perfect. I'm going to make one for my sister whose pregnant. Another idea is making a bigger one for yourself. I have one and it's so warm. You'll love it!

By Amanda (Guest Post)02/15/2007
I've made some of these and have a couple of tips:
(1) buy more fabric than you want the size of the blanket because after you cut in 5" on each side (you lose 10") your blanket is much smaller.
(2) cut in at least 5-6" on each cut and probably no more than 1" width. Also, always double knot them because you will find yourself going back to re-do what you've already done, especially when you wash it.

Good luck!

By mara. (Guest Post)02/04/2006
where can i find fabric how to make

By Karen (Guest Post)06/05/2005
Could I please have the complete instructions for the fleece baby blanket. I need the dimensions of size of blanket to fit a crib, how much to cut out of each corner, how long and wide the strips should be cut for the fringe along outside of blanket. Thanks. ASAP expecting Great Grand Daughter.... karlea5@netzero.com

By Mary Ann (Guest Post)03/19/2005
The directions for these blankets and many other fleece projects can be found at http://www.hancockfabrics.com .
They show you how to make pillows, scarves, purses and more

By (Guest Post)03/15/2005
This sounds so easy to make up and sooo pretty , so thanks for your pattern


By Marla Ball03/13/2005
I'm gonna give this 1 a try. I bought me some "Sponge Bob" & "Yellow" fleece last night. I can't wait to see how it turns out.

Marla

http://www.forgetmenotaromas.com - Our fragrances leave lasting impressions.


By Marla Ball03/09/2005
Thanks so much for the instructions. I believe I just might try my hand at this over the upcoming weekend.

Marla

http://forgetmenotaromas.com - Our fragrances leave lasting impressions.

By Barbara Huggins [8]03/08/2005
I made 7 of these for Christmas a couple years ago and they are really pretty easy.
Layer your 2 pieces of fleece (right sides out) and cut a 4-5 inch square out of each corner. Then you go all the way around and make cuts the same depth as the squares you cut out, about 1-1 1/2 inches wide.
Go back around and tie the top and bottom together. And you are done!!
Just make sure you keep the ties in order or you might have a random "tail" sticking out when you are done.
They wash up beautifully in the washer and are so warm and cozy on a cold winter evening.

By Marla (Guest Post)03/08/2005
I LOVE these and would like the instructions too.

Thanks

Marla

By Charlene (Guest Post)03/08/2005
"Cut all around edges 4-5 inches deep,
1-2 inches wide.
Tie together."
(She double tied this one)

By dotty (Guest Post)03/07/2005
how about some instructions?
Post Feedback
Add your voice to the conversation. Click here to share feedback.