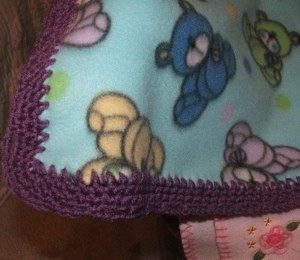 What kind of tool and template is used to make holes in fleece material so that a crocheted edge can be made?
By Mary from Eagleville, PA
Answers
December 20, 2010
0

found this helpful
If I were to crochet an edge on a baby blanket as shown in the photo I wouldn't bother with a special tool or template. I would use a small crochet hook to poke the holes, plus crochet the edging as I was going around the edge.
December 20, 2010
0

found this helpful
I have a sister that crochets handles or whatever they are called on terry dish towels that you hang them on a cabinet handle with, and she doesn't use anything other than the hook she is using for the crocheting.
December 23, 2010
1

found this helpful
I've always used those large bbq forks. Just insert the fork in the last hole you make and carry on all the way round. They are evenly spaced and a perfect size.
December 27, 2010
0

found this helpful
I haven't tried this yet. You know spiral ring school writing notebooks, when you rip off a sheet of paper, use the strip with holes as a measuring device spacer, mark holes-use metal crochet hook, the holes will be evenly spaced. Hey, free. joanie
January 2, 2011
0

found this helpful
My mother used to use a sharp metal needle.
If you want a more uniform look try threading a yarn needle with your your yarn then blanket stitching at regular intervals all the way round. 1/4 inch is good for most crochet with yarn.
January 7, 2011
1

found this helpful
Go to skipstitch.com and order a skip stitch rotary blade that works wonders on punching the holes. I have tried all different methods and this works the best. I have all the ladies at my work using the skip stitch blade also.
January 10, 2011
0

found this helpful
Take a look at www.edgerydoo.com
These are templates to aid making the holes evenly and you can punch through 4 layers at a time so that it is quick.
February 2, 2011
0

found this helpful
Go to www.skipstitch.com and take a look at their blades. They work great and can be used with a 45mm rotary cutting tool. This sure does save a lot of time. No more punching holes and this blade makes evenly spaced holes for crocheting edges.
April 21, 2011
0

found this helpful
How do you crochet around a blanket edge? Do you have to hand sew around it first? I just want to make a very light weight blanket. They are all so heavy. I'd just like to use a soft double piece of flannel or something similar.

By Phyllis from Fort Madison, IA
Answers:
Crocheted Blanket Edge
Yes, first hem your fabric (unless it doesn't fray like with fleece). To crochet around fabric, unless your fabric is woven very loosely (like monks-cloth) you'll have to first sew around the edge with the "blanket stitch" or "hem stitch" using either the same crochet cotton (if it's super thin) or use a color of embroidery thread that's matches the yarn you'll be using to crochet with. Sew the stitches fairly close together (at about 1/4 - 1/3 an inch apart and try to keep them at the same length apart if possible).
After you have this edging sewed into your work, you can then crochet into it. Buy a needle with an eye that's big enough to accommodate your yarn or thread. This can take a while if you use thin cotton, but don't be discouraged. Your lace work will be beautiful and worth every minute!

To make it extra-fancy (if it's not made for babies or young kids) you can also add beads to the crochet-work. You use what is called a "big-eye" needle (a long needle the opens in the center and not on the end). Add the beads to your yarn before crocheting then slip a bead down into your crochet work whenever you want one, then do a slip stitch around the bead to hold it in place. (10/15/2009)

By Cyinda
Crocheted Blanket Edge
I'm wanting to do the same thing. I saw something on YouTube that made me really want to do it! It's called a Skip Stitch blade for your rotary cutter, you use it like a rotary cutter, but it skips and place tiny cuts in measured increments! I saw it demonstrated on a fleece blanket, so cool! It's not in the mass market yet, you have to get it from the website, but if it's a matter of hand strength (which it is for me, injured hands) then this would be a great solution! (10/15/2009)

By michawnpita
Crocheted Blanket Edge
I forgot to mention in my previous post, that you can also do this edge-stitching with a sewing machine. You use a thick thread (like for button holes) and your machine's blanket stitch. (or button-hole stitch) If the thick thread won't go through the needle you can wind it around your bobbin and sew the project upside down. You need to use the biggest machine stitches possible (both width and length). Machine sewing isn't as sturdy as hand-stitching, but it can work if you're in a hurry. But if you're going to spend all the time doing a lacy crochet edging, you might as well do it the most durable way and sew it by hand with embroidery floss or thin yarn, but I thought I'd throw this additional idea into the pot.

If you use the "Skip-Stitch blade" You can only use it into a fabric that doesn't fray (like fleece or felt). It's a great fix for those who want to crochet around fleece. For fleece, you can also use a regular hold-punch make for paper to punch holes to crochet into, but as I said earlier, you have to realize that even knits can run or fray. If you're using flannel (which is woven) to begin crocheting, you'll need to sew (with your machine or by hand) around the edges so you have a starting point to crochet into.

A HINT: every 20 or so stitches, rub your needle on or near your scalp. The oils from you scalp lubricate the needle and make it easier to insert into the fabric. (10/17/2009)

By Cyinda
December 15, 2009
0

found this helpful
What is a good way to crochet an edge around a fleece baby blanket?
Quick Slip Stitch Border
Take the tip of scissors and poke small holes evenly spaced along edge of the blanket. Now take regular worsted weight yarn and slip stitch around the blanket. This is easy, quick and it gives a unique finishing touch to the blanket. For a baby, you could make small slits to run some satin ribbon through, and make bows at all four corners.

By Debra in Colorado
Slip Stitch Good For Other Fleece Projects Too
Great idea! I was looking for a finishing idea for a fleece poncho. It can also be a nice finish on fleece hats.

By gelykn
Use A Chain Stitch
I do something similar, only I space the holes about an inch apart, and chain-stitch from one to the next (leave a bit of ease at the corners) and then go around again, which makes a nice little diamond pattern. I've also tried getting a scalloped edge with this, but I can't read crochet patterns, so I just faked it. It turned out ok enough to make it an interesting idea.

By chinacat
Corner Advice
You can also punch a hole with a metal crochet needle (the kind used with crochet thread). Then, when you get to the corner, make 3 single crochet stitches in one space for the corner - that way, you will have a smooth corner.

By tedsmom
Use A Punch For Holes
I use an old punch and a tack hammer and it makes the holes quite easily. Just make sure the punch is a small one.

By Linda Jo
Paper Punch Or Skip Stitch Blade For Cutter
For holes in fleece, I have used a regular 1/8 inch paper punch and it worked. There is also something out called a skip stitch for 45 mm rotary cutters. You can only get it online for about $10. The blade is made so that it puts little holes in the fleece edge as you would use a rotary cutter. I got one for a gift. It works wonderful and fast.

By Lucy
Blanket Stitch Then Chain Stitch
I made several fleece dog blankets recently for our local humane society. All I did was to sew a narrow blanket stitch onto the edges with yarn and a large needle (the kind designed for plastic canvas works really well). Then, I crocheted an edge onto the blanket stitch like this: I attached the yarn to an edge and made 3 chain stitches, made a single crochet in the second blanket stitch, chained 3 more stitches, made a single crochet into the next blanket stitch, etc. until I got all the way around. It makes a pretty, small ruffly edging. If you want the ruffles to be larger, then just chain stitch more stitches and skip more blanket stitches.

By tedsmom
Tips For Holes, Yarn And Finishing
Here is the easiest way I have found to put the holes in the fleece. I use a small hole paper punch (found at Michael's or any craft store) about 1/8 size. Make sure you round the corners of your fleece, it makes it much easier to work the stitches in. I punch the holes about 1/2" apart all the way around. Using a size G hook, I then crochet 2 single crochet stitches in every hole around. This will give you a base to work your edging.

My favorite yarn to use around the fleece blankets is Caron, Simply Soft. You can buy the fleece fairly inexpensively at Walmart. I usually use about 1 1/4 yards per blanket for the younger kids. I made my oldest daughter one using 1 1/2 yards, and my husband one using 2 yards. They are easy, and can be made up easily in a weekend or a couple of evenings.

By mom2hhh
Step By Step Shell Border
I make flannel baby blankets much like mom2hhh does using the smallest hole punch to make the holes spaced 1/2" or slightly less apart around the edge of the flannel. I use 2 yards of flannel for each blanket and fold it in half and trim the edges (pre-washed flannel). It makes a nice large double sided baby blanket. I do single crochet stitches in each hole with baby sport yarn. This looks like a blanket stitch around the edge. Then in the single stitch spaces, do a shell stitch edging - 5 to 7 double stitches, skip a stitch, single stitch, skip a stitch followed by 5 to 7 double stitches. I try to space it so that a shell lands on the corner. I haven't rounded the corners. I will try that - it will probably be easier.
Expert Advice For Blanket Stitch
You can try using a tiny metal crochet hook (the kind that's made for crocheting doilies) and a thin "doily lace" thread. (These usually come in preshrunk "mercerized" cotton) to crochet right through your fleece. (If the weave is open enough)

If your hook won't go through your fleece, you'll have to first embroider your edge with a BLANKET STITCH (also called a "buttonhole" or "hem" stitch) using a large eye needle and either yarn or cotton doily thread.

After you have done one round with embroidery (needle and yarn or thick thread) then just crochet the rest of the rounds using whatever type of yarn and stitch you'd like, working the crochet into the top of the embroidery stitches. (I'd use double crochet, or make shells around the edge)

This is the way they used to do it way back in the old days, especially when crocheting baby clothes edging.

How To Embroider A Blanket Stitch (also called a "buttonhole" or "hem" stitch)

Below, is the reverse of the way I'm talking about, They show how to FIRST crochet the edge, THEN sew it on AFTER crocheting the edging, I don't recommend this unless you've already bought a great piece of edging and you wanted to sew it on.
Feel free to post your ideas below!
Answers:
Crochet Edge Around a Fleece Blanket
Here is a site where you can order different size templates and the tools to go with them for edging fleece blankets:

www.edgerydoo.com

Also listed under patterns are some edgings for crocheting around the fleece blankets (of which I've bookmarked for future reference). (10/26/2007)

By 1burrell
Crochet Edge Around a Fleece Blanket
I skip several of these steps by buying inexpensive fleece baby blankets that already have the blanket stitch machined around the edge (about $3.99 each). Single crochet around the entire edge (placing one stitch per larger "v" stitch), putting 3 sc in center stitch of each corner. Then you can use whatever crochet edging pattern you like, crocheting into the sc row. (01/23/2008)

By Tryna
Crochet Edge Around a Fleece Blanket
Use your sewing machine equipped with a wing needle works best for poking the holes. (07/25/2008)

By linda
Crochet Edge Around a Fleece Blanket
I struggled for two weeks with making the holes around the edge of the fleece to crochet. I went to our local hardware store and asked for something to punch holes in fabric, he suggested a leather punch. It looks like a hole punch only it has 6 different size punches on it. You can turn it to the size you want. It works great, and I can punch two layers at a time. I just fold the blanket in half. (12/11/2008)

By Sandy Hill
Crochet Edge Around a Fleece Blanket
This is an awesome idea for getting nice neat even holes in fleece for crocheting. It is basically an olfa blade that makes small holes. Check it out! http://skipstitch.com/products.htm (02/02/2009)

By Ann K.