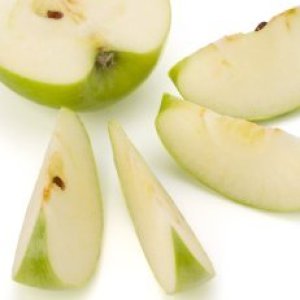 Solutions: Keeping Cut Fruit from Browning
Read and rate the best solutions below by giving them a "thumbs up".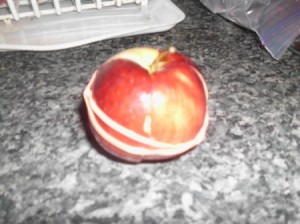 After cutting an apple, put it back together with an elastic ban. This will keep it from going brown in lunches.
By coville123 from Brockville, Ontario
Coat peeled apples with a little lemon juice to keep them from browning quickly. Or toss them into a basin of water with a pinch of salt in it.

By ThriftyFun
Squeeze lemon juice on fruit salad and it will not brown quickly. Some grapefruit juice will work as well and will taste even better (if you like the taste of grapefruits).
By ThriftyFun
Give a "thumbs up" to the solution that worked the best! Do you have a better solution? Click here to share it!
Questions
Here are questions related to Keeping Cut Fruit from Browning.
How do you keep sliced apples from browning?
By Dan
---
Best Answers

By patricia2701/10/2012
Sprite and other lemon/lime soda/pop works great, as well as the others mentioned.
---
Best Answers

By cdoss01/04/2012
I sprinkle lemon or lime juice on them. If I need to keep a bunch from turning, I put them in a zip bag and mix about 1 tablespoon lemon or lime juice with 1 tablespoon water, pour in and seal up and mix around.

There is also a product at the grocery store called Fruit Fresh. I believe it's normally with the canning products. We use it on peaches.
How do you keep fresh peaches from turning brown on desserts?

Esoper from Franklinton, NC
---
Most Recent Answer

By Muriel Hrbek (Guest Post)08/20/2008
I use frozen concentrated orange juice to keep peaches from turning brown. Wash approx. 15-20 peaches, slice with the skins on for nutritional value, add one 12 oz. can frozen concentrated orange juice, mix well to thoroughly coat and place in freezer bags. The orange juice adds a delicious flavor and color to the peaches and is sure to please. One of my favorite recipes is peach cobbler: thaw a bag of peaches and add topping, nothing needs to be added to the peaches.
Does salt water solution help to keep fruit from browning and why? Which is more effective, salt solution or acidic juices?

Rosanne from North Huntingdon, PA
---
Most Recent Answer

By Cleona Vassell02/14/2009
I'm no expert but I've always seen my mother used lime juice on ground provisions like yams, or potatoes if she is going to store them in freezer. When it comes to cooking for ex. cooking potato, bananas in boiling water a little salt will help keep the food from becoming discolored.
When I cut fresh fruit for a salad it turns Brown. How can I keep this from happening?

Thanks for your help,
Missy from Las Vegas
---
Most Recent Answer

By (Guest Post)03/02/2009
Lemon juice