A bar of soap is clogging our guest toilet causing overflow upon flushing. Snaking removed a small part of the bar but enough remains lodged to cause the problem to continue. Any tips on disolving the soap bar quickly while keeping the toilet intact?

Thank you,
LeeAnne from Maryland
July 27, 2010
0

found this helpful
This thread helped me, so i wanted to chime in. I had the same problem with a bar of soap in the toilet. I left town for a few days and assumed it would naturally dissolve by the time I got back home, but no such luck. I found this thread and then searched for the aforementioned Roebic Soap Digester. I couldn't find that exact product at Ace Hardware but i did find Roebic Main Line Cleaner (for about the same price $9), which I decided to try instead. I poured about 1 1/2 cups into the clogged toilet and waited about two hours. I then dumped a pot of boiling water into the standing water in the toilet and it began to drain instantly, but slowly. I followed up with 3 or 4 more pots of boiling water and voila! Mission accomplished!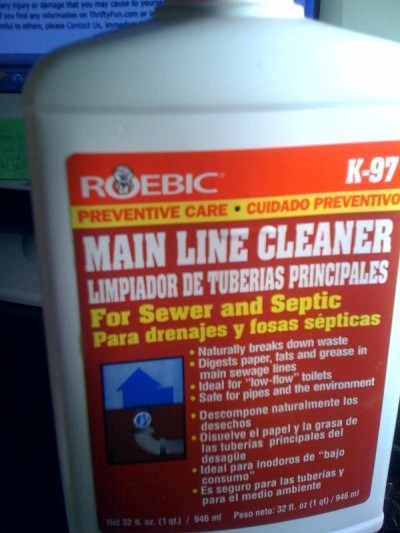 December 24, 2014
0

found this helpful
Thanks for the terrific advice regarding the Roebic product! It worked on my commode within a few hours.
August 25, 2015
0

found this helpful
Pour a can of Coke down the toilet.Coke can lift paint varnish from wood so should be able to take care of soap.
October 28, 2015
0

found this helpful
Did you try it yourself ?
September 19, 2016
0

found this helpful
My sweet autistic daughter put a bar of soap down the toilet. I tried getting it out but it went further back. Now every time we have to go to the bathroom we have to plunge the toilet because it gets real high. What do I use to dissolve this problem? I need ideas please.
Barbara from Shoemakersville, PA
By guest (Guest Post)
Flag
November 8, 2008
0

found this helpful
Exactly dietvanilla! We had this problem at work as one of the alzheimer residents did the same thing! Toilet had to come off and to get soap out, the maintenance man had to use a hose to flush it out. It did not melt or even get soft. Strange, as when it is in our bathrooms, it seems it melts in the air!
By guest (Guest Post)
Flag
November 8, 2008
0

found this helpful
Barb,
Sorry, I don't have a method for that either. I have a sweet 8 year old Autistic son and we are forever plunging the toilet. We use only liquid soap. We plunge because of toilet paper and diaper wipes..
Hug that sweetie :) Sarah in Washington
November 9, 2008
0

found this helpful
Turn off the water to the toilet.
Flush and plunge.
Pour boiling water down.
Let sit. four or five minutes.
Plunge again.
Do this maybe four or five times.. or until the boiling water goes down on it's own.
Turn the water back on and, once the tank is full, Flush again.
You might have to do this all several times, but it's better than the cost of a plumber.
Good Luck!
November 6, 2009
0

found this helpful
I wouldn't put boiling water in the toilet. The toilet is cold, and the hot water could cause your toilet to crack. It happened to me when my daughter was young, I had to replace the toilet. So, please think about putting hot water in the toilet.
August 26, 2016
0

found this helpful
My mom put a bar of soap into the tank of the toilet because the detergent thing has spoiled. When she flushed, the bar stuck at the hole. So now the flush lever has to be pulled more than 1 time (or could not be pulled) to fully flush. Anyone have any ideas?
By parislouise
December 13, 2011
0

found this helpful
I might not be understanding the location of the soap bar, because from what I'm understanding in your question the soap is located in an easy to reach spot; I would have gloved up and pulled the thing out of there by now.
Is that possible in your situation?