When I want to wash a separate article by hand or do not want to use the washer for a few black socks, etc., I use the "plumber's friend" or plunger. Just swish the plunger up and down like a washing machine. I find this is easy, fun, and my clothes come out clean.
By Angela39
Ad
---
Feedback Forum
Feedback about this article is posted here. Want to contribute? Click above to post feedback.

By likekinds [80]06/22/2015
Here's my version, Ladies. A two gallon bucket and a nylon potato masher. A spiffy way to wash a few sport socks or a couple of Calvin Klein speedos.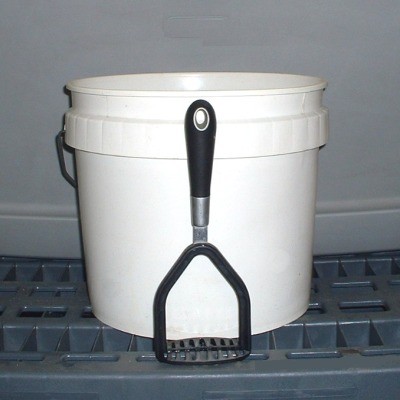 By sandra02/15/2011
I also learned recently that you can use this idea for a camping washing machine, just go to your local Home depot or other hardware store, get a 5 gallon bucket with a lid, cut a hole in top, insert the plunger, add clothes, water and detergent. How great is that? Have not tried it yet but on a long camping trip, I think it would be awesome.

12/19/2010
And this one is from the 1900's.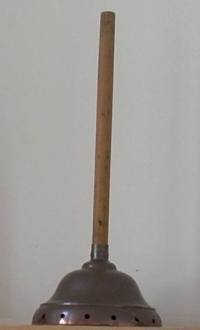 12/19/2010
Hi T&T Grandma :-) I have never seen or heard of a clothing plunger so looked up for photos of them. Here are two pictures from long, long ago (couldn't find any photos of current ones).

By Grandma J [46]12/18/2010
I don't want to be the wet blanket here but they sell the clothes plunger at the hardware store. Looks a bit like the toilet plunger but it is like a rounded square, more bubble under the 'hood' for action and there are a great number of 1/4 inch sized holes drilled around it to help with the simulated washing of a machine. First I remember them from is about the 50's. Grandma had a ringer washer and used this as a prewash!

Anyway, recently bought a new one, have it on the shelf in the laundry for those have to presoak/prewash, just like grandma did 60 years ago! Cute and blue.

By Betty [104]12/18/2010
Good idea; I think I'll buy a new one just for this purpose. I wash some things by hand and hate keeping my hands in the water.

12/18/2010
Clever idea but I hope the plunger was sanitized first. ;-)
Post Feedback
Add your voice to the conversation. Click here to share feedback.