Can anyone help me identify my dog's breed? He is 7 months old and 60 lbs, has a very curly tail. He does not bark much, but when he does it is very deep and loud. He loves children. I adopted him through a rescue group and their take on his breeding may or may not be true.
I would appreciate anyone thoughts on this.

Susan from Massachusetts
By Susan Dexter
Ad
---
Recent Answers
Here are the recent answer to this question.

By Shane A.04/17/2014
Anyone have any thoughts on what my dog may be a mix of? I know he's part Basenji, just curious what others may think he could be also mixed with...thanks.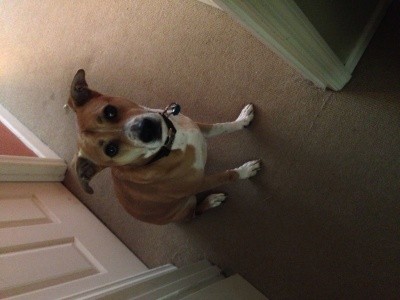 By renee06/27/2010
Susan, My dog has all the same qualities as yours does. The hardly barking, and when she does it's a low rumble and big male bark. Super friendly, easily trained, very intelligent. She has a very curly tail. They adoption place where I got her said she was a Labrador Retriever mix. The problem is I don't know exactly what she is! Any Ideas? Maybe a Basenji!?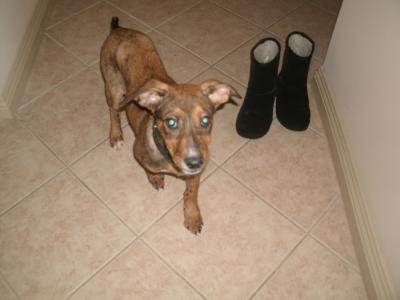 By Susan Dexter [1]12/16/2008
UPDATE & Thank you all for responding. It is most like he is White Akita, Coonhound mix and possibly some lab He is now weighing in at 67 lbs at 9 months old. He has very long legs and we think he is still growing. The long legs would be coonhound, the curley tail indicates Akita when you mix it in with the fact that he has many Akita personality traits. We originally thought he had white lab in him. But we have since come to believe the white coloring may simply be White Akita. Happy Holidays Friends!

By Cynthia Schneider12/14/2008
Susan in Massachusetts....My dog looks Exactly like yours exactly! My vet told us lab/Australian shepard which I do not see the Shepard at all. So have you found out? Jazmyn does like to bark and I must say the only weird thing about it is it sounds like a big male bark. She was born 04/02/2008 and she is about 30 lbs. Super smart! Potty trained in 2 days super trainable so what she is mixed with I would like to know she was 500 times easier to train than my lab/ golden mix and he was pretty easy i thought. So love to know if you have found out happy holidays!

By sara (Guest Post)11/22/2008
Mix with white akita possibly with that curly tail, lab/japaneses akita mix.

By angel eyes (Guest Post)10/23/2008
Can anyone help me out on determining the mixes that our little girl might have in her?


By Bill (Guest Post)10/14/2008
Without a doubt, there is some Besenji in the mix. Does he yodel? That would be a dead give away. I have one and they are great dogs, if you can keep up with them!
Check her out.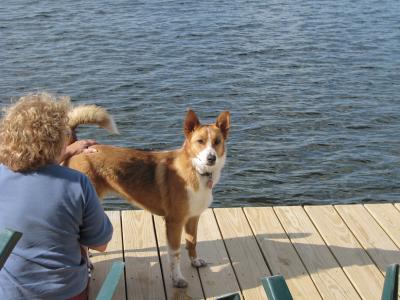 By Holly [349]10/01/2008
Definitely does not look like a Pit Bull.

By schubunny [5]09/30/2008
It could be husky/lab

By Amy (Guest Post)09/30/2008
Hi, I would say by the tail, he is part Anatolian Shepherd. His tail looks just like our dog's tail. Your dog also appears to have Lab in him, also. Since the Lab and Anatolian are big, he may have a smaller breed tossed in to the mix.

By Kathy (Guest Post)09/29/2008
He's so handsome! I see a lot of yellow lab in him and that curly tail belongs to a "?" breed. My daughter and her husband adopted a yellow lab mixed, Bailey; she looks a lot like your dog excluding the curly tail. Bailey doesn't bark much but when she does it's a deep bark for a female.

By Daniel09/29/2008
She seems somewhat of a Terrier with some schnauzer maybe? Can anyone figure her out? Thanks.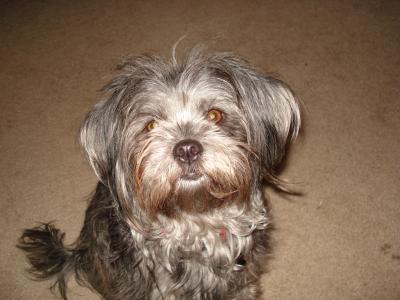 By Annie Rios Hill [12]09/29/2008
How wonderful that you saved a doggie life! He is pretty lab mix with? Labs have great natures and fun loving. Enjoy.

By Alice (Guest Post)09/29/2008
He is a Samoyed because of his tail, and part lab. I had a Samoyed years ago. He was white and Samoyed's have that curly tail.

By andrea (Guest Post)09/29/2008
He looks like Basenji (curly tail and not very much barking) and yellow lab like others have said. He's really cute as is Heather's black lab.

By Nancy (Guest Post)09/29/2008
Check out a breed named "American Foxhound" they have that type of tail but less candy cane shaped. I'm thinking your dog my be a mix of the American Foxhound and a Lab. I had a male mix like this and he was the smartest and most gentle wonderful dog ever. Enjoy..you got a great one.

By Shanna Bales (Guest Post)09/29/2008
It looks like it is part lab and Maybe Husky.

By Sharon (Guest Post)09/29/2008
I would say Basenji (especially with your explanation of his "voice") and a yellow lab. He is a cutie!

By (Guest Post)09/29/2008
He looks like lab something mix. And very happy. I believe that breed is called Hines 57. But they are just as important as the pure breeds with a much bigger price tag.

By Tracy (Guest Post)09/29/2008
I think it has to be part lab. I have a lab and her face looks alot like yours does. Not sure about the tail though. I think it's great you rescued him!

By Julie Cheek [5]09/29/2008
white/yellow lab and Akia

By Judi [17]09/29/2008
Basanji cross with something (lab?) would be my guess. The tail is a clue!

By Heather (Guest Post)09/29/2008
He looks happy and healthy. Why worry about the breed?

I have two rescue dogs myself. My vet told me that most strays, at least in our part of the US these days, are part Lab and without expensive genetic testing you can't really know unless you own the parents too.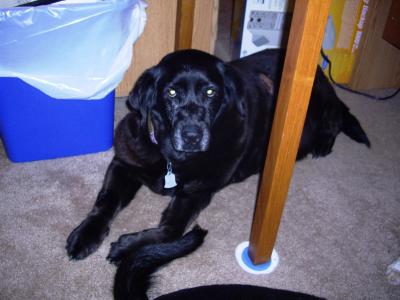 Answer This Question
Add your voice to the conversation. Click here to answer this question.