Use simple ingredients instead of harsh chemicals to keep your wood tables, chairs and other surfaces clean and polished. This page contains recipes for homemade furniture polish.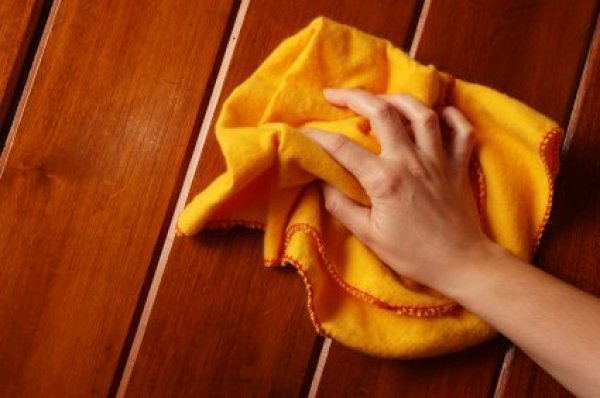 By Rita 5
I would like to get a recipe for homemade furniture polish. I am going as organic and natural as possible.
By Rita
---
Most Recent Answer
September 19, 2010
I mix together about 1/4 cup white vinegar and a good tablespoon of jojoba oil in a bowl, then apply with a soft rag. Then take a dry corner and buff it to wipe off excess oil. You don't really need much oil to make a good furniture polish and this way it doesn't turn out too greasy. For scent I add a couple drops of cedar essential oil, though lemon would be nice too.
Jojoba oil is light and doesn't go rancid like olive oil. It's also great for the skin so it's nice to have around.
---
By carol 1
Can I make a homemade recipe with lemon oil and vinegar for my furniture?

Carol from Fayetteville, NC
---
Most Recent Answer
By guest (Guest Post) Flag
January 26, 2007
I'd forget the Vinegar(a weak acid) MIXED with Lemon Oil, because I believe it would just partially dissolve the Oil, wouldn't it? I'd use lemon oil straight as I have for an antique Piano I own. It's just great and doesn't bleach at all. The woods love it. At least, the bottle SAYS "Lemon Oil", and it's clear/oily/fragrant and works! What more could you want? How are you getting your lemon oil?
---
Can I use vegetable oil instead of olive oil for the recipe that calls for lemon juice and olive oil?
---
Most Recent Answer
Here is a great tip on saving money on furniture polish.
1 cup of olive oil
1/3 cup lemon juice
1 clean 16 oz. spray bottle
Combine the oil and lemon juice in the spray bottle. Shake well before using.
Use a clean, dry cloth to buff and polish. Works wonders and saves you money!
By Sabrina from Council, NC
---
I saw the following recipe on a video:
5 lemons
1 cup olive oil
spray bottle
Cut 5 lemons in half and squeeze all the juice into a measuring cup until you have 1/2 cup pure juice (remove any pulp and seeds). Pour lemon juice into a spray bottle, then add 1 cup olive oil. Shake mixture until well mixed. The acid in the lemon juice will prevent the olive oil from spoiling.
Now you can be environmentally safe and polish all of your furniture eliminating the harmful fumes in the commercial furniture polishes. Source: MSN
By MCW from NY
This furniture polish is easy to make. You'll need turpentine, boiled linseed oil and lemon juice (or vinegar).
Ingredients
1 tablespoon white vinegar or lemon juice
1 tablespoon boiled linseed oil
1 tablespoon turpentine
Put all the ingredients in a glass jar. Put the lid on the jar and shake until mixed. Then apply to furniture using a lightly damp cloth. Dip the cloth in the furniture polish and apply to your furniture. Let sit for 30 minutes and then polish with a soft, clean cloth. Pretest mixture on an inconspicuous part of your furniture if you have not used this polish before. If you have a big job you can make a bigger batch but don't make more than you need, this mixture doesn't store well.
Do you have a furniture polish recipe? Post it below or submit it to our tip contest.
This solution will clean and polish. If your cabinets are pretty dirty, you will probably want to use the Wood Cabinet Cleaner first.
Ingredients:
2/3 cup white vinegar
1/3 cup safflower oil
blender
soft cloth
Directions:
First put the vinegar in your blender and start the blender. While the blender is running, slowly add the safflower oil. Let the blender run until the mixture is emulsified.
In a screw-top jar, mix equal parts:

denatured alcohol (from a hardware store)
strained fresh lemon juice (not canned or frozen)
olive oil

Shake well before each use. Apply polish with a clean, absorbent, lint-free cloth, gently rubbing cloth over furniture. Polish with a dry woolen cloth. Cover jar and safely store polish.

Source: Adapted from a recipe at the NMSU Extension