Homemade Furniture Polish Recipes
Use simple ingredients instead of harsh chemicals to keep your wood tables, chairs and other surfaces clean and polished. This page contains recipes for homemade furniture polish.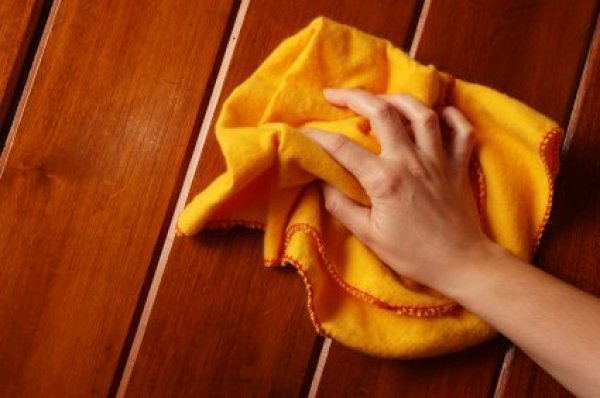 Filter

: All Articles
Sort

: Relevance
Can I use vegetable oil instead of olive oil for the recipe that calls for lemon juice and olive oil?
February 21, 2013
0

found this helpful
Yes, you can.
I would like to get a recipe for homemade furniture polish. I am going as organic and natural as possible.
By Rita
September 19, 2010
0

found this helpful
Recipes are listed in the Archives.
September 19, 2010
0

found this helpful
I mix together about 1/4 cup white vinegar and a good tablespoon of jojoba oil in a bowl, then apply with a soft rag. Then take a dry corner and buff it to wipe off excess oil. You don't really need much oil to make a good furniture polish and this way it doesn't turn out too greasy. For scent I add a couple drops of cedar essential oil, though lemon would be nice too.
Jojoba oil is light and doesn't go rancid like olive oil. It's also great for the skin so it's nice to have around.
Can I make a homemade recipe with lemon oil and vinegar for my furniture?

Carol from Fayetteville, NC
January 10, 2007
0

found this helpful
Try www.prohardware.com. They have lots of recipes for homemade concoctions.
By guest (Guest Post)
Flag
January 26, 2007
0

found this helpful
I'd forget the Vinegar(a weak acid) MIXED with Lemon Oil, because I believe it would just partially dissolve the Oil, wouldn't it? I'd use lemon oil straight as I have for an antique Piano I own. It's just great and doesn't bleach at all. The woods love it. At least, the bottle SAYS "Lemon Oil", and it's clear/oily/fragrant and works! What more could you want? How are you getting your lemon oil?
Here is a great tip on saving money on furniture polish.
1 cup of olive oil
1/3 cup lemon juice
1 clean 16 oz. spray bottle
Combine the oil and lemon juice in the spray bottle. Shake well before using.
Use a clean, dry cloth to buff and polish. Works wonders and saves you money!
By Sabrina from Council, NC
---
I saw the following recipe on a video:
5 lemons
1 cup olive oil
spray bottle
Cut 5 lemons in half and squeeze all the juice into a measuring cup until you have 1/2 cup pure juice (remove any pulp and seeds). Pour lemon juice into a spray bottle, then add 1 cup olive oil. Shake mixture until well mixed. The acid in the lemon juice will prevent the olive oil from spoiling.
Now you can be environmentally safe and polish all of your furniture eliminating the harmful fumes in the commercial furniture polishes. Source: MSN
By MCW from NY
This furniture polish is easy to make. You'll need turpentine, boiled linseed oil and lemon juice (or vinegar).
Ingredients
1 tablespoon white vinegar or lemon juice
1 tablespoon boiled linseed oil
1 tablespoon turpentine
Put all the ingredients in a glass jar. Put the lid on the jar and shake until mixed. Then apply to furniture using a lightly damp cloth. Dip the cloth in the furniture polish and apply to your furniture. Let sit for 30 minutes and then polish with a soft, clean cloth. Pretest mixture on an inconspicuous part of your furniture if you have not used this polish before. If you have a big job you can make a bigger batch but don't make more than you need, this mixture doesn't store well.
Do you have a furniture polish recipe? Post it below or submit it to our tip contest.
This solution will clean and polish. If your cabinets are pretty dirty, you will probably want to use the Wood Cabinet Cleaner first.
In a screw-top jar, mix equal parts: denatured alcohol (from a hardware store) strained fresh lemon juice (not canned or frozen) olive oil
This is an excellent furniture polish and most everyone has these two products in their home. Use equal parts of olive oil and vinegar (like 1/4 cup olive oil and 1/4 cup vinegar). It cleans and shines at the same time!

By laniegirl from IA
Answers:
Homemade Furniture Polish
I think olive oil can go rancid. I have not heard of other timber oils such as tung oil or linseed oil going rancid. They are natural oils so why not use those oils, a 50/50 mix of turpentine and raw linseed oil is a good outdoor oil for decks that need oiling or outdoor furniture. It is also good for protecting outside working tools such as rakes or shovels with wooden handles.

For inside timber I would use boiled linseed oil as this dries quicker with less smell. I wouldn't use vinegar with the linseed unless the timber needed cleaning, ie. dirt or grime. If the timber is clean I would use just linseed oil. Check whether the original surface was oiled, varnished, or shellaced. Linseed oil will only work on an oiled surface. Definitely get a second opinion on antique finishes as you don't want to damage them or try the oil on an inconspicuous area so that no damage is done. (07/30/2010)

By rustyreks
Homemade Furniture Polish
I tried this and I also tried using lemon juice and regular oil, both left my furniture really shiny and I thought it was great. Unfortunately, a few days later, when I tried to dust, I noticed it was really tacky and sticky. I wouldn't recommend it, but it might work better for you. I live on the humid coast. (07/30/2010)

By eveh
Homemade Furniture Polish
Sorry to put a dampener on this hint, but I had the same problem as eveh a few years ago. It took hours of scrubbing with hand washing dish detergent, like Dawn, to remove the goo. Perhaps I had the same problem, as in the summer, the weather here is very humid. (07/31/2010)

By Cett
I need a homemade recipe for furniture "cleaner/polish" that will not hurt some of my older wooden pieces.

By Laura from Syracuse, NY
Answers:
Homemade Furniture Polish
To clean and restore the luster of oil, varnished or laquer finishes:
1 quart Warm Water
3 Tbsp. Boiled Linseed Oil
1 Tbsp. Turpentine
Keep mixture warm in double boiler, rub the finish with a soft cloth dampened with it. Then wipe the surface dry and polish with a dry cloth.
(From: NY State College of Home Ecoc. at Cornell University) Badly worn furniture may require refinishing. (11/17/2009)

By Cajun62234
Homemade Furniture Polish
I wouldn't use turpentine in my home and expose my family to such harsh chemicals. Here is the recipe i use that is safe and you probably have in your pantry already:

The first ingredient is water, of course. Get yourself a spray bottle and put 3 cups of water in there. Once the water is in your sprayer, you will be adding two additional items:
4 Tbsp. of olive oil
2 Tbsp. of distilled white vinegar

Add them to the spray bottle and shake the bottle up a little to make everything mix together. That's it, that is all the wood polish you will ever need. Be sure to test the spray somewhere on the furniture just to make sure you have the mixture right and you will not damage the wood. (12/01/2009)


By ecogirl91304
Click to read more ideas from older posts on ThriftyFun.
Click to read more ideas from older posts on ThriftyFun.
Click to read more ideas from older posts on ThriftyFun.
Related
© 1997-2016 by Cumuli, Inc. All Rights Reserved. Published by
ThriftyFun
.
Page
generated on August 22, 2016 at 1:20:13 AM on 10.0.1.53 in 5 seconds. Use of this web site constitutes acceptance of ThriftyFun's
Disclaimer
and
Privacy Policy
. If you have any problems or suggestions feel free to
Contact Us
.