Dog Afraid of Loud Noises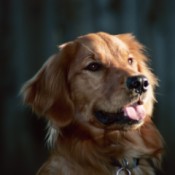 My Golden Retriever is like a skittish cat when it comes to loud noises. She scares easily and I don't know what to do for her, but let her know it's OK and I'm here comforting her. You can imagine what the 4th of July is like! Thunder even gets her going. Practically any loud strange noise freaks her out. If anyone has any suggestions please feel free to write it as a tip, as I read them everyday when I get my email. Thanks!
The mother of a scared and darling Golden Retriever.
By Hearts1 from San Diego, CA
Answers: Dog Afraid of Loud Noises
Read answers for this question below.
There is a new product out called "Thunder Coat" or something like that. It is a snug-fitting jacket that they wear. I've talked to people who use them and they say they are wonderful. You can google it.
Questions
Here are questions related to
Dog Afraid of Loud Noises
.
Dog Afraid of Loud Noises
My dog is 6 years old and we got her 1 week ago. She is so scared of loud noises like the vacuum, when trucks drive by, and little shining decorations for Christmas. She is scared of the turtles and boys, when she sees it she barks so loud or runs away from it. She is so sweet though. What should we do?

By Juster from Phoenix
Answer This Question
Add your voice to the conversation. Click here to answer this question.
Related Guides
Related Posts