I have black stains on my ceiling, in the corners and following my truss line. Any ideas what causes this?

Moroni from Gladwin, MI
By jfrench14279
Ad
---
Recent Answers
Here are the recent answer to this question.

By jfrench14279 [1]02/25/2009
It turned out that the stains were from my wife's many candles. thanks for everyones help. What a great site. god bless all of you. Soap and water done the trick.

By Maddy01/04/2009
Hello, I would suggest you go to one of the home improvement stores and get yourself a mold kit because if you have black mold in your home it is deadly to your health. I had a friend who lived in an apt. building and she had that on her ceilings. She was having a hard time breathing and coughing a lot and the doctor told her she was exposed to black mold. She told him about her home and she then had to get management to buy the mold kit. It came back positive, she had to move out of there and has been cured. It attacked her lungs. Good Luck and I hope it is not Black Mold.

By Katie Genereux [2]01/02/2009
It sounds like mold. You'd better check up in your attic to make sure some molds are deadly.

By Mary Koehler [8]12/31/2008
I copied this from another site about black soot on walls and ceiling,
"Keep wick cut short, only burn 2hrs at a time and only the wicks with the metal in the center will put off soot esp. when wick is too long and has been burnning too long".
Another thing, burn SOY candles and not paraffin candles.


By Louise B. [5]12/30/2008
I have mildew growth in my bathroom that I periodically remove with bleach. Are your black stains something like that? Which room are they in? Mine look like greyish dots, or like the stipple has discolored. I have not tried repainting after bleaching, which is likely what I should do.

Try to figure out what the stain is -- soot, smoke, bug droppings, mildew, whatever. Then you can determine what you need to do about it.

By (Guest Post)12/30/2008
I've had old water stains bleed thru paint jobs on my ceiling until I used a sealant such as Kilz (sp?) Then paint over that. No more bleed through if that's the cause of your spots.
Good Luck and Happy New Year!
@nnie

By Lynda (Guest Post)12/29/2008
At my mother's house, we learned the leaks were from the peaks of rafters, the rain water blowing in beneath the ridge row shingles, rolling down the rafters then leaking through the sheet rock ceiling. It could have been an older leak that has molded and is just now eating it's way to the outside where you can see it.

However, if you live near a freeway or highway, it can be pollution from car exhaust, as was on many things in her home. Look in your attic at the rafters starting at the places that are the blackest, then follow with your eyes upwards to the top of the closest rafter to the stain, remembering that it could be a leak 15 feet away, but uphill from the ceiling blackness, which only collected/pooled when it could go no father, nor dry out.

If not totally rotten, in need of replacement and new materials, you can use very hot water half and half with bleach and 1 tsp dish detergent, but not using a large amount of the mixture, you will spray it on and then immediately leave the area of the attic. On a warm still day, using a ladder, face mask, gloves, and a small amount of "killz" in a tin can hand-painted all over the moldy areas. It is a longer but temporary fix,

if you are not able or willing to replace, paint,texture your black stained sheet rock after you have found and repaired the rain water or broken water pipe in the attic, then take your time upon inspection, with particular notice of whether or not it could be the litter box of some trapped small animal, or bird/ rat family. In doing all of this, you will not have to make a lot of trips up and down the ladder, but certainly take a strong bright flashlight to assess the whole problem logically, reasonably, and thoroughly.

The problem may also be a combination of loose shingles and a leaky water pipe, especially if you have hard freezes. Keep in mind that the killz needs plenty of fresh air ventilation, but truly covers stains better than paint, and you don't need to paint a very large area, hopefully. Buy a rodent trap, in case you find evidence it is not clean water leaks. It is important to just have cross ventilation for a whole day. If you are not able to do this, cover the killz with a square piece of clear plastic sealing the edges with wide masking tape, because it will eventually dry regardless from the heat which rises in your home, as well as dry from the other side of the sheet rock in the attic.

If you have a wooden ceiling, you can try the same technique using the hot bleach water spray and seal it with masking tape around all edges of thin clear plastic sheeting or dry cleaning bag, as well.

The whole idea is so that you both delay the drying process so it will truly kill any organism that may be growing there, and to seal the fumes as much as possible away from the room. Avoid breathing whatever you use. Do not rely upon just a mildew powder in a coat of paint. It is not strong enough to kill, only to inhibit new growth.

Wear safety glasses when painting a ceiling, and have someone to watch your balance, staying near the ladder for support and warning of your leaning unaware. God bless and keep you. : )

By soyzicks (Guest Post)12/29/2008
I live in Hawaii and in an apt bldg so P do not have some of your problems, but my apt is level with a courtyard and the problems of black dots on my ceiling is either the geckos or the B52s cockroaches that like to mark up the walls and ceilings. You got a bug problem?

By (Guest Post)12/29/2008
I have the same thing it is small round spot kind a like the area had peeled back some of the ceiling paint this is in 3 bedrooms, living room, hall, we been thinking that it may have been where there at one time have been a hanging swag lamp and the previous owners removed it leaving the spot exposed and over time it turned black as they were smokers. This is the house that my in laws had and lived in for years they are now deceased. I know they had swag lamps, I remember seeing them and don't recall where in the house.

This subject has me wondering if there is more to this spot than I first imagined.


By ybothr (Guest Post)12/29/2008
It sounds like you use candles in your home. I have the same thing.

By Marilyn Vandekieft [2]12/29/2008
Depending on what the black stains look like--are they rather light or are they quite dark? If they're light, it could just be smoke stains from a fireplace or burning candles. If you don't have a fireplace or do not burn candles, then it's something more serious.

12/28/2008
I've had water damage from a ceiling, too, and it looked blackish :-( The fact that it's only on your ceilings is a good indicator that it is indeed from water :-( Water damage is a nasty thing and it causes mold so you need to find the source no matter what asap before it gets worse :-( Good luck and let us know what you find out, okay?

By Ariela [33]12/25/2008
We had black stains in the corners of our bedroom ceiling... not
bad but noticable. It was enough to bug me when laying in bed cause then when I saw them the most. After about 6 months we got to thinking we needed a new roof so called roofer for estimates.
Our house being older we decided we wanted new windiows and siding too. So, they start tearing the old shingles off etc and THEN they see the rafters had fallen underneath and the shingles and tar paper were the only protection in that area. The roof had started leaking and drained down the rafters to the corners of the bedroom. Yes we were getting a new roof anyway but we had gotten enough of a loan to also get carpet, but that area where the rafters and decking had fallen took the carpet money. I remember so plainly sitting on the front deck when the roofer told me and I was crying my head off. I wanted new carpet sooo badly. He took digital pictures and showed us.. we were shocked and he was schocked that the shingles hadnt caved in too, cause we had other roofers up there and the roof wasnt soft, no one else spotted it. All this to tell you to GET IT CHECKED.. id bet that black is mold. Good luck.
By Sandi/Poor But Proud [429]12/25/2008
It might be mold, so have it checked right away. If you can gain access to the attic, put on a mask and gloves, and see if you can see it from your access point with a flashlight. I would check both soot and mold. One is annoying, the other is dangerous. Good Luck!

By (Guest Post)12/24/2008
Could it be soot? Do you have an oil burner that may have had a "puff out" - I believe it is called?
I think you would of been aware if you did - are you the only ones that have lived in the house or did someone live there before you?
Questions
Here are questions related to Black Stains on Ceiling.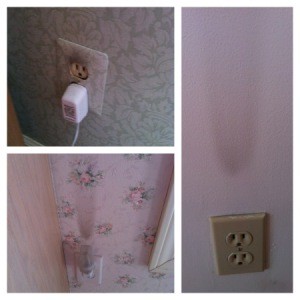 About 2-3 years ago we had a puff back with our furnace. I have been noticing the black on the ceilings and my husband kept telling me it was from my candles. I do burn a lot of them.
One weekend we went away for the weekend and when we returned the black was 100 times worse. We called out insurance company and they said it was a puff back from our furnace. They paid for a cleaning company to come in and clean from top to bottom of our house and its contents and also for painting ceilings and walls. We also replaced our furnace.
A couple months ago I noticed the black coming back again. Again, my husband said it is my candles. I stopped using them to prove a point, because I noticed that it has even gotten worse. I even have black above three of my electrical outlets. We heat with oil, have an electric stove, no gas. We have a fireplace, but never ever use it. Any ideas?
By Melinda R
---
Most Recent Answer

By Robyn [369]01/27/2013
If it is an old house, you could take the plate off and see if the back of it is covered in dust. It could be simply dust blowing thru the outlet from not insulation in the walls. It would not hurt to have one of them checked for proper wiring.


I would have it checked for short circuits and turn off electrical circuit switch before you take off plates.

Here is another article explaining what would make an outlet smoke or have this soot around it:

http://www.ehow.com/how-does_5503305_electrical-outlet-smoke-causes.html

Blessings,
Robyn from Tennessee
Answer This Question
Add your voice to the conversation. Click here to answer this question.