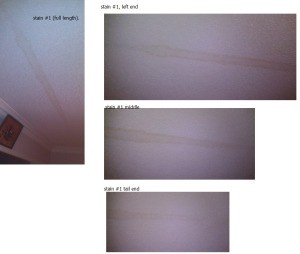 I will try to be concise (if I can!). The problem was noticed a few weeks ago, on our living room ceiling, when the stains were very light with light brownish borders - and hardly visible.
Fast forward a few weeks, and while the length of these stains has not appeared to have grown, one of the stains (refer to this as stain #1) is growing more yellow, and is definitely visible (see images attached). Also, there is another stain, but this remains quite faint and hardly visible (stain #2).
Both of these stains run parallel, with stain #1 being approx. 3-5 feet, meanwhile stain #2 is under a foot in length. the stains start several feet from the nearest wall and are several feet apart. While there is a bedroom directly above the living room, and a bathtub/shower, there is no indication that there is water leaking (all caulking is in great shape with no cracks or separations, the floor is ceramic with good grout and the bathroom itself is about 4 feet from where the stains on the LR ceiling begins).
There is good visual access and again, there are no indicators of water leakage or damage. The topside of the ceiling drywall is perfect, no moisture or water or drain pipes, yet my gut tells me that water is collecting here somehow. I believe the thickness of stain #1 is growing slowly and slightly. Visibly it looks like a small anaconda snake.
So, any suggestions as to what I should look for? Home is 10 years old. Hopefully the images attached help as visual descriptors to the recent problem.
As an aside it has snowed heavily recently. It is cooler temperatures this time of season. As well, lengthy hot showers are taken. Lastly, the bathroom directly upstairs runs hot water for 5 full minutes to steam up the room, keeping it warm for 4 month baby to take baths. I'm wondering if these are causes?
Thanks for any feedback or suggestions.
By Gary
Answers
January 8, 2013
0

found this helpful
I've seen that before-it's either animal urine from an attic infestation (unlikely but possible and I've seen it happen) or a roof leak.
If it's an animal the smell will tell you, and then you'll need to take steps to clear the critter and prevent his/her/their return. Googling will help you find a qualified removal professional.
If it's a roof leak:
Are you in a manufactured or mobile home? Depending on what your roof is made of, this could be an easy fix of under $250USD.
When this happened to my little mobile home, I went up on a ladder (please use all safety precautions-never go up alone, don't overextend the ladder or your body, etc) and looked for a hole, popped rivet (I had a tin roof but a popped nail on an asphalt tile can also permit a leak) or any other sign of damage that would permit a leak.
*Don't start and end your search in the area nearest your stain because in any roof, mobile home or stick-built, water will always 'run down' to the lowest level-your leak could be entering the roof at a damaged spot on the other end of the house, going into the attic area and running down to find its lowest level where you're seeing the stain inside on your ceiling.
The entry point for the water should be fairly easy to find. Fix that spot, and then:
With a tin roof, you need a product called KoolSeal (spelling may be incorrect, it's been a while since I bought any). Read and follow the instructions very carefully to prep the roof and apply the product-it insulates and 'seals' your metal roof for up to three years depending on your climate extremes.
If a shingle or other 'traditional' roof, you need a professional. If you have homeowner's insurance, your policy may cover the expense (anywhere from $1000 to $5000, it depends on what else is lurking up there damage wise that you can't see).
Good luck, winter is an awful time to have to cope with a leaking roof (or a critter). Please update with news of how things go.
January 9, 2013
0

found this helpful
I would have a plumber check your pipes or drain pipe. It sounds like a leak. When our roof was leaking a few years back we had what you had stains but no water. I thought it couldn't be a roof leak cause there would be water right? However there was a leak. Since you have a room above the living room I'm thinking a leak in the pipes. Depending on the Plummer they can send a camera in a pipe to look around so they don't have to tear up your bathroom to find the leak. I hope this helps.
January 9, 2013
0

found this helpful
Are the stains 16" or 24" apart? This is the distance the beams are apart depending on where you live. It looks like something is dripping and running along the ceiling joists. This just happens to be where "it" collects.
If the stains are perpendicular to the exterior wall, the leak could be from outside. In this case, check the eaves and wall outside. If they are parallel it is probably something upstairs in that general area.
My advice, especially if the stain is growing, is to cut out the sheetrock at the stain and get up there with a flashlight. Tub water is not the only fluid leaving your bathroom! If the stains are not growing - spray ceiling paint and monitor closely.
January 9, 2013
0

found this helpful
If there is a toilet in the area on the floor above that ceiling, you could also check the toilet bowl seal to see if that is leaking. It involves cutting a whole in the sheetrock in the ceiling where your stain is, and then having someone else on the floor above flush the toilet. The person down below then with a flashlight looks to see if each flush produces any water dripping. You'll want to be flushing a handful of times continuously. And remember, that water will always run along a beam or a straight line surface until it hits something that then makes it drip, so the cause of the stain and leak does not have to be directly above where the stain or wet spot appears on a ceiling.
Good luck! It's always a real PIA finding the cause of these things in the walls when you can't visibly see the cause. BTW, the toilet bowl seal is a thick wax ring that goes on the floor and then the toilet bowl sits down on that wax ring and forms a seal so the toilet doesn't leak. If the floor isn't very stiff, any rocking motion or movement in the floor can break that seal and then it leaks each time you flush the toilet.
Read More Answers