September 19, 2008
0

found this helpful
When I first got my little Roxy, she was in tough shape. Her eyes were all goopy and her hair.. Anyway, the groomer said that I could use regular human eye drops for her teary eye.
I opted to simply change her diet and stay onto keeping her eyes free of goop. I also have had her hair that is on the bridge of her nose and close to her eyes trimmed back.
I am also told that we may add one teaspoon of good plain yogurt to their food in the morning.
My brothers Jack Russel has a problem with one red eye that sometimes creates a piece of sleep in the corner of his eye each morning.
I would use a teaspoon of table salt with one cup of warm water and stir to dissolve. Then use a piece of tissue or cotton ball to clean it. Then use another one to dry it. he loved it and it also helped him a great deal.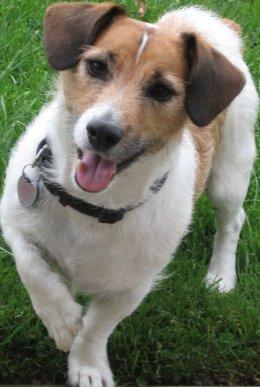 January 22, 2010
0

found this helpful
My dog is a Boston Terrier and he has the bulging eyes. It is dry in our house most of the time and his eyes get really red. I give him human eye drops about three times a week and he seems happy that I do. We told our vet and they had no objections to using them.