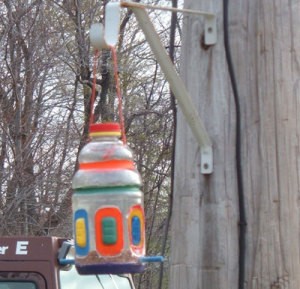 I made this bird feeder from a juicy juice container. All I did was cut out the holes in the side (hot glue around the sharp edges) and some holes for the string (nylon) and the dowel rods. Paint it with acrylic paints that are waterproof.
I've had it outside now for a few weeks and needless to say, its a bird house now. A few days ago a bird started to build a nest in it. It seems to enjoy the bright colored paint on the outside. Hopefully we'll have babies soon!
I'm glad the birds enjoy it. I save all of my juice jugs now and make either feeders or houses - whatever the bird chooses.
Dana Sipe
By Dana Sipe
Ad
---
Feedback Forum
Feedback about this article is posted here. Want to contribute? Click above to post feedback.

By Carla Vaught [1]08/20/2010
Just love recycled crafts! It allows you to stretch your hard earned money just a little farther and enjoy something pretty at the same time! Wonderful idea!

By John08/09/2010
Great project. I also created a bird feeder from recycled bottles. The design is different but still simple to construct. You can check it out here:
http://diyspirit.com/2010/08/recycl ... ttle-bird-feeder-quick-easy-project/

By MARIANN (Guest Post)05/07/2005
THIS IS SO CUTE!
A GREAT CRAFT IDEA TO DO WITH MY GRANDSONS!

By Dana Sipe (Guest Post)05/06/2005
Hi rosa. Here are the directions for the bird feeder/bird house that are on the website:

Wild Bird Feeder

What you need:

Empty 64 oz. Juice Container (the 46 oz. works too )
Craft knife
Dowel Rod (or a painted pencil)
Glue Gun
Nylon all-weather rope
Acrylic paints (waterproof)
Paint brush
Bird Seed

Remove the label, rinse and dry your container

PARENTS ONLY: Using your craft knife, cut out the rectangular grip sections on each side of the bottle. If the edges of the sides are sharp, seal them with hot glue

PARENTS ONLY: At the bottem of the cutouts, cut out a hole on each side of the container and secure the dowel rod using your glue gun

PARENTS ONLY: Cut out 2 holes at the top of the bottle just below the lid, and string an 8 inch piece of rope through the holes and tie in a knot.

Paint your bottle with bright colored paints

Add your bird seed and hang it outside

It won't take long for the birds to find it.

By Carmen (Guest Post)05/05/2005
What a cute idea! Thanks for sharing! I'd like to do some of those myself.

By rosa (Guest Post)05/05/2005
I tried to get the directions for the juice jug birdhouse, could you please post it ???? Pretty please ??? :-)

By Ziggee05/05/2005
what a neat project to do with the kids.

Thanx,
Ziggee

By gator10tx (Guest Post)05/05/2005
That's neat! Thanks for posting it! I'm going to visit the website you mentioned so i can make some, too.
Post Feedback
Add your voice to the conversation. Click here to share feedback.