How do you make fudge from a can of frosting?

Thank you,
Ann from GA
By ann
Ad
---
Best Answers
These answers have been rated the best for this question.

By okiemo12/10/2011
1 can cream cheese or butter cream frosting
12oz bag of chocolate chips. I like milk chocolate. Can use butterscotch, semi choc, or peanut butter chips
Put frosting in microwaveable bowl

Pour half chips and microwave 30 seconds. Stir til smooth add other half of chips and microwave 30 seconds stir til smooth add tsp vanilla stir microwave 30 seconds more. It is ready to pour in greased pan or add nuts then pour.

By Harlean from Arkansas [139]12/20/2006
This recipe is so easy that my husband made all the fudge this year with this recipe, trying many different combinations. We make homemade fudge and give to friends every year. The one that he made that is my favorite was with white chocolate chips, vanilla frosting, 1 teaspoon coconut flavoring and 1 cup of flake coconut. Remove the labels from the frosting cans, wash, dry thoroughly, and replace the label with bright Christmas wrapping paper. Fill cans with cut pieces of assorted flavors of fudge for gift giving. Perfect gift for the mailman, paperman, favorite bank teller, etc. You get the picture.
Harlean from Arkansas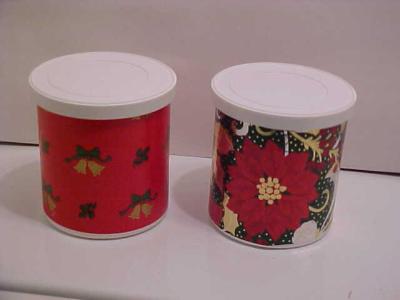 By Cindy Beadlady (Guest Post)12/20/2006
Easy Peanut Butter Fudge

Put one 12 ounce bag of Reese's peanut butter chips in a glass
bowl, spread them out so that they are not all in the middle of
the bowl and they will melt easier. Cook in microwave for 1 and
1/2 minutes. Take out and stir, then stir in one can vanilla
frosting (NOT WHIPPED), stir real well and put back in microwave
and cook for 1 and 1/2 minutes. Take out, add 1 teaspoon vanilla
and pinch of salt, and stir. Put in a 8x8 inch or 9x9 inch
buttered pan. Cool in refrigerator for 20 minutes, cut and eat.

More variations of Fudge

You may add 1/2 - 1 cup of chopped nuts to any of the variations

Chocolate chips/chocolate frosting (this is for the die-hard
chocolate-lovers)
Peanut Butter chips/chocolate frosting (tastes like Reese's
Peanut Butter Cup
Chocolate chips/vanilla frosting (not as chocolately)
Mint chocolate chips/chocolate frosting (tastes like Andes mint)
Cherry chips/chocolate frosting (tastes like a chocolate covered
cherry)
Vanilla chips/any flavor frosting
Milk chocolate chips/coconut pecan frosting

By Tedebear (Guest Post)12/20/2006
Hi Ann,
One cup of peanut butter microwave one minute
add 1 tub (any flavor) frosting and microwave one more minute
Mix and add nuts, if desired. Pour into a wax paper line pan and refrigerate.
I have never had this fail and it is eaten as soon as I serve it! Everyone asks for the recipe!
Recent Answers
Here are the recent answer to this question.

By (Guest Post)12/24/2008
I was looking for a recipe with just fudge and no peanut butter. Does anyone have that one?

By sl (Guest Post)12/16/2007
Frosting is called "icing sugar" here (UK), I've also seen US sites call it "powdered sugar".

By suzanne [278]12/21/2006
I WONDERED ABOUT THE CONTAINERS.. THEY ARE REALLY CUTE ! I WOULD NEVER HAVE THOUGHT TO DO THAT. AND I SAVE A LOT OF MY CONTAINERS FOR OTHER USES. THANK YOU FOR THE IDEA

By Harlean from Arkansas [139]12/21/2006
Sorry, I should have added to my post showing my decorated containers that I used the Microwave Fudge recipe that Cindy Beadlady and Gaildh2 posted below.
Harlean from Arkansas

By suzanne [278]12/21/2006
FROSTING IS USED TO PUT ON TOP OF YOUR CAKE
HERE YOU CAN BUY IT ALREADY MADE OR IN DRY FORM WHERE YOU JUST ADD WATER

By Carol Churchill [18]12/20/2006
What would "frosting mix" be in South Africa?
Thank you!
Gurth

By Gail Harold [4]12/20/2006
1 12oz package peanut butter chips (2 cups)
1 can vanilla frosting (DO NOT USE WHIPPED)
nuts, if desired

. Line 8 or 9-inch square pan with foil, extending foil over edges. Place chips in medium microwave-safe bowl. Microwave on HIGH for 90 seconds. stir until smooth.
2 . Add can of frosting to melted chip mixture. Mix well. Microwave 90 seconds, Mix well. Add nuts. Spread in foil-lined pan. Refrigerate 1 hour or until firm.
3 . Remove fudge from pan by lifting foil. Remove foil; cut into squares.

Experiment a bit and have fun, use chocolate chips with chocolate frosting, butterscoth chips with vanilla frosting, peanut butter chips with chocolate frosting,
Mint chocolate chips/chocolate frosting, Peppermint Crunch chips with vanilla frosting. I have even made lemon fudge! White chips with lemon frosting..tastes like lemon drops. White chips with Strawberry frosting. Cherry cips with chocolate frosting. Coconut-Pecan frosting with dark chocolate chips. Try using Cream Cheese frosting.
Use your imagination. Any chips with any frosting!!
You may add 1/2-1 cup chopped nuts, mini marshmallows, maybe a teaspoon of vanilla, or any extract. Have fun.



By Mary Koehler [8]12/20/2006
Here is a recipe I copied from the net, don't know where, so can't give credit to anyone. I have never tried it.

CHOCOLATE FUDGE
1 tub frosting mix
Microwave for 1 minute
add 1 cup peanut butter, and microwave for 1 minute.
Add chopped nuts.
Put in 8X8 pan lightly sprayed with non-stick spray.
Refrigerate.


By Ace (Guest Post)12/20/2006
Two Minute Fudge
(I tried this & it is good)
Take one tub of frosting mix (any flavor), microwave for one minute. Add one cup of peanut butter to the frosting and microwave an additional minute. Add nuts (if desired). Pour in waxed lined dish and refrigerate. ALWAYS a winner!


By Donna Wilson (Guest Post)12/20/2006
Mix one can of frosting either chocolate or white with one 18 oz jar of peanut butter. Line an 8x8 pan with saran wrap completely covering the inside of pan. Spread fudge mixture into pan and cover with extra wrap. Place in fridge for about half an hour. Chill completely and then cut into small squares. Keeps best in fridge.
Answer This Question
Add your voice to the conversation. Click here to answer this question.