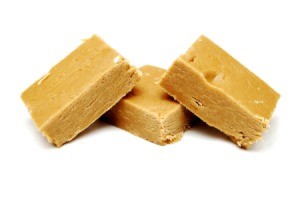 In the past someone told me how to make peanut butter fudge using vanilla frosting, they do not remember the recipe and I have lost how to make it. Can anyone tell me what this recipe might be? Thanks,
Happy Holidays - Lisa
Answers
By Shannon (Guest Post)
December 21, 2004
1

found this helpful
Best Answer
You can use a package of peanut butter chips (like chocolate chips) and melt them in the microwave, then stir in the frosting. Pour into a buttered dish. Chocolate chips and chocolate frosting are also good. You could even make a double layer using two different flavors.
By Conchetta Callihan (Guest Post)
June 1, 2006
3

found this helpful
Best Answer
Use 1 tub vanilla frosting
1 jar of peanut butter
Combine in bowl and add confectioners sugar until you get the consistency that you want.
By SJ (Guest Post)
March 26, 2008
3

found this helpful
Best Answer
Just two items for Peanut Butter Fudge
Vanilla frosting (peel off seal). Microwave for 60 seconds.
Pour into bowl add Jiffy Smooth Peanut Butter 18oz jar.
Stir fast and pour into small pan. Refrigerate for a few minutes.
For a 13x9 you will need to double up.
Note this is just a small batch.

December 17, 2011
0

found this helpful
Best Answer
We make this fudge for teacher gifts every year and it is always a big hit! (You can even find adorable Christmas Chinese takeout style boxes at Target for $1. I have make this with chocolate frosting as well as vanilla then put both in the boxes for variety.
I have also used chunky peanut butter and it was a little like the difference between regular m&ms and peanut m&ms. I prefer the chunky but a lot of people prefer the creamy so I do both.
I microwave 1 can frosting (make sure you remove foil top) for 30 seconds, then microwave 1 jar peanut butter for 30 seconds mix together and put in 9x13 brownie pan. If I am in a hurry I refrigerate to set it, but I noticed when I refrigerate to set it seems to get softer as it warms up; whereas if I just let it set at room temp it stays firmer. I have also dusted the top with confectioners sugar to make it super pretty.
This recipe is so easy and cheap, just experiment with it to find the combo you like best!
October 31, 2012
1

found this helpful
Best Answer
I make this with cream cheese frosting and a jar of any peanut butter and blend with a hand mixer. Spread into a pan and either eat instantly or refrigerate. No microwave needed.
By Sue (Guest Post)
December 21, 2004
0

found this helpful
Use 1 jar of peanut butter and one tub of vanilla frosting. Combine in bowl and microwave fo about 1 minute. Stir and pour into buttered pan. Try chocolate frosting too. YUM

April 17, 2010
0

found this helpful
I just tried this last week and it was a hit. It is different than reg PB fudge but I think I may even like it better.
I used: 1 cannister (16 oz) Betty Crocker Rich & Creamy Vanilla frosting
and
1 jar (18 oz) Jif Creamy Peanut Butter
I took the frosting out and put it in a glass bowl as I do not like to microwave using plastics. Heat on High for 50 seconds (could have possibly been slightly less).
Then I stirred in the peanut butter. I did not have to microwave it any more. As you stir it it thickens up.
I put in a parchment lined 8 x 8 inch pan so it could be lifted out to cut easier.
This fudge does need to be kept in the fridge for firmness however. I tried freezing some squares and I liked the firmness but it takes away from some of the rich creamy taste when frozen.
I got the frosting free after coupons and the pb was on sale for 99 cents so a whole batch of fudge for less than a dollar. The only other cost is calories. ;-)
I am going to try it with chocolate frosting next. If anyone has tried this recipe with chunky-style peanut butter please give a review. I can't decide if I would like it that way.

June 7, 2010
0

found this helpful
I made this frosting fudge again but this time I used chocolate frosting instead of the vanilla. I did not care for it as much with the choc but the other family members did. It also did not seem as firm this time.
I used:
1 tub (16 oz) of Pillbury Creamy Supreme 'Chocolate Fudge' frosting
1 jar (16.3 oz) Skippy Creamy PB
I added a dab more peanut butter since the Skippy brand is a smaller jar than the 18 oz jar of Jif PB I used on the first batch I made that turned out so well.
I ended up slicing it into bite-sized pieces and keeping it in the freezer and eating it frozen.
Answer

this Question