How to Fix Grainy Fudge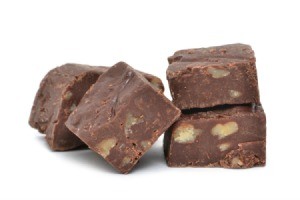 I made a batch of chocolate fudge tonight and it was down right grainy. I searched and searched and finally found a site that told how to fix it. Add 1 1/2 cups of water and put the fudge back in the pot and cook it again. I ended up with grain free fudge. But then I over stirred it with my KitchenAid mixer and had a hard time getting it in the pan. I may cook it again tomorrow and see if I can get it to perfection. Hope this helps.
By Baygirl02 from New Brunswick, Canada
Read More

Comments
13 Questions
Ask a QuestionHere are the questions asked by community members. Read on to see the answers provided by the ThriftyFun community or ask a new question.
I made fudge last night and it came out grainy. My mom told me about your site today and I read about the cream of tartar. My question is this, I have not thrown it out and I am wondering if I can still fix it? It is in a 13X9 inch pan and is cold. Can I reheat it and add the tartar? I made a double batch and it is a lot of ingredients. I would like to salvage it if I still can. Help!
By Marsha L. from Asheville, NC
Answers

November 30, 2011
0

found this helpful
Best Answer
Pretty sure you can't fix it. Also know that certain candies (fudge, divinity) can be affected by the weather of all things. My mother doesn't make it if it humid (rain coming or raining) for example.

December 1, 2011
1

found this helpful
Best Answer
What if you "crumbled" the fudge, added some softened cream cheese, and then formed the mixture into balls? You could then dip them into melted chocolate and roll in candy sprinkles. Worth a try, if you don't want to discard the whole batch!
Good luck.

December 1, 2011
0

found this helpful
Best Answer
I seriously doubt you can un-do the fudge. I have always used the recipe from Hershey's cocoa, and never heard of putting cream of tartar in fudge. And if you buttered or sprayed the pan you used, that would definitely effect your attempt to "fix it." I don't know the recipe you used, but granulated sugar can make it grainy if not thoroughly cooked.
Good luck! You should be proud of your attempt, that's how we learn.

(Guest)
Gold Post Medal for All Time! 846 Posts
December 1, 2011
1

found this helpful
Best Answer
Don't doubt the use of cream of tartar, Marsha! It's used to inhibit sugar crystallization and it's used in many assorted candy recipes including fudge!

December 1, 2011
6

found this helpful
Best Answer
When I was taking Food Preparation classes in college, we made fudge, and if it turned out grainy or didn't set up, we re-cooked it. The reason that it turns out grainy is that there was a rogue sugar crystal in it.
Fudge is what is called a super saturated solution, and one little grain or crystal of sugar or even a bit of dust can cause the sugar to come out of solution and begin to crystallize. We learned to put the fudge back into the pan, re-cook it and during that time to put a lid on the kettle for a minute or so. That washes the sugar crystals off of the side of the pan.
Also, don't use the same utensil to stir the fudge before it cooks and then again after it has reached temperature. You could have sugar crystals on that spoon, and crystallization could happen.

Vi Johnson
Silver Post Medal for All Time! 288 Posts
December 3, 2011
2

found this helpful
Best Answer
Just so you know, Some of us like grainy fudge. LOL GG Vi
Answer

this Question
My fudge is grainy and not completely setting; can I fix it somehow?
By Cynthia

Answers

January 31, 2012
0

found this helpful
Best Answer
Not an expert but my thoughts are that you haven't let the sugar melt completely (thus the grainy feeling) And not cooking it long enough (not setting up). Sometimes it takes experimenting to get a recipe just right.

February 1, 2012
1

found this helpful
Best Answer
On the back of a marshmallow creme jar is a fudge recipe that is easy, comes out great every time and you don't have to worry about it not setting or being grainy. It's a lot easier than the old fashioned kind, and my family likes it better.
Answer

this Question

I have been making my mom's fudge recipe for years, but the last few years I feel like it hasn't come out as it should. I have been blaming it on the fact that the chocolate (Hershey bars and Nestle semisweet chips) is not as smooth or creamy as it used to be. The recipe is 4 1/2 sugar, one can evaporated milk boiled for exactly 4 1/2 minutes. I immediately add half this mixture to the chocolate mixture and stir until well blended and then add the rest. It also calls for marshmallow fluff and Brazil nuts.
The past few years I feel like it's come out dry and grainy. I see many reasons that this can happen, but I used to have no trouble with it. I was wondering if adding a bit of butter might help and/or buying more expensive chocolate?
Any thoughts on this?
Thank you very much...
B. Weber
PS. I have to somewhat fudge some of the measurements now because the Hershey bars and marshmallow jars dont come in the same size that was available 50 years ago! I do try to be as accurate as possible
Answer

this Question
OK, I followed my fudge making recipe to the letter. It's hardened, but is still sugary/grainy? I melted the sugar, butter, and milk together and brought to the boil. I left it boiling for over 20 minutes until finally the temp. was reached, 116 degrees C. Then I took it off the boil and left for 5 minutes. Then put the pan in cold water whilst beating my fudge.
Is it now where I went wrong as I didn't stir the mixture until thick, I was still able to pour the mixture into my square tin?
Please help as this is my second attempt and I don't seem to be getting any closer to the correct fudge :(
Thanks in advance x.
By Michelle
Answers

June 21, 2013
1

found this helpful
Best Answer
I have an old candy cookbook from the Farm Journal. They say the two most common errors are beating the candy too soon or too little. I think that you may have cooked the candy a little too long. The method calls for cooking until soft ball stage (236-238 degrees F) which I think would be a little less than 116 degrees C.
When you cook and stir the candy initially until the sugar dissolves, be sure to wipe off any sugar crystals from the side of the pan before proceeding to the next step. You can use a moistened pastry brush to do that or a moist paper towel.
After removing from the heat and adding the butter, let it stand at room temp without disturbing until it cools to lukewarm (110 degrees F). Beating it before it cools to lukewarm will result in graininess. Then add the vanilla and start beating until it loses its gloss and starts to thicken. Pour it quickly into a buttered pan. Don't scrape the cooking pan.
A couple other tips: When beating, beat until a small amount dropped from a spoon holds its shape.
If it balks on spreading evenly in the pan, knead it a few times with your fingers.
Answer

this Question
When I make my fudge it always comes out gritty. The recipe I use does not tell me how long to boil the sugar, milk, and salt, or what temperature to bring it to. I first thought it was the chocolate chips not melting correctly, so I tried to grate them so they would melt thoroughly, but the fudge still came out with a gritty texture. What am I doing wrong? Please help me.
By Eillen B
Answers

December 7, 2011
0

found this helpful
Best Answer
This fudge is so easy its hard to believe... one 12 ounce bag of chocolate chips and container of chocolate frosting. I like to add a tsp. of vanilla also. sometimes nuts.
Directions melt chocolate chips in microwave.( quart measuring cup is a good size) nuke 1 minute at a time, stirring each time till melted. Stir in frosting and vanilla etc. and spread in a 8 in by 8 in pan.
Refrigerate for awhile. My husband loves this better than any we have ever bought, a friend's family ate it all in 10 min. Hope this helps.

December 7, 2011
0

found this helpful
Best Answer
I just made the fudge on the back of the container of marshmallow cream. It turned out wonderfully smooth. I will be making this again.
Answer

this Question
My fudge seemed fine through all the steps, but ended up tasting quite sugary. It had boiled to 238 degrees F so it doesn't seem possible that the sugar didn't dissolve. I used the recipe that uses semisweet chocolate squares, condensed milk, marshmallow in a jar, and sugar. It has always turned out great, like old fashioned fudge. Any ideas on the sugariness?
By HB
Answer

this Question
Can you repair grainy fudge? Can it be recooked?
By Valorie H.

Answers

December 28, 2011
0

found this helpful
Best Answer
Sorry, I do not know about recooking it, but candy will turn out grainy if you do not use pure cane sugar. Use something like C & H sugar, that is pure cane sugar.
Answer

this Question
I forgot to add butter when cooking peanut butter fudge. It is cooled now and grainy. Can I recook the fudge and add the butter?
By KS

Answers

(Guest)
Gold Post Medal for All Time! 846 Posts
December 6, 2011
1

found this helpful
Best Answer
Someone else was just asking a similar question a few days about grainy fudge and wondering if it could be re-cooked and the answer turned out to be yes.
Answer

this Question

I would like to know how to make smooth and not grainy fudge. Please help.
By Carol from Australia

Answers

April 19, 2011
0

found this helpful
Best Answer
There is no way to salvage the fudge you made, at least that I know of. There may be many reasons that your fudge turned out grainy. The sugar may be old. If this is so, make sure you have fresh supplies when you make fudge. The fudge may not have reached the correct temperature is another reason. If it doesn't the sugar isn't melted. The fudge may have gotten too hot. If this happens the fudge will turn out grainy too. I always, always use a candy thermometer to make fudge. If I don't it usually doesn't turn out right and I make and have made a lot of fudge. I used to work for a sweet shop and we made fudge all of the time. If the weather is wet it will also sometimes affect the fudge. As you see, there are many factors that can effect it.
Answer

this Question

I have been reading past posts about gritty fudge. I have been making this fudge for over 50 years. Last year I started having big problems with it coming out gritty. I made 120 single batches last year. I had 22 bad (gritty) batches. I thought it was my burners, but I guess not. So far this year I have made 21 batches and only 7 have turned out non gritty. What is going on?
Answers

Judy
Gold Post Medal for All Time! 677 Posts
November 27, 2017
0

found this helpful
Have you switched brands of peanut butter? If not, maybe your peanut butter had its recipe changed. If everything else is still the same, thats probably it. You may have to find another brand
Read More

Answers
Archives
ThriftyFun is one of the longest running frugal living communities on the Internet. These are archives of older discussions.
Today I tried a recipe for fudge and it has a grainy texture from the sugar. I can hardly eat it. I hate to be wasteful and throw it out. Is there any way to fix it or doctor it up?
Read More...
Today I tried a recipe for fudge and it has a grainy texture from the sugar. I can hardly eat it. I hate to be wasteful and throw it out. Is there any way to fix it or doctor it up?
Read More...
Advertisement
Published by ThriftyFun.
© 1997-2021 by Cumuli, Inc. All Rights Reserved.
https://www.thriftyfun.com/tf46964032.tip.html