Problems Making Fudge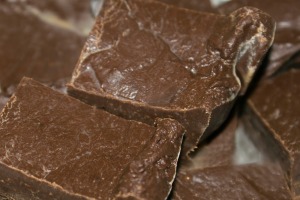 Chefs will tell you that cooking is an art and a science. The science can come into play when making fudge. Not only do proper measurements play a role in the success of your batch of fudge, but so does the cookware used and believe it or not the weather. This is a guide about problems making fudge.
Solutions
Share on ThriftyFunThis guide contains the following solutions. Have something to add? Please share your solution!
August 3, 2011
2

found this helpful
This is a guide about preventing grainy fudge. Homemade fudge is a delicious treat. However, on occasion rather that the smooth creamy texture you were hoping for it turns out grainy.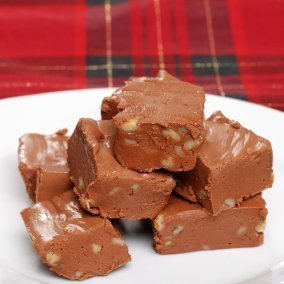 September 5, 2017
0

found this helpful
If you have made fudge that is not setting up, you may be able to fix it. Making fudge that is too soft can be frustrating but there are some options to improve your fudge.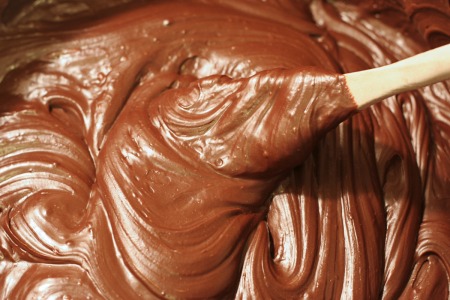 Questions
Ask a QuestionHere are the questions asked by community members. Read on to see the answers provided by the ThriftyFun community or ask a new question.
When cooking fudge, do you have to have a pot that evenly distributes heat or will any pot do? Is there a secret to knowing how the fudge looks when it is ready? On two separate occasions, my thermometer did not read right. Thanks!
By Faith from Clyo, GA
Answers
April 8, 2011
1

found this helpful
Best Answer
My Mother and I always just used any cheap pot that we had on hand.
For many years my Mother didn't even own a candy thermometer. She checked for the right degree of doneness by dropping a small dab of the batter in a cup with a little cold water in it. If the dab formed a soft ball that meant it was ready to take off the stove.
She then added some butter (never measured it, it looked like it might be about 1-2 Tbsps., you should also add vanilla to taste.)
Then she set the pan in some cold water, I don't remember for how long, and after a certain period of time she began stirring it until it lost it's gloss, then poured it into a greased pan.
When it was completely hard, it was cut into squares. I just checked in a church cook book and found a recipe that must be similar to the one my Mother used and I did get the directions right.
April 8, 2011
1

found this helpful
Best Answer
I have one of the easiest fudge recipes, and it has always turned out perfect. I use my microwave oven to make it. I use a large Corning Ware dish with lid.
Easy Chocolate Fudge
2 cups (12 oz.) Semi-sweet chocolate morsels
1 1/4 cups (14 oz. can) sweetened condensed milk
1 cup chopped nuts
1 teaspoon vanilla extract
Directions
Combine morsels and sweetened condensed milk in heavy saucepan.
Warm over lowest possible heat, stirring until smooth. Remove from heat; stir in nuts and vanilla.
Spread evenly into foiled-lined 8 or 9-inch square pan.
Chill for 2 hours or until firm. Lift from pan; remove foil and cut into squares.
(Makes about 2 lbs. fudge)
April 11, 2011
0

found this helpful
Best Answer
I have a perfect fudge recipe every time, no thermometer needed.
3 cups semi-sweet chocolate chips
1 14 oz. can sweetened condensed milk
a dash salt
1/2 to 1 cup chopped nuts
1 1/2 teaspoon vanilla
Directions
In a heavy saucepan, over low heat, melt chocolate chips with condensed milk and salt.
Remove from heat, stir in nuts and vanilla.
Spread evenly on a wax paper lined 8 or 9 in a square pan. Chill for 2 hours.
Turn fudge onto cutting board, peel off wax paper and cut.
This is an "Eagle Brand" condensed milk recipe I've had for 30 years. Perfect every time!
October 4, 2015
2

found this helpful
Best Answer
I've been making this fudge for years and it has never failed. I have friends who eagerly wait for Christmas because this is when I make it. If you can tell time, you too can make this smooth, wonderful fudge.
Mix the ingredients below together in a very large bowl. Find something large that will handle the heat; then put in:
1 large bag Semi-sweet Chocolate pieces (I use 16 Oz)
1 cup Milk Chocolate pieces (or a large Hershey bar plus a row of another) so it equals 8 oz
4 cups mini marshmallows (Keep them in the fridge or a cool place until measuring time. If you leave them out, they might expand in the warmth of your home, and you won't get a
good measurement.)
3 cups of chopped Pecans.
Put aside 2 teaspoons of Vanilla to be used later on. Don't put it in the bowl yet.
In a pot (with a bottom that displaces heat) mix:
1 can of Evaporated Milk
4 1/2 cups of Sugar
1 cup of Butter (cut into pieces)
Continuously stirring, bring to the milk, sugar, and butter mixture to a boil on medium heat. Once boiling, reduce the heat until it is finally on low but the boil continues.
Now, here's the trick to the recipe. At the first sign of it coming to a boil, start a timer set for 10 minutes, while continuing to stir constantly.

When the ten minutes is up, immediately add the milk, sugar, and butter from the pot to the chocolate mixture in the Tupperware bowl. Now add the 2 teaspoons of vanilla.

Using a large, wooden spoon or something that wont break, stir everything together until it is smooth and no little lumps of the marshmallows remain. Immediately, pour onto parchment paper in a 9" x 13" pan. Refrigerate and cut into small squares. Store in a cool space or in the fridge. Do not freeze.
December 16, 2015
0

found this helpful
Best Answer
I just started making fudge with my slow cooker and it comes out fab. It sets well and has great texture. Combine 500 grams chocolate, 1 can condensed milk, 1 tablespoon of butter, and 1 teaspoon of vanilla essence. Stir every ten minutes. When you have had 2 layers of skin, it is ready. I add peanut butter to mine and it tastes like Reece's.
Answer

this Question

...
December 20, 2011
0

found this helpful
I made my mom's marshmallow fudge. Instead of using MM creme I used whole marshmallows. The fudge set and tastes good, but is chewy and very dense which is not what I was going for.
Any suggestions to repair this batch?
By Lynn N.
Answers
December 20, 2011
1

found this helpful
Best Answer
Oh do I have the best peanut butter fudge recipe for you. It is so unbelievably creamy and is foolproof. Comes out great every time. Never gritty or chewy.
3 cups of sugar, 12oz. of Jiffy peanut butter ( I like Jiffy the best), 1/4 cup of clear Karo syrup, 1-7oz. jar of marshmallow cream, 1 teaspoon of pure vanilla extract (do not use imitation vanilla), 2 Tablespoons of butter, and 2/3 cups of evaporated milk. In a medium pan mix together the evaporated milk, sugar, Karo syrup, and butter. Stirring constantly until a rolling boil. Boil 3 minutes and only 3 minutes. If you cook it longer it is hard to stir in the pb and MM cream. Remove from heat and add the vanilla, marshmallow cream, and peanut butter. Stir until the marshmallow cream and peanut butter are melted and incorporated. Pour into a buttered pan. Cool and cut into squares and enjoy!
December 29, 2016
0

found this helpful
Best Answer
I did the same thing and all I tasted was the powdery mini marshmallow in my fudge. On my second batch I discovered the trick of making marshmellows into marshmallow cream, and this time my fudge turned out much better! Truth is, you can never fudge, fudge! Everyone is still bound to eat it all up!
For 7 ounces of mini marshmallow =1 and 1/8 cup add those to microwaveable bowl and be sure to add one Tablspoon of corn syrup, heat for 30 seconds, take out and stir with a silicone spatula! Bravo! You can even make your own marshmallows according to Anton from Food network! And That's about as from scratch as it gets!
Answer

this Question

...
December 17, 2011
0

found this helpful
I made the same recipe with the semi sweets and sweet condensed milk. I followed the directions, cooking until melted smooth, then I added the nuts and vanilla. It has been in fridge for 5 hours and has still not set up. What did I do wrong and how do I get it set up now?
By Nofudge
Answers
December 20, 2011
0

found this helpful
Best Answer
Put it back in the pan and cook it until it has thickened some more, then it should set up.
December 12, 2016
1

found this helpful
Best Answer
Probably you used evaporated milk and not sweetened condensed milk. Happens all the time.
Answer

this Question

...
I make fudge all the time. It is the recipe on the Hershey can with a little alteration. My question is, at times I make it sometimes it turns out perfectly, but other times when I cut it, it is crumbly. I make it on pretty days, but it still comes out crumbly at times. Other times it stays together nicely when cut. Weather is not the factor, but I don't know what is. I always measure carefully. Any answers out there?
By GR
Answer

this Question

...
Archives
ThriftyFun is one of the longest running frugal living communities on the Internet. These are archives of older discussions.
April 8, 2011
0

found this helpful
I have a batch of chocolate/ peanut butter fudge that did not harden. Does anyone know how I can salvage it?

By Peggy
Answers:
Problems Making Fudge
Use it for frosting, don't throw it out.
http://www.baking911.com/candy/fudge.htm (12/20/2010)

By MCW
Problems Making Fudge
Thanks for the ideas. I made this fudge for Christmas, two large trays. I cannot throw away. It can always be ice cream topping. I reheated it and brought almost to a soft ball, added 1/3 cup of powdered sugar, and same of baking power cocoa and stirred well. I poured it into a pan and it is already setting up. Thanks for the help! (12/22/2010)

By tfox
December 20, 2010
0

found this helpful
How do I get my marshmallow fudge to set up?

By Linda from E Wenatchee, WA
Answers:
Problems Making Fudge
Make sure too that the sugar you are using is for candy making. There are some granulated sugars that cannot be used for this purpose, and it should state that on the bag. I made that mistake just one, with a cheaper sugar, so now I use nothing, but a good, name brand sugar. (12/23/2009)

By Donna624
Problems Making Fudge
Did you cook the evaporated milk and sugar to softball stage 240 degrees? I usually cook the sugar and milk at a rolling boil for 5 minutes and that does the trick for me.

If your fudge hasn't set up 1 thing you can do is melt a 12 oz bag of chocolate chips in a double boiler and mix in the unset fudge and pour it all back into a buttered dish to set up or use the runny stuff for ice cream topper.
(12/23/2009)

By BABBIE
Problems Making Fudge
Don't make candy on a humid day, this affects the way candy turns out. Make sure the sugar, marshmallow creme, evaporated milk mixture cooks for at least 5 min., then remove from the heat and add your chocolate chips, vanilla, and nuts are stirred in. Should be fine. Fudge should not be put in the refrigerator. Go to fantasy fudge, it's the best ever. (05/21/2010)

By lindarob213
Problems Making Fudge
I put mine back in a clean pan and put heat on medium. If it is peanut butter fudge stir almost continually until it again boils. Peanut butter may stick to the bottom of the pan. Take off the stove and put the pan in a sink with cold water and occasionally stir a bit to see it is thickening. After about 15 minutes you can "beat the fudge" and put in a buttered pan. I should "re-set." Worked great for me! (12/07/2010)

By suzyt123
December 21, 2009
0

found this helpful
What can I do to get my fudge to get hard on a rainy day?

Nancy from WV
Answers:
Problems Making Fudge
My recipe uses only peanut butter, butter, and confectioners sugar. I can make this during any weather and not have any problems. I found out long ago that whatever kind of candy you're making, the house needs to be cool. The cooler the house the better. (01/03/2007)

By Amy
Problems Making Fudge
I have a few little tricks for making fudge.

I get it all mixed up and start to boiling, then clean something. I come back to it and stir it occasionally. I use the drop test, dropping a little bit of fudge in tap water and if it makes a ball it is nearly ready. I usually let it cook a few more minutes, then remove it from the stove and stir it for a bit.

Personally, I don't want to wear my arm out, so I put some water in the sink and set the pot in it and stir it a minute or so, then find something else to do for a bit and come back to it shortly and stir it some more. When it starts to be grainy, I pour it into a buttered dish and let it sit, out of the fridge and by the time it is completely cooled, it cuts into little squares.

If you want the recipe, let me know. It uses no marshmallow cream and no chocolate chips. Completely homemade.
I have a good peanut butter fudge recipe, also.
Tina (01/03/2007)

By trbrown22
Problems Making Fudge
I lived in Arkansas where on any given day the humidity is above 60%. My recipe called for 1 cup of whole milk (only making fudge would I use it). I cut it down to 3/4 cup and it came out perfectly. I have one recipe and it came from my Grandma, Old Fashion Peanut Butter Fudge from a Hershey can in the 50s.

I also had a dehumidifier I used when cooking or it was raining, to keep the inside of my house from "sweating", as we didn't have an air conditioner. I know you'll be getting lots of info on here and these suggestions I posted are what worked for me. I moved to the desert so now I use a humidifier. (01/05/2007)

By SweetCali40
Problems Making Fudge
My sister says when her goodies don't turn out right, no one needs to know. She just makes it into a dessert sauce to serve over ice cream, pound cake, etc. and topped with a dollop of whipped topping and garnish as you please. This way no big waste of money and it all gets eaten up. (06/19/2007)

By badwater
Problems Making Fudge
I work in a fudge shop and you're never supposed to put fudge in the refrigerator. (10/02/2007)

By Allison
Problems Making Fudge
I had a similar problem, my fudge wouldn't set correctly and I put it back on the stove, heated it up and added 1/4 tsp of Cream of Tartar, put it back in the pan, set it in the refrigerator and voila, it set just fine. (12/05/2008)

By Judy
January 1, 2007
0

found this helpful
I have made fudge 2 years in a row, and each year I make it I put in the refrigerator like it suggests and it turns out gooey in the pan, not like little squares. Can you help me?

Thank you,

Susan
Answers:
Problems Making Fudge
How are you making fudge? With marshmallow Fluff? If you are making it the old fashion way on days that are high in humidity it must be cooked to a full soft ball stage. A candy thermometer will help. Don't put it in the refrigerator. Cook to soft ball stage, then add nuts if you want to and beat until it gets dull. Have wax paper laid out to drop on or butter a dish to set up in. Hope this helps. (12/08/2004)

By nette27533
Problems Making Fudge
Are using evaporated milk in a recipe that calls for condensed milk? They are not interchangeable. Use a candy thermometer, and don't make candy on a wet day. Humidity in the air will affect it. (12/08/2004)

By
Problems Making Fudge
I have always used the recipe on the Hershey cocoa box with one addition, I add two tablespoons of flour, it always comes out really good. Always sets up, never have to put it in fridge, (12/08/2004)

By Joyce
Problems Making Fudge
I believe that you are not boiling the fudge long enough. A drop of the mixture must make a ball that you can pick up easily from a little cold water before it is ready to take off the stove. Then, it should be beaten until the mixture stuck to the sides of the pan is "setting" before pouring quickly into a buttered dish. (12/08/2004)

By Mary
Problems Making Fudge
I had that problem when I didn't beat the fudge long enough. (12/09/2004)

By Shirl
Problems Making Fudge
Fudge is such fun at Christmas but there are some tricks to remember when making any candies at any time. Don't make candy on a rainy or snowy day because most won't set up. Never add extracts IE vanilla until the very last step. Extracts will make your candy stay soft if you haven't cooked it to the correct stage before adding extract. Let your fudge cool in a cool room rather than in the refrigerator and see if this will help. Often fudge needs to completely cool before refrigerating. Also, follow the recipe exactly as it is printed. So many different recipes but these tricks are the big ones I learned years ago and have had good success if I follow them.
Happy holidays (12/10/2004)

By Julie
Problems Making Fudge
I made some fudge at the holidays and followed the recipe almost exactly. I just doubled the recipe and cooked it a little longer because of the added volume... but it came out hard as a brick and as heavy as one. Could I have fixed it in any way by recooking it or melting it and mixing with evaporated milk or marshmallow or a mixture of both? (01/12/2005)

By Cyndie
Problems Making Fudge
I tried to make fudge following a recipe. Now I'm not a candy maker, but I thought that I would try to make simple fudge. Kids are making it all the time so why shouldn't I be able to do the same. After mixing the ingredients as directed, I commenced to begin boiling the mixture. I stirred the mixture constantly and heated it until it reached the candy thermometer temp specified in the recipe. Then I turned off the heat and continued to stir the mixture. But something was wrong. It wasn't setting up like I expected. I decided to let it cool down some, and then I would try to stir it again. This didn't help at all. The cooler it got - the thicker and harder it got. Soon I had a pot of street repair material. Do you suppose I could patent my technique and then sell it to construction companies so that they could patch and repair the local streets? (05/20/2005)

By Rick
Related Content