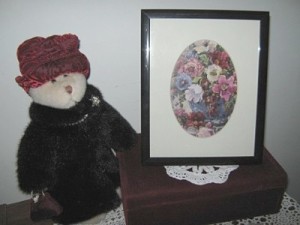 Want some inexpensive picture frames for your decor, but don't want the expense? Save your calendars and select florals, scenes, etc. to accommodate your living decor. You may have to crop and cut them to fit behind the 5 x 7 and 8 x 10 inch opening mattes. Buy cheap frames and you have your own inexpensive artwork. Great in groups of three in a hallway, etc. You will be able to afford to change them with the seasons for a different look! These make nice little friendship, hostess, or housewarming gifts too.
Note: I would not suggest selling these for profit as there might be copyright laws involved.
By linn.2009 from Dartmouth, Nova Scotia
Ad
---
By SANDI 2 100 03/12/2011 Flag
Cute idea. I love the bear in the fur coat!
Archives
Thrifty Fun has been around so long that many of our pages have been reset several times. Archives are older versions of the page and the comments that were provided then.
<div align="right">
</div>
Here is a nice, inexpensive, but still good-looking holiday gift. It's also a good way to recycle old calendar pages.
Find a calendar, either an old one of yours or the ultra-cheap ones that go on sale very late in the year, per perhaps ones from the dollar store. Cut out all the pictures, leaving a bit of a border around it. (You can also use nice looking magazine pages and other such pics.)
Get some matting (those cardboard frames you can get at craft and art stores), or get nice frames at thrift shops or dollar stores...the size of course depends on the size of the calendar pictures. Put the pictures in the mats or frames, and you have a nice looking decoration for someone's wall. You can even decorate the frames yourself with paint or things you can glue on. Use the inexpensive mats and use all the pages of the calendar and give them a set of pictures they can rotate out on their desk or wall.
Ideas for pictures:
For young boys: Star Wars, Harry Potter, Transformers, Pokemon, pirates, samurai or ninjas, cars, planes, rock stars, astronomy or weather pics.
For young girls: Horses, puppies, kittens, "hunky" guys, favorite actors, Hollywood, dancing, rock stars.
For women: Cute or pretty animals, vacation spots and landscapes, favorite actors or singers, handsome men, flowers, things that spark their particular interests.
For men: Cars, pretty women, cityscapes, action movies, horror or macabre stuff if they're into it, Rock Band or other video games.
By Saber from Omaha, NE