Cigarette Receptacle for Repairmen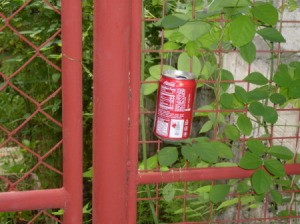 Whenever there's a repair to be done in our house, most workers just throw their cigarette butts around the place. To remind them to keep those butts off the ground, I hang empty pop soda cans in places where the workers will find them easily.
By Fe N. Evangelio from Phils.
Feedback
Read feedback for this post below. Click here to post feedback.

By
06/16/2011
Good idea! When we had a party in the back yard to celebrate the return of my son from Iraq I used milk jugs. I put them by the back fence, filled them with a few inches of water. We are nonsmokers and I did not want the mess left behind. Afterward the lids were put back on and they were thrown in the trash. Easy clean up and the water put them out immediately. Normally I recycle milk cartons but when a party is planned, a few make it into the trash.

By
06/16/2011
That's a good idea. Cigarette butts are the most littered item.

Did you know that it takes years for a cigarette butt to degrade? We had some work done on an outbuilding in our yard and afterwards, I found several cigarette butts in the yard where the workers had just pitched them. Just for curiosity, I placed the butts at the edge of the building, unprotected from the weather, to see how long it took for them to break down. This was in August and in April, after going through rain, snow and ice there was no change. They were still in tact just like fresh butts and one day I looked and they were gone. I don't know what happened to them.

I have heard that birds like to use cigarette butts in making their nest and when they do this, the nicotine kills the eggs and they don't hatch.

By
06/15/2011
They have label, "cigarette butts here please!" I just missed turning it around (out of excitement to post).
Post Feedback
Add your voice to the conversation.
Related Guides
Related Posts