How do I apply ceramic tile to an old Formica countertop?

By dee from Atlanta, GA

Answers:
Putting Tiling Over Laminate Countertop?
I am living in an apartment which is very old and the landlord will not update anything! On the main miserable countertop, I have put a gigantic chopping board, so at least this looks good. I have hung a huge mirror over the kitchen sink which faces nothing and put art work all over. Now at least it looks jolly, even if the countertop is peeling. Cheers! (05/15/2010)
By Mom
Putting Tiling Over Laminate Countertop?
If your old countertop has the curved edge in front, I don't think you can put tile over it, because the tile would have to curve. Google painting countertops and see what you come up with. I saw an episode on one of the cable channels one time where they showed and gave directions for painting an old counter top to make it look like granite. (05/15/2010)
By Joan
Putting Tiling Over Laminate Countertop?
"How do I apply ceramic tile to an old Formica countertop?" You shouldn't.
You need to take those counter tops off and start off with a plywood base, just like you would with a standard subfloor.

I would caution against using tile on a counter top unless you choose a tile which you can use a darker grout and get the best grout sealer you can buy. Tile is best for flooring, baths and showers, back splashes, and outdoor table tops.
But, you should go to a virgin surface for good adhesion and proper preparation.

You can take classes at Home Depot, most are free and look around to local tile stores, many also offer DIY tile classes. (05/17/2010)

By LizO
I saw the discussion a few weeks ago about painting over laminate, and it got me wondering about tiling over laminate countertops. Will the adhesive stick if you sand the countertops?
Jen

Answers:
Putting Tiling Over Laminate Countertop?
I have put ceramic tile directly over laminate bathroom counter tops without sanding, and it has lasted and not come loose even with the water. So give it a try, and I'm sure you will enjoy the results for many years. (04/15/2005)
By Karen
Putting Tiling Over Laminate Countertop?
It sounds like a risk. Tile thinset is a cementitious material that needs a suitable substrate to bond to that is porous enough to maintain that bond. Laminate coutertops are decidedly not porous. If you decide to sand, I would sand, and sand, and then when I thought I had sanded enough. I would sand some more.
Since tile is a considerable investment, I would not cut corners. I would get the proper substrate (plywood and backerboard) and do it right the first time. It would be such a shame to spend money on a tile countertop only to have it fall apart. (10/04/2005)

By Chelsea
Putting Tiling Over Laminate Countertop?
It did this about 6 months ago. I used 12x12 porcelain tiles (.99 each). Here is the process I used. I removed the sink, sanded lightly and cleaned the countertop, cut backerboard to fit top (dry fit). Then I placed mastic on the countertop (per manufacturer's instructions), placed backerboard in place (per manufacturer's instructions), using screws for backerboard screwed board in place (per manufacturers instructions), allowed to set overnight. Next day, lay tiles as you would normally (allow to set, then grout).
For the sink you will need to cut approximately 1/4 indents into the old countertop where the sink mounts (due to backerboard and tile depth). Reinstall sink (per new sink instructions). This cost me about ($100, less the sink).

It is indestructible. You can also run the tile up the wall as a back splash if you like. I have had tons of compliments on this. Oh, a final note. I used black painted trim for the edging (not in picture). This has proved to not be as dutiable as I would like. I may look for some aluminum trim. Good luck. (12/28/2006)

By Jim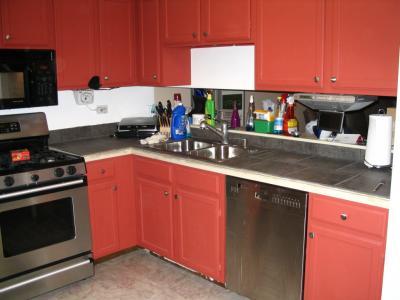 Putting Tiling Over Laminate Countertop?
Don't put anything on top of laminate tops. If the laminate tops ever come detached from the plywood (the actual counter top), then the tile will be also. If you put down ceramic, you especially will be into a lot of time and effort that has gone down the drain. The ceramic won't come apart from the laminate, due to the thin set, but the laminate can come apart from the wood. (06/05/2008)
By Beth
Putting Tiling Over Laminate Countertop?
I too am in the process of tiling over laminate. My countertop laminate was very solidly glued because the previous owners had redone the counters only 5 years ago. Only problem is that they put hot pots and scouring powder all over the laminate and it looked awful. I used a modified mortar and pre-sanded the laminate. After cleaning the laminate well I applied the mortar. I'm a great chance taker so I don't know how this will hold up over the long run. I'm including a picture of the finished breakfast bar because I'm still working on the rest of the countertops. (06/16/2008)

By Tayalynn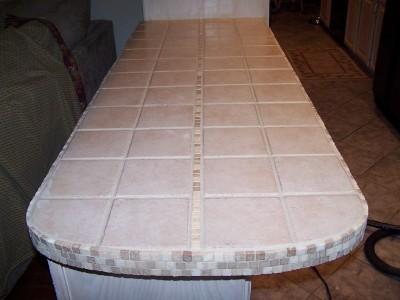 Putting Tiling Over Laminate Countertop?
Yes, you can tile over laminate. Works and looks beautiful and lasts forever. I did countertops and floors. You can also tile over tile as long as nothing is coming up. I've done both about 10 years ago and it still looks like new. (08/30/2008)

By Rose
Putting Tiling Over Laminate Countertop?
Attaching backer board and then tiling is one way to tile over countertops. You want to be sure if you do tile over the existing countertop, the height is not higher than preferred.
Clear silicone will work as well, to attach the tile over laminate.
The best solution is to remove the existing counter top. Using backer board as the base, then tile to it. We have used cut tile pieces for the front edge. Wood trim looks good in the beginning, but is not the best material. (11/04/2008)

By Debbe
Putting Tiling Over Laminate Countertop?
You can tile over laminate, but you should degloss the surface first, for better adhesion. There's a product called TSP you can find at any hardware store. There are a few brands and the cost is around $6.00 (small size). It will clean and degloss the surface without the need for sanding.

I just completed refinishing my kitchen cabinets and I was tired of sanding, so it really worked for me. In the end I decided not to tile because of the added expense. Instead, I painted them in a faux finish to look like granite. I coated with really durable, water and heat resistant poly. It added depth and durability, and is beautiful. Even my 5 kids haven't scratched it, amazing. The cost of the counters and the cabinets was less than $75.00, plus my time and a little TLC.
Whatever you decide, do some research, there's a lot of great information and products out there. (02/24/2009)

By Kat LaValley