I want to replace the flooring in my kitchen and bathroom with ceramic tile. Is this an easy "do-it-yourself" job or should I just pay a professional?

Michelle from Rockford, IL
Answers
By bambi2003 (Guest Post)
July 27, 2007
0

found this helpful
Best Answer
my husband and I are 1st time home owners, well we got the house from his father after he passed. The house was in horrable shape, and my husband having never done anything like that before put down tile in the bathroom first, and when he saw how easy it was did the kitchen too. The only thing was we didn't have any way to cut the tile, but we bought it from Lowes and they will cut their tile for free as long as you have the tile marked. Have fun.
By Jeff Linenfelser (Guest Post)
December 28, 2007
0

found this helpful
Best Answer
There is a reason there is a 4 year apprenticeship for Tile Setters. Layout is not that simple, if you start in the center you could have 1" cuts on every wall. Every room is laid out differently. Then you have the mortar mix has to be Perfect.
Subfloor has to be perfect also or you will get deflextion in the floor causing the tile and grout to crack. spacing is also per tiles not with spacers. No tile is exactly the same size and you need to have a trained eye for small adjustments to keep your corners on and your tile running straight.
Answer

this Question

...
Installing ceramic tile might seem a daunting task but it really is well within the grasp of most people. The only steps involved are layout, setting, and grouting.
In case you haven't noticed, the walls in most houses are not built perfectly square to one another, so layout tries to find the best line for your floor tiles to follow. You will be looking to minimize the amount of visible evidence of floor tiles being out of square to any of the walls in a room. This may or may not involve skewing the plane of rows and files of tile. Lay out a row and file or two, keeping the gap between tile at a quarter inch.
Doing this will help you see the work that lies ahead when you will be using real, live adhesive, plus you will be able to find if it is possible to arrive at a uniform gap between tile which will avoid tile cuts to make a fit. The gap can be as little as one-eighth of an inch and as much as one half of an inch. Once this dry run is sure, draw a pencil line along the edge of one complete row and one complete file of tiles.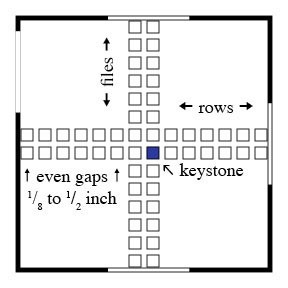 Use the adhesive manufacturer instructions for mix ratio and trowel notch size. For ceramic, the adhesive is named thin set and believe me, with this stuff, you must follow the mixing instructions exactly. Mix only a small amount at a time.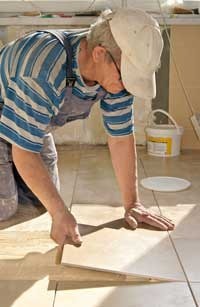 Spread a layer of thin set on a small section of the floor, up close to but not on that pencil line you drew. Now take a tile and while holding it top side down on the fingertips of one hand, and with the underside orientation markings always running the same direction, trowel on an even layer of thin set. Carefully turn the tile over, and while avoiding messing your fingers with adhesive, plop the tile onto the thin set bed you previously spread. Squiggle the tile, using downward force and sideward coaxing, into place precisely on the pencil line. Your first ever tile now serves as the cornerstone, a landmark, irreversible keystone tile for the rest of this project. Continue setting tile with the same gap or spacing and orientation. The final row and file may need cutting to size with a rented sliding point cutting tool. Leave a day for the thin set to dry.
Grouting is simply filling the gap line between all the tile you set yesterday. It's ok to walk carefully on your new floor. Mix your grout according to manufacturer instructions. If your gap is greater than an eighth, use sanded grout. Beginning in a corner, plop a pile of grout right down there on the tile and using a rubber float tool, immediately begin working the mixture into the gap. Push the mixture in hard, taking care not to have voids or pin holes. Keep a bucket of clear water and grouting sponge at hand so you can sponge clean the excess of grout left behind after floating. Keep the sponge damp, not wet, and rinse often.
Taking care not to disturb the grout lines, use damp then dry rags to clean the surface haze that forms and you should be ready for the final stage which is to admire your work!
By Dennis Fitter