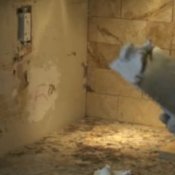 Is it acceptable to lay porcelain tile from the front door, into a hall bathroom and adjoining kitchen, all the same color? The den floor leading into the hallway is peg and plank.
I have white appliances and dark maple cabinets. Would you clean them up or paint them a cream or white. The tiles are light beige and cream. Thanks.
Answers
February 21, 2009
0

found this helpful
I don't see any problem with the same tile in all those conneced areas. I wouldn't change from one to another; it would look strange.
My entryway right now has oak floor in the entrance, the hall, powder room in that hall and the dining room which is off the entry. I think it looks fine.
I would clean up the maple cabinets unless they are so bad you think you HAVE TO paint them. I think you can't beat natural wood.
Murphy makes an oil soap wood cleaner with orange oil in a spray bottle; it says it cleans and even removes built up wax.
Then I would apply a coat of orange oil or something similar for a nice finish.
By DEBRADJ. (Guest Post)
February 23, 2009
0

found this helpful
Porcelain tiles sound wonderful but better think of this in the kitchen. Someday those appliances will have to be moved out to be repaired or replaced and porcelain is very very fragile. My husband the service tech is always very nervous working with porcelain tiles because they will break very easy and when moving your appliances around for repairs you can have damage to your floor if your tech is not careful.
February 23, 2009
0

found this helpful
I know people that use one neutral tile throughout, but I personally would make the bathroom a different color. The hall to kitchen etc. would be nice as one color as if to lead guests into your home. Bath should stand out, so people notice it(to find it) and so that it is a seperate "oasis". To me the bathroom is one of the most important things your guest will notice. Best wishes!
February 23, 2009
0

found this helpful
PS. Leave cabinets wood, re-stain if you must. I painted my last kitchen white and the cabinets looked nice and brightened the area, but within the year paint would rub off and chip: falling onto clean dishes. Plus: with the green movement the natural wood look is coming back.
Answer

this Question