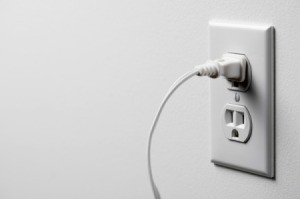 I'm hoping someone will know how to fix the problem I'm having. When I plugged a lamp into a wall socket last night, I heard a deep humming sound - and quickly unplugged it. I then tried the light in other sockets I know were okay, and there was no problem. Could the problem be a short in the socket? Is it dangerous until I can have someone fix it? Thanks so much.
Barbara from Fairless Hills, PA
Answers

February 1, 2006
0

found this helpful
Best Answer
Yes, that socket is indeed very dangerous. It is probably a loose connection or a broken receptacle. The sound of arcing indicates that something in there is producing extreme heat, which could set the house on fire.
Luckily it's very easy and quick to fix. Since receptacles are cheap, usually 99 cents, I don't gamble with them and when in doubt, replace it. Get a new receptacle and have somebody change it for you.
If you decide to change it yourself, it's easy. Turn the breaker off.
The bare or green ground wire goes to the green hexagonal screw on the end of the receptacle. The white wire goes to the silver screw on the side. The black wire goes to the brass screw on the other side. That's all there is to it, except for turning the breaker back on when you are finished.
Have FUN!
Dear Webby
By Lynette (Guest Post)
March 22, 2006
0

found this helpful
I have a humming sound in my new rental home. It sounds like a vehicle idyling outside. When you go outside you can't hear it. I've shut all the electric down in the house and still heard it. I've checked the attic for possibly a fan running, nothing. You hear it even when there is no wind at all. Anyone have and ideas what is causing this. I hear it 24/7. It is so loud I hear it even when the T.V. is on.
By Irene (Guest Post)
April 5, 2006
0

found this helpful
I too hear humming in my house... mailnly in the back part (unfortunately where I sleep and its driving me crazy). My husband does not hear it (he has bad hearing)
I put my head against the walls but ... nothing is humming. I go outside and the humming stops.
Help!!!
Answer

this Question