Refinishing a Bird Cage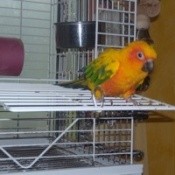 I have a bird cage that my feathered friend has removed most of the painted from. Is there a safe and inexpensive DIY way to refinish the cage? New cages for that size bird are over $200 new and the cage itself is still in good condition just the finish is damaged. I don't care so much about looks but the exposed metal gets rusted and I'm sure that using her beak on the metal can't be healthy for my bird.
By chriself from Williamstown, NJ
Answers: Refinishing a Bird Cage
Read answers for this question below.
I think the idea of asking a vet is an excellent one. They certainly should know more than we do!
I honestly think what the bird ate off of the bars of your bird cage could be worse than the rust. I would ask the vet what type of paint would be good for your bird. I would ask if it is even necessary for the bird cage to be repainted.
Only a powder coat surface would be safe. ( and not worth the cost on an old cage) We built a wooden cage from pine strapping and dowels. When one is chewed through it is easy to pop a new one into the pre drilled holes.
If you value your bird's life it should not be in contact with any toxic metals.
Perhaps try your local FreeCycle group for another.
Good luck.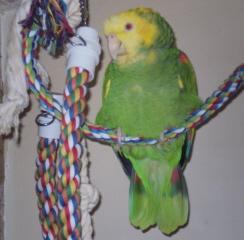 I recently read that you can check with paint distributors and find out which ones are safe for the consumer (i.e., you and your bird). They are making paints safer now, and this would keep your bird safe and save you money at the same time. You will probably pay more for the paint because it's the newest, safest kind, but you can buy only a pint of paint to cut down on the cost.

Hope this helps!
Answer This Question
Add your voice to the conversation. Click here to answer this question.
Related Guides
Related Posts