I bought an old bird cage hanger at an auction. Later found an old bird cage. I had to use them to make something. This is what I came up with. The light is on a timer to turn on and off in the living room each night. I can use as a night light until I go to bed.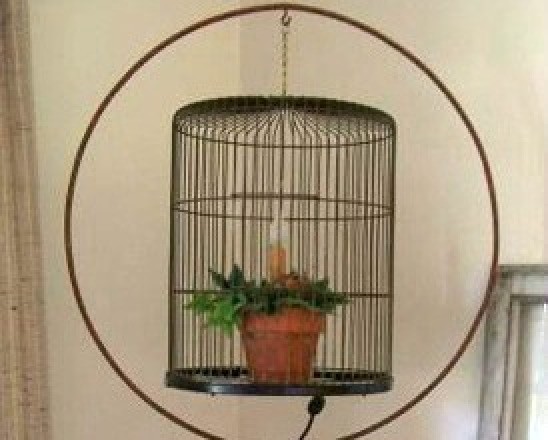 Approximate Time: 3 hours
Supplies:
bird cage hanger stand
old bird cage
aint
terra cotta flower pot
ivy and moss
small bird
electric candle with a rubber flame bulb
doily
chain
cable and twisty ties
sponges and brushes
Instructions:
I cleaned and sanded the stand. I painted it a faux finish using sponges and red and gold paint to resemble a rustic look.
I had to repair the bottom of the bird cage to make it strong. I superglued it because it had cracks in the bottom Then I used cable ties and twisty ties to attach it to the wire cage in order to be able to hold the weight of the clay flower pot.
Hang the cage from the stand using a nice chain.
I put Styrofoam in the pot to have something to sit the candle on to make it high.
Take moss and put around the top of pot and also silk ivy. You can use artificial flowers too. Position the bird in the center as if he's sitting in the moss for a nest.
Use a doily the same size as the bottom of the cage. This adds interest to the bottom. Sit the pot in the cage.
Try to hide the electric cord as well as possible.
Put a timer on and you have a lovely night light.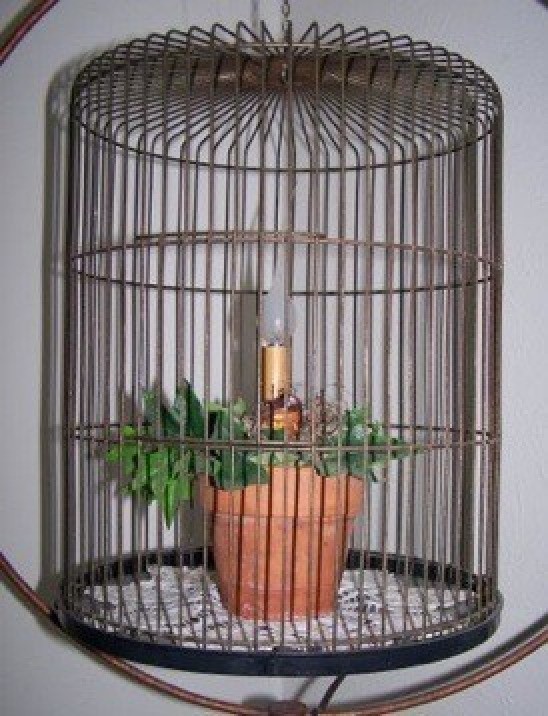 By Donna from Millbury, OH
Comments
Read More

Comments