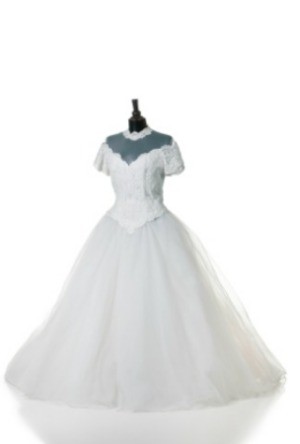 When a dry cleaning service is not available for you, cleaning a formal dress can be difficult. This guide is about cleaning a wedding dress.
Ad
---
Questions
Here are questions related to Cleaning a Wedding Dress.
How do I clean a do not wash/do not dry clean dress? I am getting married in June and purchased my dress from a thrift store. It isn't terribly dirty or anything; I could wear it as is, but I'd like to clean it to make sure that it looks its best. The label says "do not wash, do not dry clean professionally, spot clean only."
Any ideas for how I can clean my dress? I attached the stock photo of it.
Thanks so much!
By Stephanie from Anchorage, AK
AnswerWas this interesting? Yes No
Ad
---
---
Best Answers
By kathleen williams [76] 10/24/20090 people found this helpful
Use vinegar to clean the dress. I had under arm stains on mine, the vinegar works just put it in the sun. After you apply the vinegar, it may take a few days. Re apply every day till spots ago away, good luck.
---
By Nicole 01/04/20110 people found this helpful
Gorgeous dress! I'm sure you can use some type of fabric steamer to deodorize and get small specks of dirt out. If you know anyone who has a hand held shark steamer that would be perfect since it has a fabric attachment. Good luck, and what a thrifty find!
---
By donna 01/04/20110 people found this helpful
After my daughter's bridal portraits were made, we noticed a few blemishes on her gown; including grass stains. We took the gown to the bridal shop that it was purchased from for suggestions and the owner pulled out a container of Clorox "Bleach free" disinfectant wipes and proceeded to clean every blemish; even the grass stains. She stated it could even be used on colors. I never would have believed it if I had not witnessed it firsthand. Needless to say, I now keep these wipes in my home and office just for this purpose. If you are skeptic and I wouldn't blame you for being so, with your wedding gown, try this on another piece of clothing in your wardrobe. Congratulations on your upcoming marriage. Remember, if you try this, bleach free wipes.
---
By Jeannie Cerar [6] 01/08/20110 people found this helpful
Use baking soda, with a clean tooth brush. This will absorb the stains and dirt spots, then wipe with dry fluffy towel The gown is beautiful, just beautiful!
---
How would I go about cleaning an old wedding dress (30+ years) at home? Could I use the Dryel and do all the metal and buttons need to come off?
By Pam C. from Appleton, WI
AnswerWas this interesting? Yes No
Ad
---
---
Best Answer
By Frugal Sunnie [11] 01/05/20120 people found this helpful
What is the dress made of-chiffon, silk, shantung, satin, velvet, what? Is there beading or delicate embroidery on the dress-it's not just buttons and metal that can cause a problem in cleaning as lustrous beading and embroidery likely contain metals also, to add the lustre.

How much fabric is in the dress-is it going to be extremely heavy (and thus unmanageable) when saturated with the cleaning fluid? Read the Dryel label to see if you can clean your fabric with it, and don't be surprised at any disclaimers absolving them of responsibility should the cleaning job be unsatisfactory-there may be hidden stains from spills, perspiration, etc, that cleaning will unfortunately expose for all time.

If you can afford it, a professional fabric restoration service would be the best way to clean an heirloom wedding gown.
---
How can I clean my wedding dress at home?
By Diana from Lincoln
AnswerWas this interesting? Yes No
---
Most Recent Answer
By She Drags 13 10 05/30/20100 people found this helpful
My mother has owned a drycleaners for 10 years. Only once did she ever dry clean a wedding gown. 99.99% of dresses are completely washing machine cleaned. Dry cleaning with completely destroy the gown. So be leery if you do take it somewhere and they tell you and charge you near $200.00 for them to "dryclean" your dress, when as soon as you left they tossed it in a double front loader, set it to wash and hung it to dry.

(My mother told every bride how she was going to clean her dress up front, what most brides are looking for is that their gown is prepared correctly for storage. (the boxes are oversized with a window to see the bodice of the gown without pulling it out, and acid free tissue is used to inhibit yellowing". The boxes themselves are near $75.00. You can use dawn dish soap and a soft nail brush, gently scrub the soiled areas, wash on delicate and hang to dry. if the dress is really big, most laundromats have double/triple load washing machines.

My dress was so big it didn't fit in any washer. My mother and I washed it in our swimming pool. Yup, that's right. There was scarcely any chlorine in the pool at the time, so we dunked and rinsed it right in the shallow end of the swimming pool, then hung it from my mothers deck awning. Wedding dresses are much more durable then you would think.
All of the above are tried and true a countless times over. Hope this helps.
---
How do I get a stain out of my wedding dress? It is white satin and lace. The stain is along the bottom, It's probably grass and mud stains.

Andreadjulian from Kettering, OH
AnswerWas this interesting? Yes No
---
Most Recent Answer
By rosa (Guest Post) 12/06/20060 people found this helpful
vinegar should take it out. Rose
---
Mother of Bride dress: label says 67% polyester, 33% nylon; lining 100% polyester. Professionally spot clean only. Instructions say: Do Not Dry Clean. I spilled wine (white Zin, I think, looks like a water spot and is colorless) on the dress and no dry cleaner in this town will touch it.
My sister-in-law gave me her gorgeous wedding dress to wear and I love it, the only problem is it has dark red embroidery and my future hubby and I do not want red of any sort in the wedding. Can a dry cleaner bleach out the embroidery to make it white? The fabric is 100% polyester as is the lining.
By Anna A
AnswerWas this interesting? Yes No
---
Most Recent Answer
By Linda 10/08/20140 people found this helpful
Be sure to ask before you do anything to alter the dress! She may have loaned the dress to you or even given the dress to you but, she may not expect you to alter it in this matter.

The red embroidery floss may be able to be bleached but, it will never be white, and there is a very large chance that the bleaching process will ruin the material in the area of the floss. If you are insistent on using the dress and changing the red floss, do not skimp by taking it to a discount person! Take it to a company or business that has proven success in altering material.
Another option would be to have the entire dress dyed which could change the red to a different color but the dress would not be white.
Good luck,
Do you guys know how to whiten dresses that have yellowed with age because I want to be able to wear my mother's dress for my wedding?
By Sveta from West Springfield, MA
AnswerWas this interesting? Yes No
---
Most Recent Answer
By Frugal Sunnie [11] 05/07/20130 people found this helpful
How to safely restore the white to the dress depends on the fabric. It also depends on your budget, professional restoration is pricey and skyrockets the more detailing like beading, flounces, netting and/or lace, etc, there is on the dress.

At home, all cotton wedding dresses can be carefully soaked then washed in lukewarm water with a gentle soap+a whitening agent like OxyClean or a laundry 'blue' product. Some cotton wedding dresses have lace or net made from synthetic fibres and may not clean as well as the natural fibres, so make sure any lace or net detailing has been done with an all cotton fibre.

Carefully follow the product measuring directions-you use less product in hand washing than in a machine. Too much product in the hand wash water makes a lot harder to completely rinse.

And because even a 'simple cotton wedding dress' will usually have fragile detailing like embroidery and/or beading, it's best to do this by hand in a sparkling clean and well rinsed bathtub. The large space of the bathtub will ensure plenty of room for the many yards of fabric in even the simplest vintage wedding gown to be completely covered with water-the fabric should be able to float loosely during the soaking and washing. Use a very gentle squeezing from neckline to hem, over and over and over again to work the soap and whitening agent through the fibres.

Be sure to rinse well to get all the soap and whitening agent out of the fabric as the residue can cause the fabric to still look dingy and pressing will make things even worse by ironing the residue into the fibres.

Drain the wash water, gently squeezing the excess soapy water as the water drains. Refill the tub with cool water and gently swish and squeeze the gown in the rinse water-repeat the draining and refilling the tub until the rinse water is no longer soapy when you gently swish and squeeze the fabric.

Squeeze as much of the excess water as you can from the dress, then put sections of it between thick absorbant towels and press to remove more of the water. Then place the dress on a flat surface out of the sun (use a clean spread out bed sheet or comforter to protect the gown from the surface you lay it out on). Hanging it may cause distortion of the shoulders and hem, so avoid that if you can.

If the dress is silk, natural fibre satin, or a synthetic like polyester, rayon or taffeta, really your best hope for restoring the white is a professional dry cleaner who specifically advertises expertise in restoring antique and vintage wedding dresses. Again, this can be an expensive option but is the best and usually safest way to ensure your heirloom gown is wearable for your wedding.

Be sure to get all the details of the promised work in writing from the dry cleaner so that you have recourse in case the dress is ruined-it has happened to brides and the only time the courts will award damages is if there is a written promise agreeing all the details.

Make sure you read all the fine print before signing and before leaving your dress; take good photos of the dress before leaving it with the dry cleaner, too.
I have a satin wedding dress that has had its train walked on by the family dog. A few muddy paw prints are in place. The wedding is in a few weeks. Please help.
By Carmel
AnswerWas this interesting? Yes No
---
Most Recent Answer
By Frugal Sunnie [11] 03/06/20120 people found this helpful
Oh wow! The bride must be in a complete panic! I would try the dry cleaner first. They'll be able to let you know if it's even possible to get the stains out.

You can try one of these methods, too, if you're on a tight budget:
http://laundry.about.com/od/stainremoval/a/stainsaz.htm

But I'd really consider having a professional do this job.
How do you get tire marks out of a satin wedding gown?
By M.C. from Pine Bluff, AR
I am getting married in a couple months and I have a wedding dress that is 100% polyester and the lace is 100% rayon on 100% nylon. It is 7 years old. How can I safely clean it? It says do not wash, do not dry clean, spot clean only.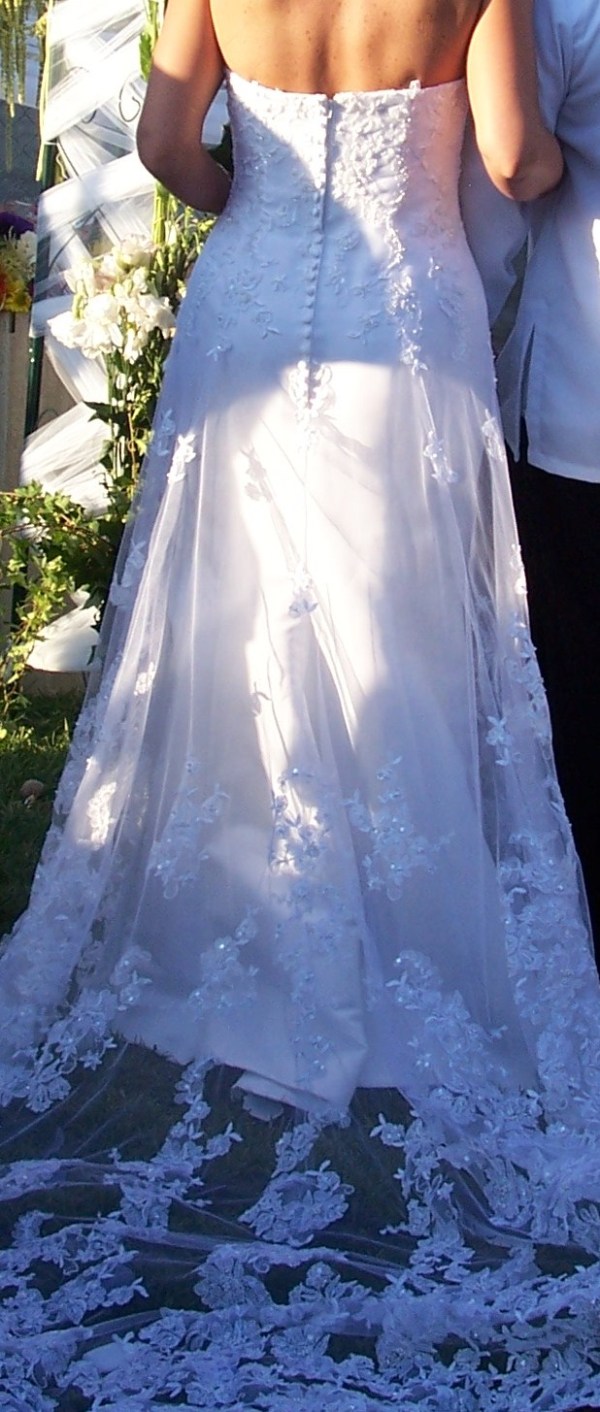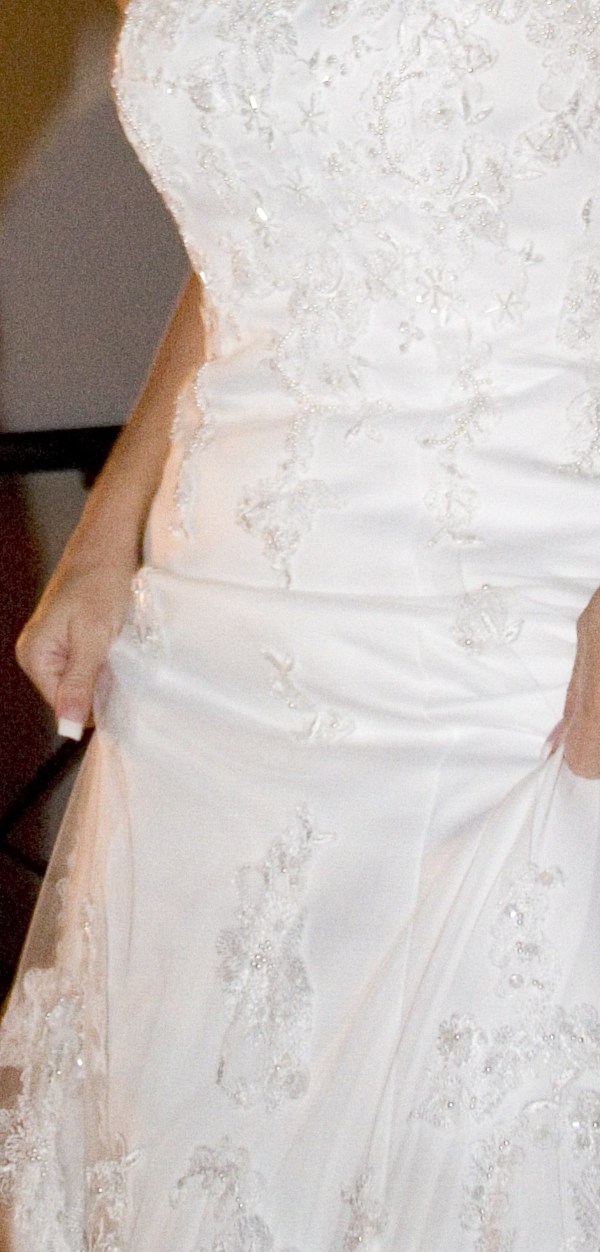 The lace is very dirty at the bottom and throughout the dress it does look dirty. How can I safely clean the dress? And the lace also has beading. I am very worried and don't want to have to buy another dress. Please help!
By Danielle
I have kept my mother's pale pink, lace wedding dress with pearl buttons. I would like to wear it to my son's wedding in a couple of weeks, but it has a large dark yellow/almost orange age stain on the front. How can this be removed without altering the original colour of the dress?
Desperate Susan from Sydney, Australia
How do I clean a 40 year old wedding dress? It has several brown spots.
By Carolyn
Solutions: Cleaning a Wedding Dress
Do you have knowledge about this guide topic? Feel free to share a solution!