Dyeing a Wedding Dress
I want to dye my ivory wedding dress red. Is there a business that does this professionally or should I attempt to do this myself? What is the best dye to use?
Answers
November 18, 2017
0

found this helpful
Best Answer
It depends on what your dress is made of. I use Rit dye for most of my dying but if it's a certain type of silk or satin, I'd have a pro take a look.
November 19, 2017
0

found this helpful
Best Answer
Wedding dresses are very expensive and you risk the chance of destroying your expensive dress before the wedding. I have been reading up on a new fad called dip dyed wedding dresses. Some of the dip dyed dresses are so beautiful.
If you have your heart set on a red wedding dress for your wedding day I'd suggest contacting a company who specializes in dying wedding dresses. You can find a company in your area from this website. Furthermore, take a look at some of the beautiful dip dyed dresses they have done. You might like this very much.
Answer

this Question
8 More Questions
Ask a QuestionHere are the questions asked by community members. Read on to see the answers provided by the ThriftyFun community or ask a new question.
I have a bright red wedding dress and I would like to turn it purple and was wanting to know what color would I use or if I could even do it at all.
Read More

Answers
I want to dye a polyester wedding dress for a Halloween costume. There is a lot of sheer fabric, as well as, lace applique. I want to dye it hot pink; any suggestions?
By Wolfslilvixen
Answers
October 7, 2011
0

found this helpful
For a costume it shouldn't have to turn out perfect. Because of the different types of fabric, each type will turn out to be a slightly different shade of pink. As will any areas that have unnoticeable stains on it. Is the dress washable, because for dying, if I remember right, you have use hot water.
October 7, 2011
1

found this helpful
For a costume it shouldn't have to turn out perfect. Because of the different types of fabric, each type will turn out to be a slightly different shade of pink. As will any areas that have unnoticeable stains on it. Is the dress washable, because for dying, if I remember right, you have use hot water.
October 12, 2011
1

found this helpful
Go to your local crafts or fabric store (Michael's? Joann's? ) and get a dye that says it is for synthetic fabrics. Then follow the directions. That much fabric might require more than one package of dye to get an intense color.
October 13, 2011
1

found this helpful
DeBushe is right, you're going to need dye made especially for synthetic fabrics. LOL, I learned this the hard way:)
June 14, 2015
1

found this helpful
There is a product called PolyDye near the Rit at Joannes-specifically for dying polyester.
Answer

this Question
I have a red wedding dress; I want it white. Is there any possible way I could have it dyed white?
By shiloh from Tazewell, TN

Answers
January 7, 2011
0

found this helpful
It would have to be bleached. Dying is adding one color on top of another. You can't add white on top of red. So the red would need to be removed. I don't think you'd be able to remove all of the color. And I suspect the color left behind would be kind of rusty or brownish. If you managed to somehow remove all of the color and make it white, I'm afraid the fabric would be weakened.
But maybe someone else knows of some way to remove all the color . . . best of luck to you! No matter the color of the dress, I hope you have a great wedding!
January 8, 2011
0

found this helpful
What you are asking is pretty much impossible and would ruin the dress. Here is a page with good ideas for changing the looks of a black dress and the ideas can work for your red one as well. ezinearticles.com/?How-to-Dress-Up-That-Little-Black-Dress&id=3740965 Also What about adding some really nice white accent to the dress in the way of a white shawl or a huge white bow. You can have it shortened or add a jacket. Just use your imagination and you have a new and useful dress.
January 10, 2011
0

found this helpful
If it is polyester you might have a hard time bleaching all of the color out.
January 11, 2011
0

found this helpful
I am 99% sure this is not possible. First, it depends on the fabric and then it depends on the type of dye that was originally used and it could be red dye over another dye which is often done with clothing items. Years ago I tried bleaching a pair of gray sweat pants white and they turned out mainly peach colored with splashes of gray. Back to the fabric itself, bleach will melt holes in many fabrics and most dye removers are not strong enough to remove all color to white either. :-(
January 11, 2011
0

found this helpful
I agree, it can't be done. The best you can get would be a pink shade, but the material would probably shred.
Answer

this Question
I'm 21 and really into making stuff. I have a big wedding dress that I bought as a Halloween costume, its a bit dirty but still in perfect shape. It has no tags and it's too expensive to get dry cleaned (80 pounds). I love the fabric and its shape and want to convert it into a trendier dress by dyeing it electric blue, but I'm having trouble finding the right color. So what I want to know how to clean it and if it can be dyed?
Cerri from Edinburgh
Answers
February 12, 2009
0

found this helpful
Here is a link or directions for cleaning a wedding dress posted by Grandma Marjory on Thrifty Fun previously that I believe would be pretty successful www.thriftyfun.com/tf55131275.tip.html.
.
80 lbs is alot of fabric to dye, you will find that it is going to be expensive to purchase that much dye especially in the color that you want as more vivid colors take more dye. In my experience they do not always come out quite the color that you envision either (I have dyed alot of things in my life.) You can have something professionally dyed with much more predictable results but I have no idea as to cost. Dying it is only possible if your dress is made of natural fibers ie silk, satin, rayon etc. You can dye Synthetic fibers but they do not dye at all well especeially if you want a really vivid color. Also you will need an extremely large container to dye a dress that large in.
If it was me I might consider this first, you could embroider the skirt and sleeves in electric blue and or add electric blue gauze over part of the dress leaving the front open with the embroidery it could be Tres Chic, depending on how you did it.
If you are set on dying do some serious research and maybe really consider having it professionally redyed following you cleaning it at home using the above link for directions.
Otherwise get a tiny piece of it from the hem or somewhere it won't be missed and test dye it with your chosen color following all directions for the dye and using a proportinate amount for your fabric and see what happens. Still with something that big I would really consider researching proffessional dying.
February 12, 2009
0

found this helpful
This would really depend on what type of fabric the dress is. IF it is all polyester you may have to do a little searching as regular dyes do not take well on most synthetics(nor would you get a true to the box color) If it is a blend or a natural fiber than regular dye will take well but electric blue is a deep color and may require additional dye treatments to get it that dark. Also if there is any lace sequins pearls beads whatever on it then they may only take the dye partially if not at all. If there is "dust stains"on the hem and the dress is synthetic..ie acetate, polyester etc then turn it inside out and you can wash it in your washing machine or in a large machine at a laundry mat- yes you can really do this I did it many times while working for a bridal store but be sure to use the delicate cycle and cold water only- hang to dry. IF you find that you are unable to dye the gown check with a professional they might be able to do it for you but that can get a bit pricey- and the results are never guaranteed- worst case scenario part out the dress what parts do you like the most about it? you can detach those from the gown and use in a dress already in electric blue- or you may wind up with multiple garments from that dress- good luck
By Amy (Guest Post)
February 12, 2009
0

found this helpful
I don't know about the dying but in case you are just dying it because it is dirty. I would hand wash it with cold water and woolite in the bath tub! I have put whites outside in the sun and they have come out whiter than bleaching because the sun "bleaches" naturally. Another amazing natural product is 20 Mule team borax or any kind of Borax powder. Just letting it soak in this does wonders!
April 5, 2010
0

found this helpful
Another thing to consider is if there are stains on it, they will still show, no matter what color you dye it. Some stains won't wash out, no matter how you pre-treat them. A better way to do it would be to take it apart, make the item you want to make and then dye it. That way you would be handling less fabric.
Answer

this Question
I'm getting married in 4 months. I have an ivory dress that I want to dye a soft silver. What is the best way to do this?
By Lisa D.

Answers
March 8, 2015
0

found this helpful
The best way would be professionally - ivory colours don't take greys or black dye well at all but the pros know how to use dye stripper well enough (and have access to commercial dye strippers not available in your local shops) to completely remove all the ivory dye without significantly weakening the fibres, and then dye the whitened fabric silver.
Trying this at home will ruin the dress - if all the ivory isn't stripped properly including using the right formula to strip the dye, the fibres will be weakened (you know, like too much bleach can cause the effect of rot or 'eating' the fabric), and the dye job will result in your fabric looking dingy ('muddy').
The trouble is that to dye successfully at home, the colours being changed from-to need to be in the same colour family, or have the same base tones. So the ivory dress could go from ivory to brown but not ivory to silver (grey).
Answer

this Question
I was wondering if anyone could help me. I recently bought my wedding dress online. The colour was listed as "off white" which I took as being more ivory? All the reviews said it was more Ivory than white. I didn't realise they changed the material - it used to be listed as antique white. Anyway, the dress is perfect apart from the colour, it's in no way ivory it's white, but it almost has a blue tinge to it. My seamstress is even a bit baffled by the colour.
It's mid length and she's adding tulle to the bottom to make it a fishtail, but we are worried that white tulle will make the dress look even more blueish. I originally wanted ivory. Do you think there's any way of dyeing it ivory? Will tea staining work?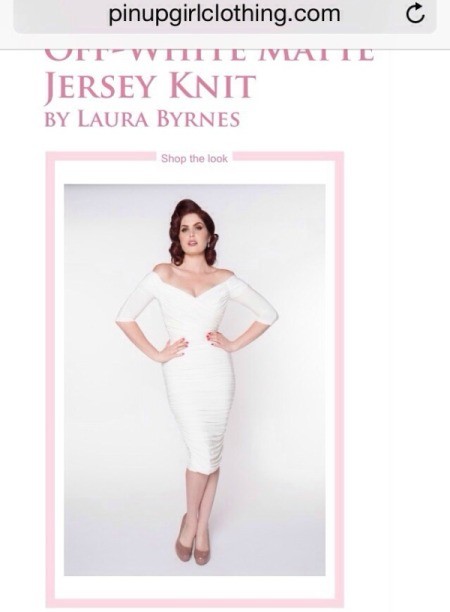 Here's a picture of the dress so you can see the style, it's very slinky stretchy layered polyester. Thanks in advance!
Read More

Answers
How can I dye a satin wedding dress whiter? It was ordered in champagne color, but came to me in peach.
By Barb

Answers
March 19, 2014
0

found this helpful
I think it would not be possible to lighten the color of a standard wedding dress. Can you return or exchange it?
Answer

this Question
Dyeing a wedding dress black can make for a stark look or even a great costume idea. This is a page about dyeing a white wedding dress black.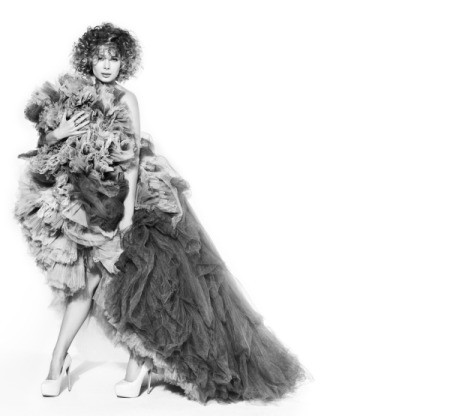 Categories
Pages
More
Categories
Published by ThriftyFun.
© 1997-2021 by Cumuli, Inc. All Rights Reserved.
https://www.thriftyfun.com/Dyeing-a-Wedding-Dress-1.html