I am looking for a turkey made out of mini Reese's peanut butter cups.

Denyse from San Jose, CA
Ad
---
Recent Answers
Here are the recent answer to this question.

By Char (Guest Post)11/21/2008
Vanilla wafer base, canned fudge frosting for the "glue", striped cookie tail, peanut butter cup body and candy corn beak.

Very easy, and fun to make!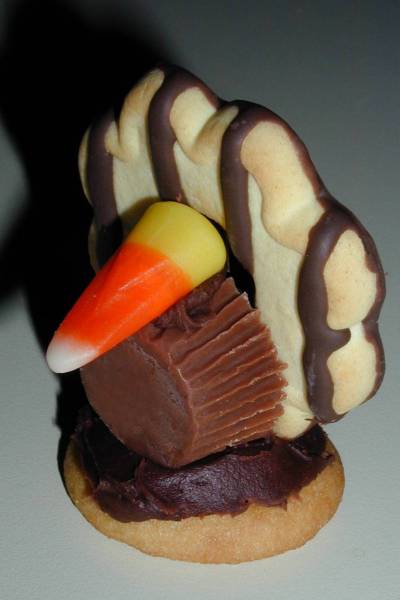 By Melissa (Guest Post)11/18/2006
Here is another one. :) These are so cute!

http://www.recipezaar.com/142998

PS: I did a Google search for "Cookie Turkeys" and came up with quite a few results. Enjoy!

By Melissa (Guest Post)11/18/2006
http://recipes.bestsimplerecipes.com/eRMS/recp.aspx?recid=26333

By Michele (Guest Post)10/25/2006
Check out www.reiman.com and see if you can find it there. They produce the Quick Cooking magazine.It is called Simple & Delicious now. They have a 'turkey cookie' that is made from 2 cookies a chocolate covered cherry and candy corn. They are adorable...my niece and I made them last year.


By Mary Ellen (Guest Post)10/25/2006
I saw this idea for a turkey made out of a popcorn ball and a reese pb cup. Check it out. It's cute.

http://www.thefamilycorner.com/fami ... ids/crafts/popcorn_ball_turkey.shtml
Answer This Question
Add your voice to the conversation. Click here to answer this question.