Training a Puppy Not to Bite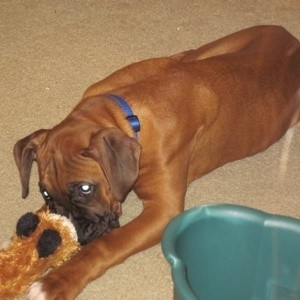 Any suggestions on how to keep a 5 month old Boxer puppy from biting and nipping?
By Cammi from DE
Best Answers: Training a Puppy Not to Bite
These are the best answers for this question.
Here's my two cents:

I've raised several puppies of all breeds, including pits, over the years and I have always been persistent and consistent with my discipline when it comes to puppies and biting (this will also help when training not to chew certain things in the near future).

I grab either top or bottom jaw and squeeze firmly with a voice command. If this hasn't helped within a week or so I will add to that grab by taking the lip and press it on their very sharp teeth. Yes, it does hurt a bit, but you don't need to pinch so hard she bleeds! Also, if we're playing and puppy bites too hard, I yelp. I yelp louder than it actually hurt. The pup understands that communication because that's exactly what another dog would do.

It is imperative that you learn about dog psychology. YOU, not the dog, are the ALPHA. You and any other members of the family (including children) need to know how to treat him like the Omega. It is imperative to do this from as early an age as possible. (this is a whole subject in itself) Here's an example of what many people do that is in direct conflict with keeping the dog in the Omega position:

1. playing tug of war and losing - you must not let go, aka losing, you can train them at the same time to 'drop it' and when you're done playing then have him 'drop it' and throw and you're done but did not lose!

2. letting a dog lean on you or lay on the couch or stare at you while you are eating - all of these things are behaviors of dominance (unless they are commanded to do such things)

3. letting the dog walk through a doorway in front of you or letting dog walk in front of you while walking the dog - walking properly is utterly imperative (the list goes on.) I recommend if you either do not believe these things or have never heard of them before, please do research online and see for yourself.

EXERCISE then DISCIPLINE and then and only then AFFECTION. We need to remember one very simple truth: Dogs are not humans. Now matter how much we want them to be they do not see the world and express themselves in the same way that we do. Not understanding how a dog thinks is detrimental to the dog.

Make sure he has plenty of safe, chewable things (I buy rawhide from Sam's Club - all natural, no flavoring and long lasting).

Lastly, I would definitely invest in a large kennel (wire or plastic). For now, he needs to be kept in a place where he cannot chew anything he's not supposed to. It's not fair to get angry w/ a puppy who does not know yet what is ok and not ok in the household... and it is definitely not fair to get angry when the human doesn't put the puppy in a kennel to prevent any accidents. Eventually you will be able to let him in the house alone, but the ONLY way to train him whats ok and not ok is to catch him doing it. So, when you are home make sure you keep a close eye on the little guy so you can 'catch him in the act'.

If you dedicate yourself crate training him, and to walking him properly every day and taking him to the dog park to run, play and socialize, then you will end up with a beautiful pit that will make you proud!

Good luck and I recommend to watch the Dog Whisperer on The National Geographic Channel!

EXERCISE - DISCIPLINE - AFFECTION (in that order!)

**Kudos to all of the ppl out there that have a shelter pet!!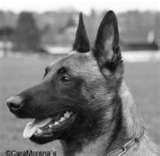 More Answers
The general idea is to use a correction that lets the dog know you are not accepting of this behavior. It will depend on how sensitive your dog is. The one I've used is to make a loud high pitched sound like a squeal or a yip. This is what the pup's litter mates would do when it's crossing the line. At the same time try not to give any attention, for some dogs bad attention is still reinforcing. For a more stubborn pup a little water in a spray bottle sprayed at them when nipping is also a good deterrent with a firm no. Good luck.
My suggestion does take a little longer but it also works. I used this in the past. Say STOP! No bite every time they nip or bite and say it with a a growl and a mean look . It does get boring repeating it over and over but it does work. It takes a week. Also no aggressive playing or teasing. This makes them nip and bite more and they think it is acceptable behavior. This worked with my Rottie.
A trainer of huskies which like to nip told me to immediately get over the dog wrap your arms around his chest and yank him into an upright position high enough that his back feet are off the ground. This must be done each time. The dog I did it with needed it only two times and she quit. It didn't hurt her but she sure didn't like it.
Answer This Question
Add your voice to the conversation. Click here to answer this question.
Related Guides
Related Posts