How can I get my dog to stop running away and not coming back when not on a lead?
By Ricky from Wagga Wagga, NSW
Ad
---
First rule: Never, never, never call a dog to you and then tell him/her off. If you need to tell him/her off go to them. Remember that their understanding is that the telling off is directly related to the last thing they did (or if you are good, they are doing).

Practise your recall & really reward it when they get it right. Until you have a good recall your dog should not be off lead in a public area. You can give them running space by using an extenda lead.

And do join a training club please. You and your dog will have a much happier and enjoyable life together if trained.

BTW I am a trained trainer and breeder of GSDs and Golden Retrievers - dogs are my life.
I am not a dog trainer but I remember reading the following. Put dog on a long rope and let him run away. Then tell him "come " if he does not respond, rope him in saying come and when he has reached you, give him a treat. Do this several times every day until he understands what come means and comes without being roped in. After a while you can quit the treat and just pet him when he comes to you.
Questions
Here are questions related to Training a Dog to Not Run Away.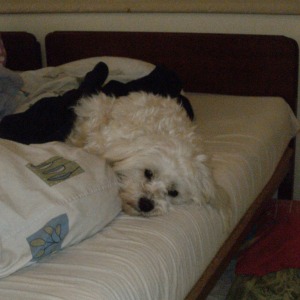 My dog always runs a way; how can I stop him?
By Ken from 55 turonparade
Archives
Thrifty Fun has been around so long that many of our pages have been reset several times. Archives are older versions of the page and the comments that were provided then.
I have a 6 year old Yorkshire Terrier and I have been having problems with her. Whenever she gets a chance, she always runs across the road and barks and my neighbors dogs and they have sent the dog warden unto us a few times. What can I do to stop her from doing this?
Sarah from Northern Ireland Banbridge
Answers:
RE: Training a Dog to Not Run Away
I take both of my indoor dogs outside on leashes. When I'm short on time, like in the morning before leaving for work, I usually pay for it it I don't leash them because if it's rained there's red mud and my white poodle likes to dig in it. Then I have to wash his paws too! Anyway, I'd take her out on a leash or buy one of those corkscrew things that screws into the ground. You can attach one end of a chain to it and the other end to her for the time she's outside. Hope this helps! (04/13/2007)

By Tammy
RE: Training a Dog to Not Run Away
Keep her on a leash at all times outdoors. (04/13/2007)

By
RE: Training a Dog to Not Run Away
The DOG is the pack leader in your house. Remember dogs are pack animals, they do as the leader does or tells them to do, if SHE is the pack leader than YOU have NO say! You shouldn't be letting her off a lead anyway, but if you do then she should be listening to you. Check out this site for a great person who does a really great job showing people how to OWN a dog, not the dog own THEM.
http://channel.nationalgeographic.com/channel/dogwhisperer/cesar.html (04/13/2007)

By michawnpita
RE: Training a Dog to Not Run Away
1) Always on a leash outdoors
2) Obedience classes. (04/14/2007)

By Jantoo
How do you stop a Jack Russell terrier from running wild when off the leash?

Chantrel from Plaquemine, LA

Feedback:
RE: Training a Dog to Not Run Away
Jack Russells need time to run off the leash like in a dog park where they can be off leash. They are bred to be hunting dogs and have much pent up energy. It is not natural to keep them on a leash all the time. They need a field to run in so they can be happy. They are not doing anything wrong, they need to run. Did you not read about the breed before you got one? It's not the dog's fault. (05/04/2007)
RE: Training a Dog to Not Run Away
There is a TV show called the Dog Whisperer, we get it on the national geographic channel on Sunday afternoons.
He is awesome with dogs, he has a pack in Los Angeles of over 40 dogs, all different sizes and breeds, and they all get along. On the show Caesar teaches people how to be the pack leader. Although each dog is different, you can still use many of his tips to help your own situation. (05/04/2007)

By PICO
RE: Training a Dog to Not Run Away
Of course dogs like to run when they are off the leash, but they need to understand that they should come back when you call. When my Jack Russell was a puppy, I was advised to take her for a walk before her mealtime when she was hungry. I would then call her back to me when she was off the leash and every time she came back, she got a little doggy treat. Within a day or two she understood that coming straight back earned a doggy treat. After only a week or so, the food treats were replaced with lots of praise (which dogs crave) and the job was done! (05/05/2007)

By Sheena McKinnon
RE: Training a Dog to Not Run Away
We've got three dogs and they finally stopped running away! I believe time did it and most of all, we play with them several times a day with tennis balls and frisbees. The labs especially have learned that being outside is play time. They even just wait outside near our cars now for us to come out. Last suggestion is to say "come", and whichever dog comes first gets the biscuit. (01/25/2008)

By doglover