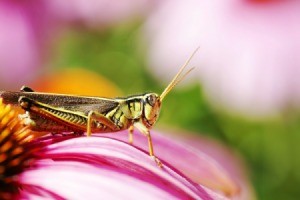 Grasshoppers are a garden pest that enjoy eating plants. This guide is about preventing grasshoppers from eating flowers.
Ad
---
Questions
Here are questions related to Grasshoppers Eating Flowers.
Q: Need Your help. Grasshoppers eating all my flowers in my garden, and i have alot of flowers. I have sprayed 4 times and they are still munching away. Please help. Thanks
Sharyl
A: Sharyl,
Grasshoppers are tough to control during all life-cycle stages, and unfortunately, the adults are nearly impossible to kill through the use of spraying traditional insecticides alone. Consider replacing chemical treatments with organic methods such as biological control. Nosema locustae (commonly sold as Nolo Bait, Grasshopper spore or Semaspore) is a protozoan disease of grasshoppers. It is considered an option for long-term control and you won't see results immediately. It will take about a year to noticeably affect grasshopper populations. If you're able to house them, small flocks of chickens can provide an immediate solution as well as providing you fresh eggs. If zoning laws (or preferences) prevent you from keeping chickens, consider making your backyard garden attractive to native birds-who in turn will help control your grasshoppers. At the end of the growing season, till soil under to expose grasshoppers eggs to killing temperatures.
AnswerWas this interesting? Yes No
Ad
---
---
Most Recent Answer
By Gina (Guest Post) 09/10/20080 people found this helpful
Please help, I have found these grasshoppers eating my new plants and flowers. What kind of insect are they and what can I do to get rid of them?
See picture attached.
---
I moved to my house 2 years ago, I had lovely established roses in the garden and had bought my potted roses from my rental with me, and within a year the crickets/grasshoppers had killed all my potted roses and decimated my established ones. I pruned well this year, weeded well, fed the roses with Black Marvel, and they are ready to flower. They look so lovely, and the crickets are back badly, hundreds of tiny green ones and a couple of massive big greyish brown ones, so far. Last year I used to pick off everyone of them, whilst watering by hand, and killing them, but to no avail. I obviously have to treat the soil as well as the plant, but they have had their way here for years I'd say. I need to kill them and quickly before they kill off my roses before they even put out a rose! Help.
By Jules from Perth
Solutions: Grasshoppers Eating Flowers
Do you have knowledge about this guide topic? Feel free to share a solution!