Caring for Pet Grasshoppers
Children love to bring home all sorts of pets, from bugs to frogs. This is a guide about caring for pet grasshoppers.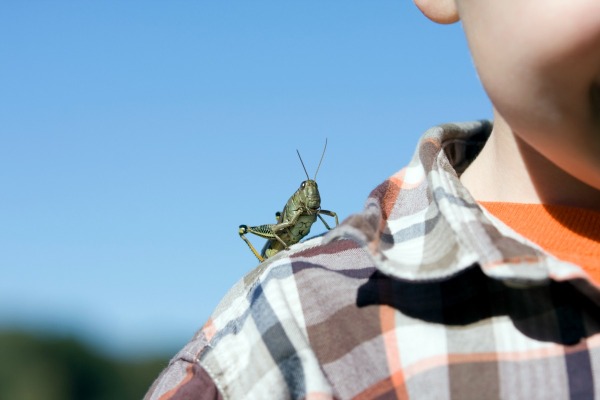 Filter

: All Articles
Sort

: Relevance
What do brown grasshoppers eat?
By Carestin
March 29, 2015
0

found this helpful
Best Answer
I found a grass hopper that is brown with bumps on his back and is two inches long. I really loved it and put it in a butterfly net. I recommend to search up how to tell their gender and put leaves, a water bowl with water, and another bowl with some leaves and roots.
If your grasshopper is smaller than give it softer things that are easy to chew and are juicy. If larger then give it hardish things that are also juicy. Keep visiting your grasshopper so she or he never gets lonely. That's all and good luck!
I caught a grasshopper and put it in a butterfly house. I put sticks, leaves, roots, grass, water, and the grasshopper is crawling around unsure and when I change the water it hops. I saw it poop so I think it is eating the roots, but I don't know what it needs. It is brown and has bumps on his back and we couldn't find that speices on the internet so we think it is a new species. It is two inches long and I know it is a female for it has the egg laying tube. I want to know how old it is and how much longer will it live. If you can please answer those questions and give me some advice.
By nicolemd515
March 30, 2015
0

found this helpful
There are over 14,000 species of grasshoppers, not including katydids and crickets, in the world. Your grasshopper is most probably not a new species.
April 11, 2015
0

found this helpful
Put in fresh grass every day. Another thing it will eat is wheat bran (like raisin bran but without the raisins).
If you think it might lay eggs, it needs a small box of dirt to lay the eggs in.
Read More Answers...
What does a grasshopper eat?
By Fateh
December 3, 2014
0

found this helpful
Grasshoppers eat grass.
July 1, 2016
0

found this helpful
Wheat, corn, barley, alfalfa, vegetables.
Read More Answers...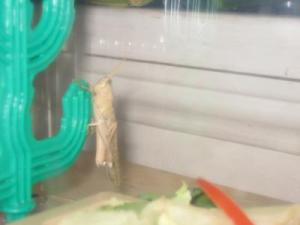 How do pet grasshoppers lay eggs? Do they dig a hole in their food? What do grasshoppers eggs look like? Could you send me a picture? I am scared that when I clean the jar he lives in I will clean its eggs away.
By Ho Li Lian
June 19, 2013
0

found this helpful
They will lay their eggs in the sand. I wouldn't worry to much about throwing them out. You will probably see them.They look like little brown pieces of rice.
Here is a bit of information on keeping them as pets like children in Japan do:
http://www.ehow.com/facts_7436537_can-grasshoppers-survive-indoors_.html
http://answers.yahoo.com/question/index?qid=20101010175152AAzbxBt
You might just put the eggs in a pot of soil outdoors and let them hatch outside unless you want hundreds of them. :)
I used to keep a pet cricket. I was able to watch him mold his outer coat, and also he would sing. Grasshoppers and Crickets are amazing pets.
Have fun, Robyn from Tennessee
We have a big garden full of these beautiful lubbers which I really love and adore. However, we recently had our landscaper cut a bush and the next day to my horror I found, on what was left of the bush, a sweet little nymph lubber with a humongous abscess on it, coming from his back, area connected to the head (but abscess not connected to his head). I don't know exactly what it is or where it's from or what I can do to help him. But any information at all would be helpful.
Currently I am housing him inside, in an open airy box full of the leaves that he likes and some water. He is hardly moving but having body/muscle spasms and obviously very weak he can hardly stand/move around.
Please let me know if you have any ideas or direction :(
By Cam
August 19, 2015
0

found this helpful
It might be kind to euthanize it, It would stop the pain.
August 19, 2015
0

found this helpful
I don't know if there is any way to fix this problem. I'm sorry.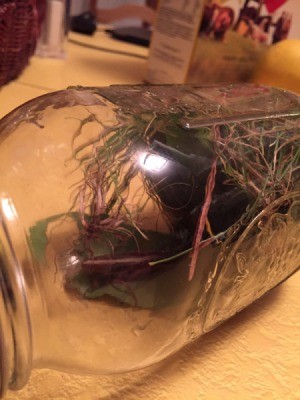 We live in the woods and "catch and release" critters all the time. Our weather has been bonkers lately alternating between warm and cold days. My son found and caught a grasshopper this weekend. We're hesitant to release it since it is now pretty cold and the forecast shows cool or cold weather in our future.
Can we keep it in a small aquarium? How long will it live? It is a big one. Biggest I've ever seen, so definitely an adult. It's currently in a large jar with moss and magnolia leaves, which it is eating.
Any advice on habitat, food, water is appreciated!
We are around moss, pine, and magnolias, as far as things that are still green goes.
By AJ from Hillsborough, NC
December 8, 2014
0

found this helpful
A grasshopper can live for a year. Don't know how old yours is. You'll have to grow grass in your terrarium. Put soil down and untreated seeds. Also, plant some wheat grass from the grocery store because he'll need something to eat in the mean time. He can also eat bran flakes.
I have a grasshopper as a pet, how do I take care of it? Does it need sun light to live?
By Khanh Hy from Australia
April 1, 2010
0

found this helpful
Here's what I found on WikiAnswers:To take care of a grasshopper you have to give it plants and to eat and hop on, for grasshoppers do not eat insects like mantis's and wetas. put dirt and plants at the bottom of the cage which should be a jar or fish tank. make sure there are air hoes for breathing. For water soak a cotton ball often.
Hope this helps.
October 4, 2011
0

found this helpful
I'm so happy someone else out there appreciates life as much as me and my children do. We were appalled by all the "How to Kill" sites. The lubber is one of the sweetest, most docile pets we have ever kept. In fact, we are waiting on an egg sack hatch. I can't wait to see her babies! They hatch out all black, then change into colorful adults.
Grassy, the smaller male, loves lilies, bromilliads, carrots, banana peels and romaine lettuce. He also enjoys rodent seed mixtures. The grasshoppers will also drink water from a shallow bottle lid. All animals require sunlight, so if you are unable to take him or her outside, provide it with full spectrum UV lighting.
My 6 year old son especially enjoys to watch TV while the lubber sits on his hand and seems to "watch" with him. I have also noticed the males tend to stop eating if he is kept alone. The males very much enjoy female company and will hug his companion sometimes for more than one day at a time. Thank you for keeping and not killing the grasshoppers. We all have a place!
How do I help to deliver the baby grasshopper?
By Dechen from Seattle, WA
September 12, 2013
0

found this helpful
You don't. Grasshoppers lay eggs, and trust me, they need no help from you! :) They are more than capable of reproducing on their own for many, many generations.
August 10, 2015
0

found this helpful
My lubber grasshopper is currently laying eggs, she seems to have one stuck! She is having a hard time walking and climbing...what do I do!?!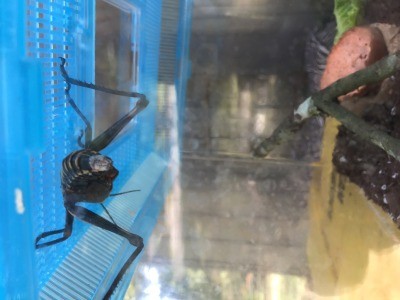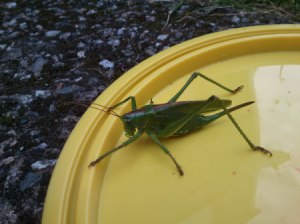 I found a grasshopper in the middle of the path. I discovered it was a bit black and burnt underneath and looks a bit swollen. I've put it in a net butterfly house. It's not really hopping and is a bit wobbly, but is wandering around. Is there anything else I can do to help the poor fella, or would it be really suffering and be kinder to euthanize?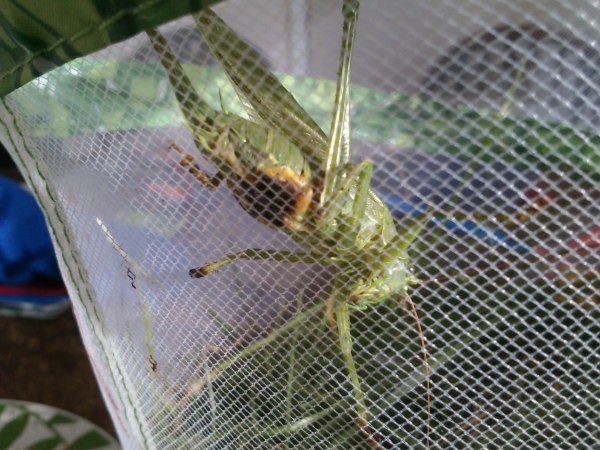 By Jess
September 27, 2014
0

found this helpful
First of all, that's a katydid. Second, they don't live that long anyway. I'd let this full grown female go on the off chance she's pregnant. Let her go in a safe place where she can lay her eggs. As long as she can walk, she'll be fine.
I have a grasshopper and I don't know if it's male or female. We can't go to an insect scientist cuz we don't have the money. To add to all of that, I don't know if the jar is big enough. I also don't know what to put the water in. Please help with a very detailed answer.
By M.J.H. from from Chandler, AZ
April 13, 2014
0

found this helpful
Hi MJH:
If you were able to go to an "insect scientist" I am sure he would tell you to be kind to the grasshopper and let him go free. He is not happy living in a jar - would you be? - He needs to be out there in the grass, hopping around with the rest of his family. I am sure, if you think about it, you will do the right thing. Best wishes.
What do grasshoppers need to live? What kind of food? How much water do they need to drink?
By Makala C.
August 26, 2014
0

found this helpful
Grasshoppers do not need water they get the water they need from the food they eat. I have alot of grasshoppers as I breed them. I would suggest giving the grasshopper something with alot of liquid. I started with leaves and switched to apples thinly sliced cuz of the moisture in the apple. They love it.
I recently found a grasshopper and a cricket outside of my home. I wanted to keep them as pets. They are in a jar with grass now. Where do I put them where they can be safe and live healthily.
I do not have a aquarium. So where else can I put them?
By Genaya A
August 16, 2013
0

found this helpful
You can keep them in the jar for a few days as long as the jar is not too small and it has a way for air to get in, such as a screen top or a metal lid with plenty of holes. Give them new grass and weeds to eat every day while you have them.
After watching them for a few days, let them go. Wild crickets and grasshoppers really do not want to be pets. At this time of year, most of them are interested in breeding and laying eggs which they really can't do inside a jar of aquarium.
If you would like to keep crickets as pets, you can get some at a pet store or bait shop. They are happy to live in an aquarium or large jar with a little bit of soil in the bottom. They eat things like oatmeal and will chirp in your house all winter.
So I live on the 6th floor and a grasshopper somehow made his way up to my balcony, and he's been up here for about 2 weeks! I kept expecting him to be gone, but he hasn't gone, and I guess I have a new pet! Never would I have expected this and I have no idea how he got up here other than climbing(?). Can they fly up high?
I put out some some carrots because he's is living in a flower pot and eating the flowers (marigolds). He is actually eating the bloom buds which may be killing them, and I want my flowers to thrive.
I would never ever hurt him, and actually very much love and respect nature (perhaps that's why he picked my balcony?). I'm kinda freaked out she (?) will lay eggs and then what will I do? I can't have dozens of grasshoppers up here! In other words he's up here on his own free will, and seems happy. :) Any input would be appreciated. Also I'm trying to figure out what kind he is. He seems to be an adult at about 2 inches long, green with what seem like black stripes along his body and he has wings. I'm in Denver, Colorado, if that helps.
By Julieta from Denver, CO
August 5, 2013
0

found this helpful
I don`t have great answers, but want to comment since you took out time to create this post. First I would Google grasshopper types and see what you can learn. And, I guess I would just buy a whole lot more Marigolds since you know it is a hit!
© 1997-2016 by Cumuli, Inc. All Rights Reserved. Published by
ThriftyFun
.
Page
generated on July 20, 2016 at 10:05:21 PM on 10.0.1.237 in 2 seconds. Use of this web site constitutes acceptance of ThriftyFun's
Disclaimer
and
Privacy Policy
. If you have any problems or suggestions feel free to
Contact Us
.