Can I have a grasshopper as a pet? What do they eat and most of all are they not dangerous to have near?
Maria
Answers:
Grasshoppers as Pets
Here's a great page on Grasshoppers as pets:
http://www.ris.net/~lawnman/hopfaq.html
Susan from ThriftyFun (08/06/2005)

By ThriftyFun
Grasshoppers as Pets
My son and I have had a pet grasshopper for a bit now. It doesn't mind us holding it, and will sit on us for quiet awhile before climbing or jumping onto something else. Even right now, he is sitting on a plant next to my computer.
We keep it supplied with fresh leaves and grass from outside for food - I am hesitant to use leaves from my indoor plants because of fertilizers that may have been put on them before I bought the plants.
We put water in a small dish, and place him on the edge of the dish, or give him water on a spoon while we're holding him.
He has a 'cage', that we keep him in when we're not watching him - he moved one time when he was out of his cage, and it took us a week to find him! He was quite hungry and thirsty when we finally found him! (09/11/2006)
By Christy
Grasshoppers as Pets
I have had a pet grasshopper for 3 months now. My daughter and I feed it lettuce, leaves, and now cricket food. He is very happy, and we just bought him a larger home :) (09/09/2007)

By luckibear7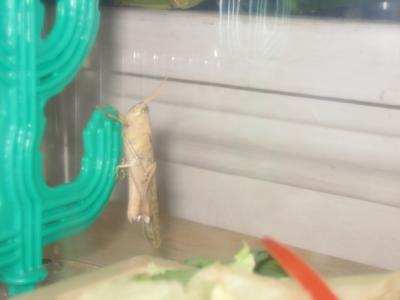 Grasshoppers as Pets
My female katydid, much like a grasshopper, enjoys eating fresh crisp lettuce along with dry oats, an occasional drop of honey, and a tad of soy powder. Once she ate a dead male katydid that had I put in her habitat for company (no other live ones to be found). Her habitat consists of a woven basket lined with grass clippings, and decorated with leafy branches clipped from bushes and bare branches for bridges. She absolutely enjoys pine cones, both to play on and scrape off the sap for eating. The basket is set in the center of a huge plastic covered container for her safety. For fresh air, I remove the top daily and keep an eye on her. If the air is dry, I use a mist spray bottle to spray her branches. I change her branches every couple of days. (10/19/2007)
By Eloise.
Grasshoppers as Pets
To give a grasshopper water, wet a cotton bud. They do not eat other insects. They eat grass and plants. If yours is eating other insects it could be a praying mantis, cricket, or a weta. It might not be a grasshopper. Some praying mantises eat birds and lizards. Keep it in a jar, container, or fish tank with dirt at the bottom and plants, leaves, grass and a wet cotton bud.
(b)Editor's Note:(/b) Make sure there is a screen on top or holes in the lids so it has lots of air. (04/17/2008)

By its a secret
grasshopper cages
The perfect cage for a grasshopper is a pet holder. It can be bought at most Wal-marts and they have a top to put them in, and a cage. They are great and they are only six dollars (06/20/2008)

By heather
Grasshoppers as Pets
Hey there! I see a lot of questions on what to feed grasshoppers here. Right now I have two that I plan to raise. Both still haven't grown wings yet, and are very tiny. The one is 3mm and a grey brown, named Baxter. The other is 4mm, and bright green, and his name is Paxton. I used to have three two years ago named Pickles, Dill, and Bick. They grew to be absolutely HUGE! Anyways, all mine have survived very well off of dandelion leaves. As for where I keep them, I keep them in old recycled containers, like yogurt containers, becel containers, or small cream cheese containers, depending on the size they are at the time. I hope this info was helpful. If anyone would like to see a pic of my two new boys (Baxter, and Paxton) I will post a pic soon on Photobucket, my account name is HorseAngel31! (06/26/2008)

By Mel
Grasshoppers as Pets
Hello! I just got a new grasshopper. I have caught many before, but never planned to keep any. Anyhow, I decided to keep "Maeson" because when I found him he was missing a hind leg and the other hind leg appeared to be broken. He could not hop and barely could move around. I felt bad for him, so I caught him and made him a little home in a jar. He is still young and hasn't grown wings yet. I used sand for the footing in the jar and I have been feeding him lettuce and been giving him water with a cotton ball. He seems very happy and content. I will get pictures of Maeson very soon. (07/11/2008)

By Chey
Grasshoppers as Pets
We have just got 3 grass hoppers, 1 big and 2 small. If you don't know how to tell gender, females have pincher looking things on their rear that are used for laying eggs. (07/12/2008)

By cdude
Grasshoppers as Pets
My boyfriend and I have had a grasshopper for about 2 months, he is called Tithonus. We don't keep him in a cage. We let him roam around on all our plants, and just put little bits of spinach or coriander leaves out for him, which he eats when he wants. He gets water when we water the plants. He is so happy and beautiful. We absolutely love him! I've uploaded a picture just so you can see! (08/22/2008)

By kestrel