Can I have a grasshopper as a pet? What do they eat and most of all are they not dangerous to have near?
Maria

Answers:
Keeping a Grasshopper as a Pet
My son and I have had a pet grasshopper for a bit now. It doesn't mind us holding it, and will sit on us for quite a while before climbing or jumping onto something else. Even right now, he is sitting on a plant next to my computer.

We keep it supplied with fresh leaves and grass from outside for food - I am hesitant to use leaves from my indoor plants because of fertilizers that may have been put on them before I bought the plants.

We put water in a small dish, and place him on the edge of the dish, or give him water on a spoon while we're holding him.

He has a cage, that we keep him in when we're not watching him - he moved one time when he was out of his cage, and it took us a week to find him! He was quite hungry and thirsty when we finally found him!

By Christy
Lettuce Leaves and Cricket Food
I have had a pet grasshopper for 3 months now. My daughter and I feed it lettuce, leaves, and now cricket food. He is very happy, and we just bought him a larger home.

By luckibear7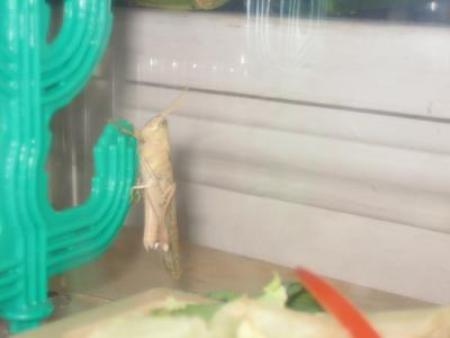 Keeping Katydid as Pets
My female Katydid, much like a grasshopper, enjoys eating fresh crisp lettuce along with dry oats, an occasional drop of honey, and a tad of soy powder.

Once she ate a dead male katydid that had I put in her habitat for companionship (no other live ones to be found).

Her habitat consists of a woven basket lined with grass clippings, and decorated with leafy branches clipped from bushes and bare branches for bridges.

She absolutely enjoys pine cones, both to play on and scrape off the sap for eating. The basket is set in the center of a huge plastic covered container for her safety.

For fresh air, I remove the top daily and keep an eye on her. If the air is dry, I use a mist spray bottle to spray her branches. I change her branches every couple of days.

By Eloise.
Our Pet Grasshopper
My boyfriend and I have had a grasshopper for about 2 months, he is called Tithonus. We don't keep him in a cage. We let him roam around on all our plants, and just put little bits of spinach or coriander leaves out for him, which he eats when he wants. He gets water when we water the plants. He is so happy and beautiful. We absolutely love him! I've uploaded a picture just so you can see!

By Kestrel