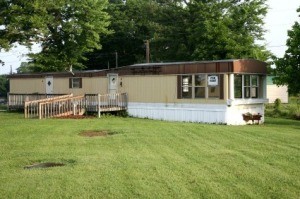 Mobile home skirting sometimes isn't enough to keep critters from going underneath your home. This guide is about keeping animals from going under a mobile home.
Ad
---
Questions
Here are questions related to Keeping Animals From Going Under a Mobile Home.
Our dog got a puncture wound and a 2 in. long slit in his skin from something in the back yard. This is a fenced in back yard. We've checked the fence for protruding nails, the swing set for protruding screws and all that's left is a trailer with some brush on it. Possibly he went under the trailer and snagged himself on the metal.

The vet doesn't have any ideas either from the shape of the wound. A friend suggested a wild animal attack, but that would mean a squirrel or a bird did it, and that's not possible given the severity nor the type of the injuries. So, what do you suggest that we put under the trailer (which is just an open wagon) to keep him from crawling underneath or near it?

Vet said he's going to be ok - drain out in 2 days and stitches out in 10. Poor fellow.
Ad
---
---
Most Recent Answer

By Me (Guest Post)06/18/2008
I'm sorry about your poor baby. That must have really hurt.
You also can get cheap chicken wire fencing & just fence it in.
This question is for anyone who has ever lived in a mobile home: What are your thrifty ideas to prevent wild animals like raccoons, etc. from making their home under your mobile home, or worse, getting into the insulation or ductwork from the underbelly? I have recently had to add vinyl skirting to a mobile home which had never had any before. My neighbors with skirting always seem to have animal issues, and I'd like to prevent any problems if possible. Please help and thanks for any advice!

Tori
Ad
---
---
Most Recent Answer

By Shannon01/19/2011
First of all, your home owners insurance will cover the removal of a dead raccoon and put all new insulation in for you. My insurance covers this at a 100%, there is usually no deductible, no upfront cost, no charge to me the home owner. So contact a company that handles live and dead animal removal. Find out if they handle the insurance claims. Have them find out if the animal has matted down the insulation and if you have droppings from it. Then you just sit back and let them take care of the problem. Next, some of the animal removal companies put up the new insulation and some work with others who do. Either way, they should enter the insurance claim for you and you should have no upfront cost if your insurance covers it at a 100%. Next, you will want to try and make it harder for any animal to get under your home again.
Solutions: Keeping Animals From Going Under a Mobile Home
Do you have knowledge about this guide topic? Feel free to share a solution!