My boyfriend, I, and my 2 yr old Pit Bull recently moved into a trailer in Kentucky. All was good until something got under our new home and is driving poor Otis (my dog) nuts from the inside.
He is a very well trained inside dog, but of course loves his walk/runs and basking in the sun. You usually can't say the word walk without him getting overly excited. Now that he smells what I am assuming are cats thru the vents he spends his days sniffing at every vent and has even clawed one out of the floor. How do I get rid of the cats before he chews his way to them?
By Margaret
Answers
February 21, 2013
0

found this helpful
Best Answer
You could call the local Animal Shelter or Humane Society. They should be able to get you a live trap to capture the cats and then they could pick them up and take them away for their own safety.
February 21, 2013
1

found this helpful
Best Answer
It may not be cats. Under your trailer is what is called a belly band, which is a sheath of metal bands that hold your insulation in.
During my time with my local energy assistance agency, I learned that other critters get under there and eat the insulation and sadly, don't survive. So, you have three jobs.
One is to get the critters or their remains out. Then, make sure you have sufficient insulation left or your trailer will never be as warm as you need it to be.
Two, is to skirt the trailer well so nothing else gets in.
Three is to close the vents for a while so he can get used to no scents in the house. A radiant heater like the one I am showing will heat your home well, using oil that circulates inside the heater.
Good luck.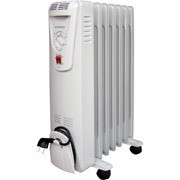 Answer

this Question

...
I have a mobile home that has had numerous cats do their duty under it? I have tried keeping them out, but they keep digging underneath. What is the best way to keep the cats out and rid the mobile home of the smell associated with it? The smell permeates throughout the home.
By Steve Hall from Kellogg, ID
Answers
September 24, 2010
4

found this helpful
Vinegar, vinegar, vinegar! I cannot say it enough. Vinegar really does work on hundreds and hundreds of things. Try soaking rags or pieces of paper in full strength vinegar and placing under home to keep cats as well as other critters away! You will need to re-soak once a week to keep smell strong enough to work. Depending upon area will determine how many soak filled rags you should place.As for the smell in the home, once again vinegar! Make your own air freshener by combining 1/2 cup vinegar,2 cloves, and 1 teaspoon cinnamon into a glass jar. Place jar into microwave on high for 1 minute. Place jar into a room and it will absorb odors rather than cover them up like canned air fresheners. You can always double or triple the recipe for multiple rooms.
September 24, 2010
0

found this helpful
See if you can find out where the animals are getting under the home from; many times you can simply block their access easily using a variety of various items; one person got an old fireplace screen; put the board up; then put the screen up and placed cement bricks by it blocking all access under the mobile. Another simply found the location, and placed "cement blocks" by it; thus the going under the home problem was solved.
Once they no longer have access, I think that the smell will go away! hopefully anyway! think the vinegar sounds most excellent; I have found that it works for many things as well! Good luck!
September 25, 2010
0

found this helpful
Spread mothballs under your mobile home. Cats and many other animals hate them. Vinegar works, but doesn't last too long.
September 28, 2010
0

found this helpful
Keeping them out is key. But, if you love lemons and keep the rinds, toss them under there, too. Cats hate lemon smells and that keeps them out of house plants and outdoor flower beds, too.
September 28, 2010
0

found this helpful
No moth balls! The chemical fumes are hazardous to lungs and the chemicals are harmful to the environment and are extremely poisonous and especially so to children and pets!
As another poster mentioned, simply find how and where they are getting under there and block the area! The odor will eventually dissipate but you can help the odor going away more quickly by the advice of yet another poster via vinegar!
September 29, 2010
0

found this helpful
NO MOTH BALLS. It doesn't actually work for cats, and the mothball smell is far worse and actually more dangerous for you than the cat smell.
When I had a similar problem, I had an aggressive mother cat that had access to the crawlspace, and she would keep the other cats out. However, when she got old, she couldn't do it.
Alternately, I would try spreading any sort of citrus scent. Orange peels might do the trick. When I had stray cats spraying their scent around my house, I doused the places with lemon scented Mr Clean, and that seemed to discourage them. I would splash it on full strength.
I have not had good luck with cat repellant, and the odor that it has is also weird, but you could certainly give it a try. I bought it at a garden store.
September 9, 2017
0

found this helpful
I had an American Bull dog that was tearing up my internet cable where it entered the house. I took a rag & tied it to the cable & doused it with hot pepper sauce because I read this would deter him. It did not. He came in the house licking his lips! So I decided to try dousing it with apple cider vinegar. Success!! He never bothered it again!
Read More Answers
I have dogs and my neighbors cats are getting in my yard and under my house (mobile home). My dogs get under there and wreak havoc trying to get to them. I'm afraid they will rip my duct work and other wiring or even get hurt. I heard to use moth balls, but does this work and will my dogs try to eat them? I would like a home remedy please.

Tina from Winter Haven, FL
Answers
July 11, 2007
1

found this helpful
Don't use moth balls, if they are anything like my dogs they will eat them (mine eat or chew anything)
I know ammonia works great keeping dogs out of trash, they won't go near the smell. not sure how you could use that without getting smell into your house or how long the smell would last.
or chicken wire is inexpensive, maybe find a way to use it to skirt around, then plant something that runs, use it to weave into the wire. make a green, natural skirt for your home. usually don't take much to discourage cats and if cats stay out, dogs will too (maybe??????)
July 11, 2007
1

found this helpful
My mobile has skirting around it, there's chicken wire under the stairs & the small addition has plastic lattice under it. This was done to keep dogs out. My cat still made his way in to the area where the plastic lattice was. If I hadn't heard him meowing, I'd have never found & rescued him! The people I bought the place from should have used a smaller-hole lattice.
I'm sorry to tell you this, but, I doubt very much there's anything you can do except run chicken, or rabbit wire or plastic fence grid around the mobile. If you're like me, every cent counts & you may not be able to afford skirting. Or your mobile may be set up only temporarily. But, here's a cool thing you may have access to: In my state, Washington, several of the utilities companies have, in conjunction with the state, a fund to help low income homeowners winter-proof their places of residence for free! (to help save energy) This program is VERY cool, & I will probably take advantage of this great power-saving program. If you don't own your mobile, you will need to have your lanlord fill out the paperwork, or at least sign the paperwork after you've filled it out. If you qualify, they should help you skirt your mobile home along with covering windows with plastic etc, etc. If you don't qualify for this program, or they don't have an "Energy Saving" program in your state, maybe you could skirt your mobile with something fairly low cost. But, don't do what I've seen done before, don't use Masonite, MDF or OSB for outdoor use. You can use bamboo or reed fencing, or painted plywood. Of course, as you know, Vinyl skirting would be the ultimate & would work best!
-You may already have skirting around your mobile. If you do, then just take some chicken wire & shove it into any cracks big enough for animals to sneak through.
-------------------------------------------------------------------------------------------------
* As far a "Remedies" to keep cats & Dogs away, Here's one:
-------------------------------------------------------------------------------------------------
Cats, Dogs & other critters have the best of noses. The one thing they all HATE is Hot Red Peppers (They make them sneeze!)... Here's what you do:
Take a bunch of Dried Crushed Red Pepper Flakes (and/or cayenne & black pepper) Cover the hot pepper with Rubbing Alcohol, Put this in a glass jar & cover with a lid, then let it sit for 3 or days or more... Then strain it & put the Hot pepper mix into a spray bottle & spray where you want to keep the critters away, or just pour the un-strained mixture around where they are getting in under your trailer. Try to poor it somewhere it'll be covered from the elements, or the rain will eventually wash it away. You could just put wet red pepper (if it's dry it will blow away) around the area, but the alcohol takes the hot part (capsicum) out of the pepper & into the liquid this works best. A Dog or Cat will smell this & Sneeze, they HATE it & might leave after smelling it
* A note: The best & cheapest place to buy a large bag of crushed red pepper is an Asian or East Indian grocery store or Restaurant Supply. Sometimes they will discount it if it's been sitting on the shelves for a while.
---> NEVER use Ammonia around pets, as this confuses them because it smells like pee, so they want to "mark their territory"... & who wants this!? It will just make them want to pee under your mobile home?
-- Cats hate the scent of citrus, so you could also try leaving Lemon Peals in the area you want them to stay away from or even spray Citrus Room Freshener under your mobile once a week? Who knows? It may work? It can't hurt! Cats also hate Perfume too (It makes them sneeze)....
-------------------------------------------------------------------------------------------------
Let us know if any of these things work. I know the Hot Dried Pepper tincture works great when it comes to keeping animals away from the garden, indoor house plants or away from garbage cans, so, I see no reason why it wouldn't work to keep animals away from under a mobile home too!
---> The BEST thing about the Hot pepper is, Us humans can't smell it, Just the pets with their awesome noses.
By FM (Guest Post)
May 31, 2008
0

found this helpful
Our manufactured home is tied down to a concrete foundation and two feral kittens have found places to get in between the blocks. We have plugged the spaces up. Unknowingly, one place was not plugged in very well and now only one kitten is under there with the other outside our home. It is a constant battle that when they are both out to run and plug the last small opening. One heads one way away from the deck and the other under the deck to the opened small area of the concrete block. We can see them now in the day or night on the deck with their mother. They are too fast for us and go in. Help! The mama cat is tame.
November 10, 2015
0

found this helpful
i wish i had an answer for u honey...we had a colony of feral cats when we lived in the country years ago....there was one older female cat who kept all the others away...youve never heard such screeching and howling...it was like Halloween every night..
March 5, 2016
0

found this helpful
Have you gotten a home remedy?
March 7, 2016
0

found this helpful
You need to put a lattice flashing around the bottom of your house so dogs and cats just can't get under there.
Answer

this Question

...
I live in a mobile home and cat sometimes squeeze through the skirting and go to the bathroom under our house. It is starting to smell. How to I remove the smell? It is all dirt under the house. Please help!

Shannon from MN

Answers:
Cats Under a Mobile Home
You didn't mention how they are getting under there. Do you have skirting around the underneath and they are getting in in the gaps? Or are you completely "un-skirted"?

I have done a lot of research on repelling cats because of problems with them leaving me "presents" in my garden/flowerbeds.

You can lay chicken wire around the areas they are getting in and under the trailer itself. Supposedly they don't like stepping on it (works for repelling raccoons, as well).

I have also heard that they hate the smell of citrus. So I take my used citrus rinds and grind them in to small pieces in a coffee bean grinder or food processor. Or you can just dice them with a knife into small pieces and then spread them liberally in the area they are getting in and under the home itself.

In addition to that I've heard that they don't like the smell of coffee grinds. So that might work for keeping them out and maybe deodorize as well.

Never use ammonia (use vinegar) for cat smells. Cat urine contains ammonia and they will continue to spray or "go" there in an attempt to mark their territory.

Thorny plants work well too like roses. They don't like the smell of lavender and rue plants either! So maybe some landscaping to keep them out and this works great as some more "curb appeal". Good luck!

And another thing, as a last resort, you can call animal control. Wild cats can be dangerous around children. (04/30/2008)

By J
Cats Under a Mobile Home
We also used lime, under the trailer, and under the deck, also around the perimeter of the trailer. And it not only helped with the smell, it helped with fleas and ticks that were being tracked inside. I put a handkerchief over my mouth area, and just cupped it out and broadcast it freely. I had to get a 50 pound bag of lime.

We had a lot of cat problems under the trailer, and they also crawled and dug up into our insulation in the colder months. But, putting the lime down about every couple of months during the spring and summer really helps.

Our problem cleared up all the way when we got small dogs that policed the area, around and under the trailer for cats when they went outside. No more cat problems. No more stink problems. (05/02/2008)

By Glinda
Read More Comments
I need some serious help here. We are planning on selling our house but we have a huge problem. About 3 weeks ago this god awful smell came through the whole house. We thought maybe a mouse had died in our registers or something like that, so a couple days later we had someone come in and clean our registers and put a spray into all of them to get rid of the smell. Well guess what, that didn't help.

So days go by and we couldn't figure out what the smell was or what had caused it. We live in a mobile home so my husband went under the house and all in the insulation there was cat feces and it wreaked of urine. So we bought cat spray's and sprayed it all under the house... the smell still came in. Someone suggested bleach, well that worked for a bit because your nose was so immune to the bleach you couldn't smell anything else and the smell is still here.

My husband sprayed it on the wood under the house and replaced all the insulation that was wrecked but the smell still returns. I've bought some of those battery operated fan smelly things and put them in the registers... THE SMELL IS STILL HERE.

I need some major help ,it wreaks in our house but it's coming from under the house and in through the vents, what do we do? I need another solution that's going to work, we are going to be selling our house and I don't think people will want to buy it with this awful smell. What next?

Natasha M

Answers:
Cat Smell Coming From Under Mobile Home
Try burning a can of fresh coffee grounds under the trailer , you will have to do it on a hot plate as i would be afraid to use charcoal under there. Keep a close eye on it at all times. I've never done it but it worked for a friend of mine on the interior of a car that someone committed suicide in. Good Luck! (04/22/2005)

Cat Smell Coming From Under Mobile Home
I have always used white vinegar on cat urine problems. Cats sprayed outside by our front door and back door. I sprayed the area with vinegar and the odor disappeared. I then put nylon stockings filled with moth balls near the doors to deter them. That also worked. I can't imagine how horrible it must be for you. Good luck. (04/22/2005)

By it's.only.me
Cat Smell Coming From Under Mobile Home
Are you sure it's from a cat? A friend had a raccoon get in his attic insulation and made a mess that smelled REALLY bad. They had to pull out all of the attic insulation and replace it and then patch up all the holes to get the smell to go away. This happened twice, believe it or not, to the same house! It was unoccupied for several months and the raccoon made a nest and raised its babies in there! (04/22/2005)

By guest
Cat Smell Coming From Under Mobile Home
I work for a professional carpet and restoration supply company and we often deal with clients with similar situations.

There are two methods to rid the area of smells.

First and most cost effective is thermal fogging. You can purchase a thermal hot fogger at your local hardware store (they are sold for bug foggers), you must use a special product in the fogger which is a deodorant that will come out of the fogger in a smoke like fog which will penetrate all cracks and "mask" the problem. (solution is to be purchased from Carpet/restoration supply companies and cannot be water based)

The second is to use a ozone generator, this is a permanent solution as it will change the molecules from o2 to o3 removing the smell completely. You can usually find these at Fire/Flood restoration rental companies or call a carpet supply house to see if they will rent to you.

By Laura
Cat Smell Coming From Under Mobile Home
I had the very same problem. I bought some LIME, put on my shabby work clothes, and got on my hands and knees and sprinkled the powder under my house. Be sure to use gloves and goggles. And be prepared to get dirty, but it's worth it. Worked like a charm. We had feral cats in our neighborhood, hence the problem. Was awful during the summer months!
Good luck.
(04/23/2005)

By Brenda
Cat Smell Coming From Under Mobile Home
My parents had the same problem with stray cats getting under their trailer and using it as a litter box and the only thing they found that worked is Lye but you have to be careful to cover up all parts of your body that will come in contact with it and wear one of those little white masks like a doctor would wear so you do not inhale the Lye but it works almost immediately. (04/23/2005)

By Dannielle Jenkins
Cat Smell Coming From Under Mobile Home
A friend of mine had the same problem as you. When they went to replace the insulation they found a dead cat. That is where the smell was coming from. I am not sure what they used to finally get the smell out. But you might want to make sure that there isn't still a cat under there. (04/24/2005)

By Michele
Cat Smell Coming From Under Mobile Home
I have never heard of using Lime for cat urine odor, but I would really like to know if it works. When we bought the house prior to the one we live in now, the tenant let the dog and cat use the bathroom on the floor on a regular basis. When we pulled up the carpet, there was a 3 foot radius in every corner where the concrete was literally saturated with urine. It was awful. We tried every kind of cleaner imaginable. Nothing worked. We then bought a can of Kilz Primer and painted the floor and about 3 feet high up the walls. We had to remove all of the baseboards and replace them in addition to all new carpet. It worked though! Good luck! (04/25/2005)

By Suzi Homemaker
Cat Smell Coming From Under Mobile Home
Not sure it'll work for you, but spreading lime on the dirt beneath your house might. My parents bought a house with dog urine in one room so badly, it had soaked through the floors and settled in the crawl space. After we cleaned and cleaned and cleaned... the lime took care of the problem (04/26/2005)

By NancyP
Read More Comments