February 21, 2013
0

found this helpful
Best Answer
You could call the local Animal Shelter or Humane Society. They should be able to get you a live trap to capture the cats and then they could pick them up and take them away for their own safety.
April 27, 2017
0

found this helpful
I called my local SPCA and they will not remove it because of the trailer park and they don't remove animals from trailer parks
January 3, 2018
1

found this helpful
I live in Georgetown sc and the animal shelter will not help at all i even brought a sick 4 week old kitten there they would not help it died the next day there are 17 cats and kittens under 3 trailers here they don't even give food to help they are cruel to not help these cats
February 22, 2018
1

found this helpful
Tried that doesn't work most pet shelters in small towns or bigger towns are overwhelmed all they do is spayed and neutering and throwing back out
July 11, 2018
0

found this helpful
Your problem might not be cats I have had possums raccoons and now they are gone because I bought better skirting now the problem is mice I mean at least 40 mice have dug their way under and they are living there and they can come into the house under anything where you don't see them I hope that's not what your problem is
September 29, 2018
0

found this helpful
I called animal control. They will fix the cats and let the go back into your neighborhood Macomb MI!
Need help Now. I have two dogs and these cats are running everywhere and get up under my mobile home with the best skirting and bricks !
October 19, 2018
0

found this helpful
Does calling the animal control people cost money or is it free to the public
October 22, 2018
0

found this helpful
You should see how many there are and then if there are only 4-5 then help them and feed them if there are more then you should call a local animal shelter and get help you can use food to lure them out
February 21, 2013
1

found this helpful
Best Answer
It may not be cats. Under your trailer is what is called a belly band, which is a sheath of metal bands that hold your insulation in.
During my time with my local energy assistance agency, I learned that other critters get under there and eat the insulation and sadly, don't survive. So, you have three jobs.
One is to get the critters or their remains out. Then, make sure you have sufficient insulation left or your trailer will never be as warm as you need it to be.
Two, is to skirt the trailer well so nothing else gets in.
Three is to close the vents for a while so he can get used to no scents in the house. A radiant heater like the one I am showing will heat your home well, using oil that circulates inside the heater.
Good luck.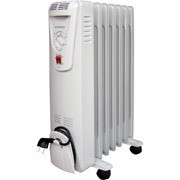 February 21, 2013
0

found this helpful
You got two excellent answers to your problem. I agree with them, especially if it is cats, you can save them by live trapping them and it will probably be easy with a can of cat food. But, you could have skunks or possums under there and you could catch either one of them with the cat food. So be prepared for that.
Something else I want to bring up is you will most likely also get mice in that insulation, so get some outside baiters and Contrac bait blocks to put in them. If you have raccoons under there, be prepared to have those baiters scattered unless you nail them to a concrete pad. We live in the woods in KY and we have all of the above problems, except we don't have a trailer. But hubby and I have trapped all of the above and always have outside baiters to control the mouse population, as we have bird seed and corn in one of our sheds, which we feed the birds and deer, but it also attracts vermin, plus a big wood pile for our Taylor wood/water stove (that heats the house and hot water) that mice love to get in. Hubby's an exterminator and thankfully knows what to do. Good luck!
February 22, 2013
0

found this helpful
Hi - I believe if cats were under your house you would see them once in a while during the daytime. Traps are very good to use but may take several attempts before success.
I also found that as a general rule counties will not take anything in their traps (or any trap) but cats and dogs. Other animals may have to be taken to another area or you may have to call a professional. There are exceptions but you may wish to check to be sure.
Also - do not let anything happen to those traps as you will have to pay for them if not returned.
February 22, 2013
0

found this helpful
Check with an exterminating company for ideas. They may have something simple.