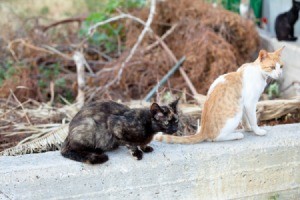 Help! These stray cats are peeing at my front door, patio, and lawn. How can I get them to stop and go away? The neighbor across street feeds them and they seem to come on my side of street and do there business and lay on patio and steps. I have allergies. What can I do to get them to stop?
By Anne
Answers

March 13, 2014
1

found this helpful
Best Answer
Cat hate the smell of lemons. Cut some up, let them dry for a day and put them out. Citronella is good too, but they cost more. Either way, they hate it and will most likely stay away.

March 15, 2014
0

found this helpful
Best Answer
Ask the animal shelter in your area for traps. Lure the cats in with cat food and then take them to the shelter. Stray animals spread disease. Your neighbor is aggravating the problem by feeding them. Feeding is easy. Is she willing to adopt them and take them to a vet for the necessary inoculations and care?
Is she willing to buy litter boxes and keep the cats in her home? Probably not. Perhaps, you could try telling her about your allergy. If she really is kind maybe she will put the humans in the neighborhood first and stop luring cats to your property.
Answer

this Question

How do I keep cats off my patio? I have no pets.
Answers

poehere
Bronze Post Medal for All Time! 105 Posts
May 26, 2020
0

found this helpful
Best Answer
I would do this the natural way if I were you. By using peeling from fresh oranges and lemons you take them and spread them around the area you don't want the at in. Coffee ground is another great item to use to keep cats off your patio. The last one would be to take aluminum pans and add vinegar to them and sit them around the edge of your patio.
Cats and dogs don't like the smell of any of these items and normally a combination of two work well together. Just figure out the two you'd like to try and check to see if they are working like you want.

May 26, 2020
0

found this helpful
Best Answer
There is no one good solution that will work with every cat.
I know someone that had a similar problem and she just kept spraying them with water and it finally broke the 'habit' and they stopped returning. She kept a good spray water bottle near her door and just checked her patio when she had time.
This is annoying but you cannot use chemicals and it's not much fun to have all kinds of things/stuff scattered on your patio because it takes a lot of this stuff to protect your patio.
This site recommends using this stuff but has other suggestions also.
Some people say to have two pans (that will make a lot of noise when beat together) near the door and make a loud noise every time you see them.
ThriftyFun has some answers also.
haydemon
Gold Answer Medal for All Time! 617 Answers
May 30, 2020
0

found this helpful
Best Answer
Do you already have an automatic porch light that comes on with motion sensors? If you don't installing one might do the trick.
If you alrady have this, then one thing that will work for sure is a motion- sensor water sprinkler.
Here's one of the more inexpensive ones www.acehardware.com/.../7692353
Answer

this Question
I'm really scared of cats. Someone told me to sprinkle cayenne pepper around to keep them out of my yard. Is this a good idea? I just wanna keep them away with no harm.
By Vanessa
Answers

Louise B.
Silver Feedback Medal for All Time! 337 Feedbacks
January 28, 2015
1

found this helpful
Best Answer
Cayenne is certainly not cat friendly, and I believe it hurts them. I think you might have just as good a luck with things that smell of citrus - like citronella candles (not lit, just set out - the cats can smell them), or lemon or orange peels. One can also buy cat repellant to sprinkle on lawns, etc., and I have found that that worked, although I thought the smell of that was a bit odd to me as well, as well as to the cat, and it had to be replaced after every rain.
I have my own cat, who doesn't like intruders, so I don't do any of this, but just shoo any other cats out of the yard for her when I see them. Another thing you could try when you are outside is a spray bottle. Give them a shot when they come close to you, and I assume they will give you a wide berth.
Answer

this Question
I have two dogs that recently got fleas. I have been a pet owner for 25 plus years and never had fleas. Only thing I can think of is we recently moved. There are a couple stray cats one of which had her kittens on my deck. I am sure they are the source of my flea problem. And my dogs go nuts every morning because the cats have been in the yard overnight. What can I use to deter them from coming into my yard?
By Dlp
Answers

December 5, 2017
0

found this helpful
It is almost impossible to cat proof a yard to keep cats out. They do make commercial products for this, that hardware stores and pet stores and some nurseries carry, but you have to put it everywhere and remember cats can climb to get into the yard as well, so often they bypass it. It also has to be reapplied after a rain. The fleas may be in your yard. They make a yard product for them that you sprinkle over the grass.

December 6, 2017
0

found this helpful
Your pets may now have to wear a flea collar.
Answer

this Question

Can I use lemon juice around the area where they are pooping to stop them?
Answers

July 28, 2019
0

found this helpful
The peels would be more effective

Pghgirl40
Bronze Feedback Medal for All Time! 196 Feedbacks
July 29, 2019
0

found this helpful
I have never tried it, but I have read that little cheese cloth bags filled with any citrus peels (lemon, grapefruit, orange, or lime for example) and rosemary leaves or loose spice, hung around an area will detract cats and is not harmful.
If you use the liquid/juice it is not harmful, but if it gets to concrete it can bleach it or it can kill your grass. Orange juice can attract ants and that will cause a whole other issue.
I hope you find something safe that works for you!
Read More

Answers
I have one, indoor only, neutered, male cat. Lately, the weather here in Florida is starting to be cool enough at night to open some windows to save the electric bill from being so high, with 24/7 central air running. So, I have at least two different cats coming up to the window where my cat, Alex lays, and they both go back and forth loudly meowing and hollering at each other. My cat, as I said is fixed. Obviously, other cats don't probably know that.
But these cats are not afraid of me, and won't leave for nothing. I end up having to close the windows and put the air back on. This is OK for now, because it gets hot during the day still, but soon, when it's too cool to put the air on, then what? My biggest fear is what if these cats start spraying outside? That's going to most likely make my cat start spraying! The whole reason I got my cat fixed, was to help prevent spraying. The vet said he still can do it if he so desires. And this is not a full proof solution to the spraying problem.
So far, they have not sprayed, and neither has he. I want to know, first- why are they here? (The at least 2 different cats outside I seen coming to the windows?) 2.) are they male or female cats? Maybe in heat or something? or 3) are they looking for a fight with my cat? 4) how do I get rid of them? Without having to hurt them, of course! And 5.) and most important- how do I get them to continue to not spray? (Both, the outside cats and my indoor cat.) Please help.
This is very scary at night, with just me and my daughter home and a thin screen keeping them from popping inside. Because they sure act like they will come in if they could. Thanks for any and all help, comments, etc.
By Julie L.
Answers
February 16, 2017
0

found this helpful
If you know who the cats belong to you might be able to ask them to keep their cats inside. If they are "strays" you could get a humane trap from your local animal shelter and trap the cats. You could then take them to the local shelter. Then they will at least have a chance to find a home. Hope this advice helps.
Answer

this Question