Homemade Cat Repellents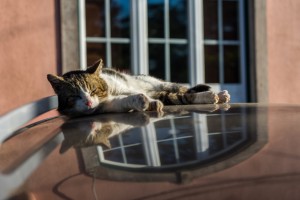 I need a deterrent to keep cats out of my yard. They are male strays that come over and fight at night and during the days they chase my dogs.
Hardiness Zone: 8a
By Ethel Martinez from Boyd, TX
Answers
June 10, 2009
2

found this helpful
Best Answer
There are hose and lawn sprinklers that come with motion detectors on them. When movement is detected, they turn on and drench the offending invader. This would work for cats, possums, and other night creatures. Just GOOGLE it and I am sure you can find a source. It was first invented for deer, but will work for all critters. If the spray doesn't hit them, the sudden noise will cause them to find other quieter places to prowl.
August 30, 2010
3

found this helpful
Best Answer
Moth balls are toxic to humans and animals. DON'T use them.
I found keeping my water hoses connected, a blast in the face was a reminder. I now have a dog and don't have issues either. Being consist will send the signal of which yards to stay away from.
For creating noise factor, bang a foil pie pan with cooking spoon, and run after them. I work too hard to have others cats or animals destroy my yard. Mine do not leave the property (leashed) nor do the kids damage or destroy anyone else's. So I expect my neighbors with pets to contain or control theirs. No excuse accepted.
January 8, 2011
2

found this helpful
Best Answer
Pet shops, and possibly hardware stores, have different kinds of repellents to keep animals away from areas of your yard. I used to sprinkle hot, peppery types of spices around, but then someone on this forum told me it could hurt the animals' noses. So I guess it's smarter just to get something made for the job.
Answer

this Question
25 More Questions
Ask a QuestionHere are the questions asked by community members. Read on to see the answers provided by the ThriftyFun community or ask a new question.
I know there is a spray that you spray around your house where you don't want dogs to go. Is there also a spray to keep cats away? There are tons of cats around my house and you can smell cats when you leave the house.
Jamish from Tribune, KS
Answers
March 13, 2009
1

found this helpful
Best Answer
Straight bleach in my kitchen trash can worked. I used a spray bottle to dowse the smelly food type items and the edge of the can, and after two weeks they are leaving it alone. I still have the occasional mishap but it's no longer every night. Caution: Will kill grass and discolor some siding and paint.
Should keep kitties off the porch. Or you can try a "Citrus" mix of lemon juiuce, and a cheap cleaner.
March 13, 2009
0

found this helpful
Best Answer
Petsmart carries a number of sprays that you can use. We have the same problem with a neighbor's cat "spraying" outside our house. We use a brand called Indoor/Outdoor Pet Control. It seems to work pretty well. We just leave the can outside in our bushes and spray the area the cat seems to "target" every day or so.
March 13, 2009
5

found this helpful
Best Answer
My friend had a big problem with cats peeing and pooing in his garden. His solution? He got a spray bottle and mixed water, Tabasco sauce, and pee. Yes, he used his own pee, not a lot. The mix was mostly water, so people could not smell it, even in hot summer. He hardly saw a cat, or cat mess in his garden after that.
March 14, 2009
2

found this helpful
Best Answer
I have read where you can spray cheap perfume/cologne (like from the Dollar Store) around where you don't want the cats & if will keep them away.
March 15, 2009
2

found this helpful
Best Answer
Cats don't like a citrus smell, and so spreading orange or lemon peels will help. What I used when I had a stray cat spraying the front of my house was lemon scented Mr. Clean. I doused the sprayed spot with this, and this seemed to discourage the stray cat.
I have used pellets to spread on the ground that I got from a hardware store, but they had an odd smell that I found disturbing. The cats didn't like it either, but I prefer the Mr. Clean idea. The pellets had to be reapplied after every rain.
NOTE: One thing not to use is moth balls. They keep the cats away all right, but they smell much worse than the cat smell. Besides, they are toxic to many other things, including people.
Answer

this Question
I need to know how to make a homemade cat repellent for house plants.

Joe from Tecumseh, NE

Answers
September 8, 2008
3

found this helpful
Best Answer
What I do is use the mesh bags that onions come in and spread them on the top of the soil in your plants. The cats don't like it because the mesh gets caught in their claws.
September 8, 2008
2

found this helpful
Best Answer
Make a "Cayenne Pepper Tinture". This will keep most animals off of any plants. (indoor OR outdoor):
Take cayenne pepper or hot pepper flakes & soak then in rubbing alcohol or 100 proof vodka for about a week then strain it through pantyhose or any strainer & put this liquid into a well marked spray bottle. Spray this hot-pepper liquid on to your plants & the animals will stay away because they don't like the smell. The only bad effect for them might be a sneeze!
Answer

this Question
Is ammonia good for keeping stray cats from pooping in the dirt beside my front porch?
By ct
Answer

this Question
There are about 5 stray cats on my street. The neighbor next door feeds them and then they come to my lawn to pee, poop, and throw up. What homemade remedy can I use?
By Susan
Answer

this Question
What household products can I use to keep cats off my property?
By Ray D

Answers
May 17, 2011
0

found this helpful
Best Answer
There is a product called Indoor No. It's a spray and can probably be found in pet stores. Also, I've read that citrus works well.
Answer

this Question
How do you deter cats from using the edge around the house to do their business? It's keeping the grass from growing, and stinking up the place.
By A Mccourt
Answers
May 2, 2013
0

found this helpful
Best Answer
Cats hate lemons. Peel some, dry the peelings some and cut them up then scatter them around some. Likewise if you have indoor plants the cats like to curl up in. Hope that helps.
May 2, 2013
0

found this helpful
Best Answer
If they are spraying your house, you can also put some cheap mouthwash in to a spray bottle and spray it on your house to keep them away and get rid of the odour. DON'T USE cayenne pepper as it burns their eyes and they can actually scratch their eyes out to stop the pain. Burns the squirrels and rabbits eyes, too.
Answer

this Question
Tips and advice about cat repellents. Post your ideas below.

Answers
April 29, 2005
0

found this helpful
Best Answer
My mother has had that problem for a long time. We started to use fox urine. You can purchase it in liquid, and place it in little containers that are designed for that, and hang them from the lowest branches of trees, or near the plants. There is also a powder form of fox urine that you sprinkle around the plants, and the perimeter of your yard, however, it must be reapplied after you water or after it rains. Either way, both of these are somewhat costly methods, but all in all, they seem to be the most successful. Another thing that often works is sprinkling ground up hot peppers around the area. I am talking about the very hottest ones. The fox urine is completely non-toxic, and it works wonderfully because it scares the living daylights out of the cats. Once they get used to its presence, they won't be back. Check with garden supply places. You might also do a Google search for it.
By calycorn (Guest Post)
June 18, 2006
1

found this helpful
Best Answer
I have just had an encounter with one of my own kittens up a tree trying to get into a mother protected bird nest.It caught my attention that the birds were out there just squawking away, & there was that cat. Well, I just read your article, and sprinkled a can of coffee grounds around the tree, ran out of grounds & finished it off with crushed toilet bowl freshener...that should work for now.
Also, this thing about water, I onced used a water
hose to spray one of my dogs that would bark furiously at neighborhood cars pulling in after bedtime...after the 3rd spray...she never barked again...Not like that at night...It did take 3 nights.
Answer

this Question
I have several cats, all but 1 use the litter boxes. I also have a pot belly pig. My cat with the issue I feel thinks she's a pig. She goes on the floor next to my pig's litter box to poop, she uses one of the cat boxes to pee. I can't use orange or lemon peel as it's toxic to pigs. I tried putting an extra cat box next to the pig's, that was a big mistake, then all the cats decided to use it. I'm at my whits end and ready to get rid of her. Any suggestions?
By Leona V.R. from Abingdon, MD
Answers
January 11, 2014
1

found this helpful
Best Answer
My sympathies on your situation with the cat. I am allergic but a lovely Siamese stray decided to have her litter on my back porch. I love animals in general so I am now the owner of 5 rambunctious kittens, 4 males and 1 female. I purchased Kittens for Dummies to make sure I was doing right by them and it gave me some very helpful information.
One of the male kittens is spraying my love-seat, and I have tried several different store bought products. None of been completely successful. I concluded that one particular remedy will not work on all of them. The kitty I suspect doesn't shy away from citrus scents so I had to find something else.
I used this site to create these homemade remedies, I figured if one didn't work I could try the other or maybe need to use all 3 which is the case. I checked before I decided to reply, Method 1, Cinnamon, Lavender, and Rosemary are not toxic to Pigs, but the combination of them should be enough to deter your cat from the pigs space. Good Luck
Answer

this Question
What will keep cats from messing in my yard? I have tried the repellents, I have tried home remedies such as, chili pepper, moth balls, and so many things I can't recall). What else can I do?
By Sylvia
Answer

this Question
We are looking for an inexpensive homemade natural repellent to keep stray cats out of our garden.
By Linda

Answers
May 14, 2011
0

found this helpful
Best Answer
Orange and lemon peels are a natural repellent. After they are very dry, their effectiveness may be reduced. I use them indoors to keep the cat off countertops. I've read that it works in the garden too.
Answer

this Question
I have 2 indoor cats. Can I use their poop and pee to ward off the many outdoor cats from my yard? I would scatter their waste on the boundary of my property; I have a good supply:)
By BC
Answers
April 2, 2013
0

found this helpful
Best Answer
I would also suggest the citrus peels. Oranges or grapefruits I think work just as well; do not use toxic things like mothballs, as that is even more horrible than outdoor cats. Are these cats bothering you or your cats or both? Are they spraying their scent around? If your cats are indoors all the time, you have a few more choices. I used a lemon scented Mr. Clean splashed over the places the stray cats were spraying, and that covered the smell and seemed to deter them. If your cats don't go outside, or you keep them in your yard, you might also try a cat repellant that you can buy in places like Walmart. There are different kinds. Might work.
Answer

this Question
I am looking for an indoor cat repellent. How can I keep my cat off the chairs and keep him from scratching them?

By Evonne

Answer

this Question
Published by ThriftyFun.
© 1997-2021 by Cumuli, Inc. All Rights Reserved.
https://www.thriftyfun.com/Homemade-Cat-Repellents.html