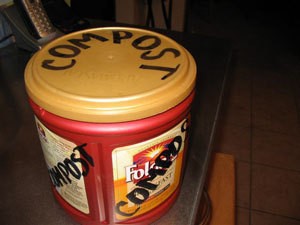 Save one of the new kinds of large plastic coffee cans to make a quick counter top compost bin! Label clearly so everyone knows what it is. When it's full, empty it into a corner of your garden until ready to use it!
By melody_yesterday from Sedalia, MO
Ad
---
By Mary 12 195 05/14/2007 Flag
I've been doing this coffee can composting for a long time too. In order to keep any odor down I store mine on a shelf in the refrigerator. Don't forget to toss in your coffee grounds - filter and all!
what kinds of compostable things do you add to the can... other then the coffee?

And about how long does it take to turn into compost?

Thanks!
By G Blackman 1 16 07/30/2012 Flag
Every time I try this, I get mold! Yuck! Can't stand to see it. Does putting it in the refrigerator help?
By Jeannie 3 15 07/30/2012 Flag
Anything that gets people composting is great. I have a one gallon stainless steel bucket with lid that I use. It's big enough for peels, cores etc. It does mold sometimes but that is expected. With the lid, I don't notice any particular odour. I put a sheet of newspaper in the bottom to tidy up the emptying process (newspaper is compostable). The stuff goes out in my backyard composter (which was subsidized by the City). I save some dry leaves in fall to add brown material. When I am planting, I just open up the bottom door and get some compost to add to the soil. If there's unfinished material mixed in, it will break down in the soil.
I have tried this in the past & everything turned moldy.